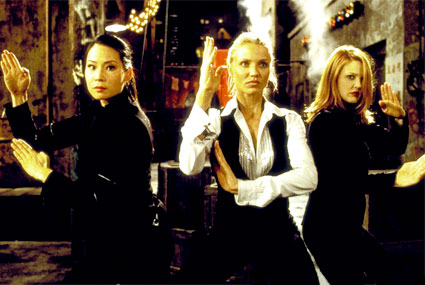 Columbia Pictures
Drew Barrymore is ready to kick some ass again.
Ms. Barrymore just told me she's hot to make a third installment of her supersuccessful Charlie's Angels movie franchise.
"I'm so into it," Barrymore said while promoting her new star-filled romantic comedy, He's Just Not That Into You. "I'm so into it—Charlie's Angels III!"
Barrymore kicked off an updated retelling of the 1970s television series nine years ago with Cameron Diaz and Lucy Liu. Three years later, they returned with Charlie's Angels: Full Throttle.
"It's percolating up," said Nancy Juvonen, Barrymore's Flower Films producing partner. "It's rising to the surface."
Barrymore added, "They're hard movies to make, but they're fun." And lucrative! The franchise grossed $544 million worldwide, according to boxofficemojo.com.
Ideas are being kicked around, including the possible introduction of a fourth Angel. It happened in the original Aaron Spelling series when Cheryl Ladd joined the cast in 1977 as Kris Munroe, sister of Farrah Fawcett's iconic Jill.
Let's not forget about a villain. Sam Rockwell and Crispin Glover were among the baddies the first time around. Demi Moore appeared in Full Throttle as Madison Lee, a former Angel turned vamped-up villainess. For the next flick, they say they'll probably go with another guy.
So they're looking for a fourth angel and a bad boy...Let the casting suggestions begin.
(Originally published Jan. 23, 2009 at 3:50 p.m. PT)