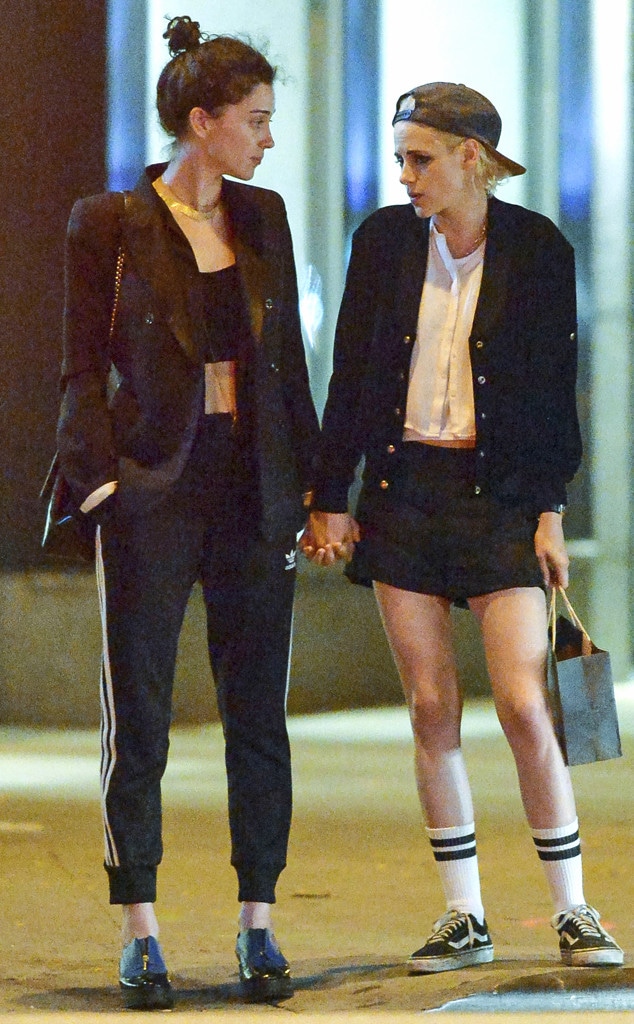 Teach/Moryc Welt/FAMEFLYNET PICTURES
Kristen Stewart and St. Vincent just added some fuel to the romance rumors that have sparked around them lately!
The 26-year-old actress and Cara Delevingne's 34-year-old ex-girlfriend were spotted holding hands after enjoying dinner together on Sunday night in New York City's East Village.
Stewart was dressed in casual attire, wearing a pair of black shorts and a blazer with a backwards hat, athletic tube socks and tennis shoes. St. Vincent matched her athleisurewear in a pair of Adidas sweats, a blazer and a crop top. She accessorized the look with a pair of platform oxfords, wearing her hair in a messy bun on top of her head.
Meanwhile, St. Vincent and Delevingne reportedly split last month.
"Cara and Annie still care about each other, but pressures of the long-distance romance just became too much," a source told The Sun (via Harper's Bazaar). "The cracks were beginning to show on Cara's birthday in August when Annie wasn't there for her party."
Though Stewart recently called things off with her former assistant and girlfriend Alicia Cargile, too, she opened up about her love life in the latest issue of Elle magazine.
"I'm not ashamed, and I'm not confused," she told the publication of her sexual orientation. "Things have changed. And not just with me—we're really allowed to encourage this new acceptance to develop and be awesome."
In July, she also gushed to Elle U.K. about being in love with Cargile. "Right now I'm just really in love with my girlfriend. We've broken up a couple of times and gotten back together, and this time I was like, 'Finally, I can feel again.'"
Stewart, who previously dated Robert Pattinson, said her relationship with men was often trivialized in the public eye.
"We were turned into these characters and placed into this ridiculous comic book," she explained in the same interview. "And I was like, 'That's mine. You're making my relationship something that it's not.' I didn't like that."
However, she continued, "It changed when I started dating a girl. I was like, 'Actually, to hide this provides the implication that I'm not down with it or I'm ashamed of it, so I had to alter how I approached being in public. It opened my life up and I'm so much happier."