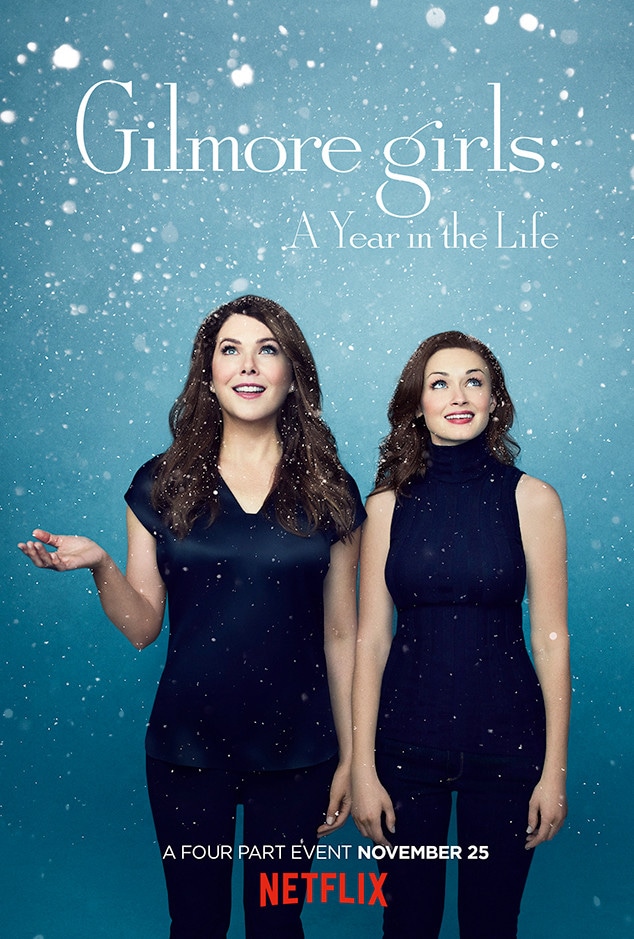 Netflix
Winter. Spring. Summer. Fall. All you have to do is…wait until Friday, Nov. 25 to experience all the seasons with Gilmore Girls. Lauren Graham and Alexis Bledel are back in Stars Hollow as Lorelai and Rory Gilmore for Gilmore Girls: A Year in the Life and we've got a first look at the key art of the four-part Netflix event.
Yes, each part is a season of the year and has its own poster. The sparklers, the leaves, the flowers and snow! Lorelai loves the first snow.
Gilmore Girls: A Year in the Life picks up almost 10 years after viewers said goodbye to the Gilmores in 2007. Lorelai and Luke are together—yay!—Rory is having some career struggles—boo!—and Emily and the girls are dealing with the sudden loss of Richard—sob! Scott Patterson is back as Luke, Kelly Bishop as Emily and Gilmore Girls favorites Melissa McCarthy, Keiko Agena, Yanic Truesdale, Sean Gunn, Liza Weil, Danny Strong, Matt Czuchry, Jared Padalecki and Milo Ventimiglia are also returning to the fold.
There's a lot of hype surrounding Gilmore Girls: A Year in the Life and Graham is well aware that all eyes will be on the beloved show's revival.
"I loved it," she told E! News about the revival at the premiere of her new movie Middle School: The Worst Years of My Life. "I'm afraid to be as kind of glowing about it as I feel, because I know that expectations are already high, but for me, personally, it was just an incredibly gratified experience. So, I hope people enjoy it."
Oh yeah, she cautioned there will be tears.
Patterson recently told E! News to expect some fireworks between Luke and Lorelai.
"What I can tell you is that we are together and we are figuring out our next move. There are definitely some fireworks there. We did some really intense adult scenes. Since the movies are only an hour and a half long it has way more detail and the writing is deeper and seems longer so it sort of changed," Patterson said. "Fans are not expecting this, but it's more a film now than it is a TV show. Also, Ed Herrmann passed away so we deal with that and that affects the whole dynamic. It affects all of the relationships."
Gilmore Girls: A Year in the Life previously released new art to celebrate National Coffee Day, naturally.
The four-part event drops on Netflix on Friday, Nov. 25.