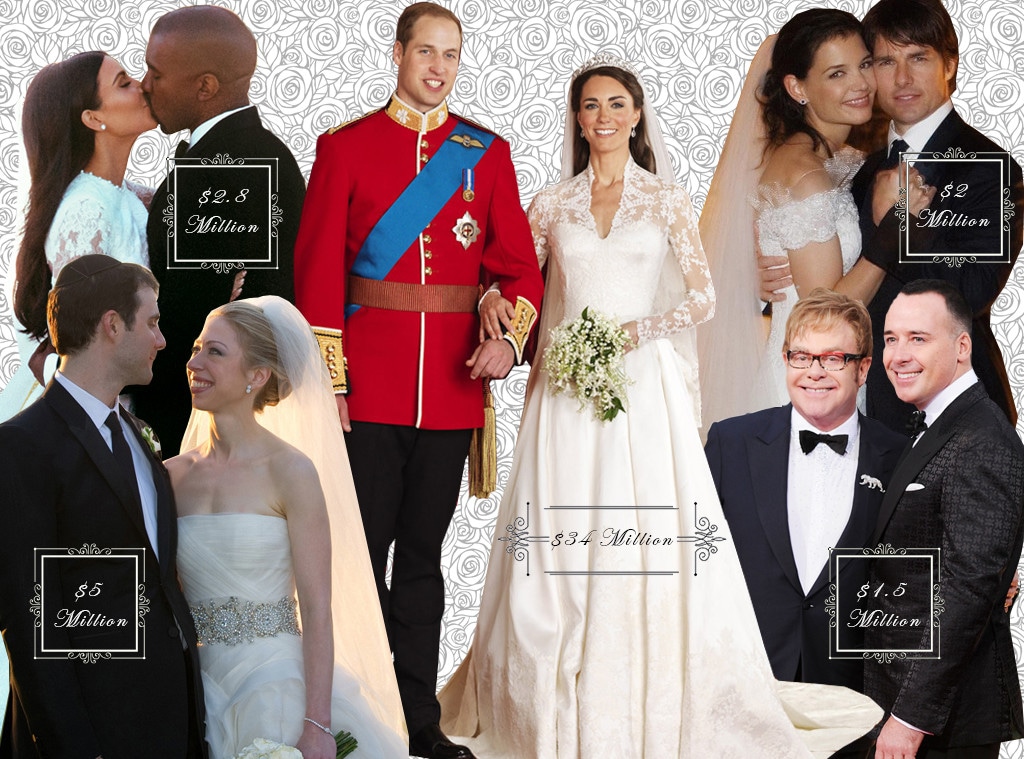 Getty Images
If you've been saving up for years in anticipation of your wedding day—whether you want to break the bank and invite everyone you've ever met or keep it simple with your nearest and dearest (or some combination of the two)—you're not alone.
The Knot's 2015 Real Weddings Study revealed that the average cost of a wedding in the U.S. has climbed to $32,641—the largest amount yet as the cost of everything involved continues to rise ever higher.
The ultimate total depends on so many factors, of course: Where you live (Manhattanites who want all the bells and whistles may want to consider a destination wedding—in Alaska), the time of year (Got a wedding to go to next weekend? So does everybody) and all the other incidentals that are personal to the couple planning their big day.
And, of course, there's that $1 million luxury tax if you're a celebrity...
Well, not exactly, but when we find a celebrity couple who pared down their wedding expenses to $32,000—or even the average $82,299 it costs in New York City—we'll let you know. Because that would barely pay for the private jet ferrying the bridal party across the Atlantic.
But since it's entirely possible to have a wedding that doesn't cost the entire back end you made from your latest blockbuster, what exactly is making the most expensive celebrity weddings so expensive? (Though let us be reminded, the following numbers are what these things cost—not all, necessarily, the amounts actually paid. How to put a price on the exposure of being talked about for decades to come...?)
Here's a breakdown of the costlier elements that over the years have gone into uniting some of the world's most famous couples—most of whom are even still together:
Hugo Burnand/Clarence House - WPA Pool/Getty Images
Prince William & Kate Middleton, 2011: $34 Million
Estimates varied as to just how much the royal wedding of our generation cost in the end, with some guesses ranging as high as $70 million. But once the globally televised ceremony was over and the beans had been counted, the Duke and Duchess of Cambridge's nuptials cha-chinged in at a much more reasonable $34 million—most of which actually went toward security. And really, when you realize that Princess Diana and Prince Charles' 1981 wedding would have cost $110 million today, adjusted for inflation, the young royals came in under budget. But once their safety was assured, here's where the rest of the money went, with the Middletons reportedly kicking in a six-figure sum:
John Stillwell-WPA Pool/Getty Images, Hugo Burnand/Clarence House-WPA Pool/Getty Images
• Security: $32 million
• Kate's gown, designed by Alexander McQueen creative director Sarah Burton: $434,000
• Two receptions, a luncheon for 600 guests at Buckingham Palace and dinner for 300 hosted by the groom's father, Prince Charles: $600,000
• Flowers & foliage, including eight 20-foot-high trees: $800,000
• Traditional white buttercream wedding cake and chocolate cookie groom's cake: $80,000
• Ceremony in front of 1,900 at Westminster Abbey: Free
• Reception at Buckingham Palace: Free (It's good to be the queen's grandson)
• Estimated boost to the local economy, including tourism and merchandise: $690 million
Barbara Kinney via Getty Images
Chelsea Clinton & Marc Mezvinsky, 2010: $3-$5 million
The former first daughter and her investment-banker betrothed spared no expense when they wed in front of 400 guests at the Astor Courts estate in Rhinebeck, N.Y.
• Catering by St. Regis Culinary Events: $750,000
• Premium windowed, air-conditioned tents: $600,000
• Flowers: $500,000
• Tables: $109,000
• Invitations: $60,000
• Custom Vera Wang gown: $20,000
• The bride's diamond jewelry: $250,000
• Custom Burberry tux for the groom: At least $2,000
• 5-foot, 11-tier gluten-free chocolate wedding cake, La Tulipe Desserts in Mt. Kisco, N.Y.: $11,000
• Security: At least $200,000
• No-flyover zone because the mother of the bride is Secretary of State: Priceless
Maring Photography/Getty Images/Contour by Getty Images
Donald & Melania Trump, 2005: $1 million
We know what you're thinking. "That's all?" And yes, it turns out that marrying in a church, in their case The Episcopal Church of Bethesda-by-the-Sea in Palm Beach, and owning the reception venue—Trump's Mar-a-Lago estate—helps keep costs down.
• Custom Dior gown with a 13-foot train and embroidered with 1,500 rhinestones and pearls, weighing in at 60 pounds: $100,000
• Catering by Jean-Georges Vongerichten for 400 guests, starting at $275 a plate: $110,000
• 36-piece orchestra, performances by Tony Bennett and Billy Joel: They must have paid the friend-of-the-family rate, because Joel alone usually charges $1 million for a private event
• 200-pound Grand Marnier cake covered with 3,000 icing roses that took Mar-a-Lago pastry chef Cedric Barbaret two months to design (plus mini individual cakes for the guests): Such a confection could run upward of $50,000.
Courtesy Brian Marcus/Fred Marcus Photography via Getty Images
Ivanka Trump & Jared Kushner, 2009: At least $1 million
Like father, like daughter, the businesswoman and Apprentice star said I-do to her publisher beau on a "budget." Once again, marrying in front of 500 guests at Dad's Trump National Golf Club in Bedminster, N.J., saves on venue fees.
• Custom Vera Wang gown inspired by Grace Kelly's 1956 wedding dress: $50,000
• Jewels: Ivanka Trump signature, earrings, necklace and diamond hair piece: $210,000
• Preston Bailey event designer: His services could run up to at least $100,000
• 13-layer cake by Sylvia Weinstock: As much as $70,000
George & Amal Clooney, 2014: $4.6 million
The price starts to skyrocket when you plan a destination wedding weekend—and actually foot the travel bill for all of your guests. And we're talking more than Ocean's 11 here when George Clooney closed the book on his bachelor days in Venice, Italy...
• Bachelor dinner for seven at Da Ivo: $1,750
• Bachelorette dinner for 11: $2,000
• Cipriani hotel suites, three nights, 95 rooms: Almost $3 million
• Alternate accommodations at The Aman Hotel: $4,650/night per suite
• Water transportation around Venice: $36,500
• Lighting, tables and other party set-up: $300,000
• Munaretto flowers: $250,000
• 5-course reception dinner for 100 guests: $30,000
• 250 bottles of champagne: $50,000
• 200 bottles of Grey Goose vodka: $80,000
• 600 bottles of Casamigos Tequila: $30,000 (or complimentary if you co-own the brand, as Clooney does)
• Custom Oscar de la Renta gown: $380,000
• Giorgio Armani tuxedo: $5,000
• Sunday post-wedding lunch at Cipriani $15,000
Kim Kardashian & Kanye West, 2014: $2.8 million
Kimye went intercontinental for their wedding week in Paris and Florence—and considering Kanye's elaborate proposal in San Francisco cost $3.3 million (including the 15-carat Lorraine Schwartz ring), they said their I-dos for a steal!
• Kim's Givenchy Haute Couture gown: Up to $500,000
• Glam squad available to guests: $380/person
• Hotel George V in Paris: Rooms starting at $750/night
• St. Regis or Four Seasons: Rooms starting at $885/night
• Bachelorette dinner: $409/person
• Family's stay at the Villa San Michele in Florence: $1,800/night per room
• Westin Excelsior for guests: $68,000 for 100 rooms
• Ground transport around the city: $70,000
• Air transport: $74,000 per trip between Florence and Paris
• Forte di Belvedere, wedding venue rental: $409,000
• Flowers, Fiori Della Signoria: $136,000
• Catering: $110,00
• 7-foot-tall cake: $6,685
Michael Douglas & Catherine Zeta-Jones, 2000: $1.5 million
It's always cost a pretty penny to tie the knot in New York, even 16 years ago. But you've got to pull out all the stops when your 350-strong guest list includes Jack Nicholson, Sean Connery, Michael Caine, Goldie Hawn, Meg Ryan and then-U.N. Secretary General Kofi Annan.
• Plaza Hotel: Wedding package starts at $375/person
• Ceremony fee for the Terrace Room: $12,000
• Christian Lacroix gown: $140,000
• Bride's diamond tiara: $300,000
• 10-tier vanilla and buttercream wedding cake: $7,000
• 50 extra security guards: $5,000/hour
Paul McCartney & Heather Mills, 2002: $3 million
The former Beatle went all out for his second trip down the aisle with an Indian-themed wedding at Saint Salvatore's church in County Monaghan, Ireland, birthplace of McCartney's mum. All that was well didn't end well, so that could be why McCartney and third wife Nancy Shevelle went super low-key in 2011, exchanging vows at Marylebone Town Hall in front of 30 guests.
• Chartered aircraft from London Heathrow to Belfast: $12,500 per jet, one way, price quote from Private Fly (adjusted backwards for 2016 inflation)
• Castle rental for reception: $40,000
• Flowers: $145,000
• Fireworks: $150,00
• 4-tier chocolate cake from Choccywoccydoodah of Brighton: $4,500
• Original McCartney tune "Heather": Heavy personal price
• Divorce settlement: $50 million
Rogers & Cowan/Robert Evans
Tom Cruise & Katie Holmes, 2006: $2 million
Is it OK to observe now that the bride never looked particularly comfortable in this photo? The couple, who divorced in 2012, threw a lavish wedding outside Rome at the 15th-century Odescalchi Castle in Bracciano.
• Castle rental: $50,000 (but waived as a wedding gift to the couple)
• Guest air fare: $900,000
• 300 bottles of wine: $18,000
• Custom Armani gown: $50,000
Jamie McCarthy/WireImage.com
Elton John & David Furnish, 2005: $1.5-$2 million
The longtime partners tied the knot right after the United Kingdom finally legalized same-sex civil unions. They swapped vows and exchanged diamond wedding bands in an intimate ceremony at Windsor's Guildhall, then 600 guests—including the Beckhams, Donatella Versace, Claudia Schiffer and Sharon Stone—partied and sipped pink champagne in a couple of heated luxury tents set up on the grounds of the couple's Windsor mansion.
• Caviar and champagne for 600: $130,000
• Two designer tuxedos: $10,000
David & Victoria Beckham, 1999: $800,000
Ah, the budget wedding of the bunch— and we're presuming most of it went toward the groom's highlights. But it was 17 years ago after all and, adjusted for inflation, that wedding would cost about $1.2 million today. They wed at Luttrellstown Castle in Dublin and celebrated with 250 guests. Pal Elton John performed and you cannot put a price on having a cake topped with nude figurines of the bride and groom.
• Luttrellstown wedding package starting at $135/person: $33,750
• Vera Wang gown with a 20-foot train: Anywhere upward of $50,000
• Two white Antonio Berardi suits: One for David and a tiny one for then 4-month-old son Brooklyn Beckham
• Vintage Bentley rental for bridal party: $2,395
• Overnight at the castle: About $7,300/night, per room