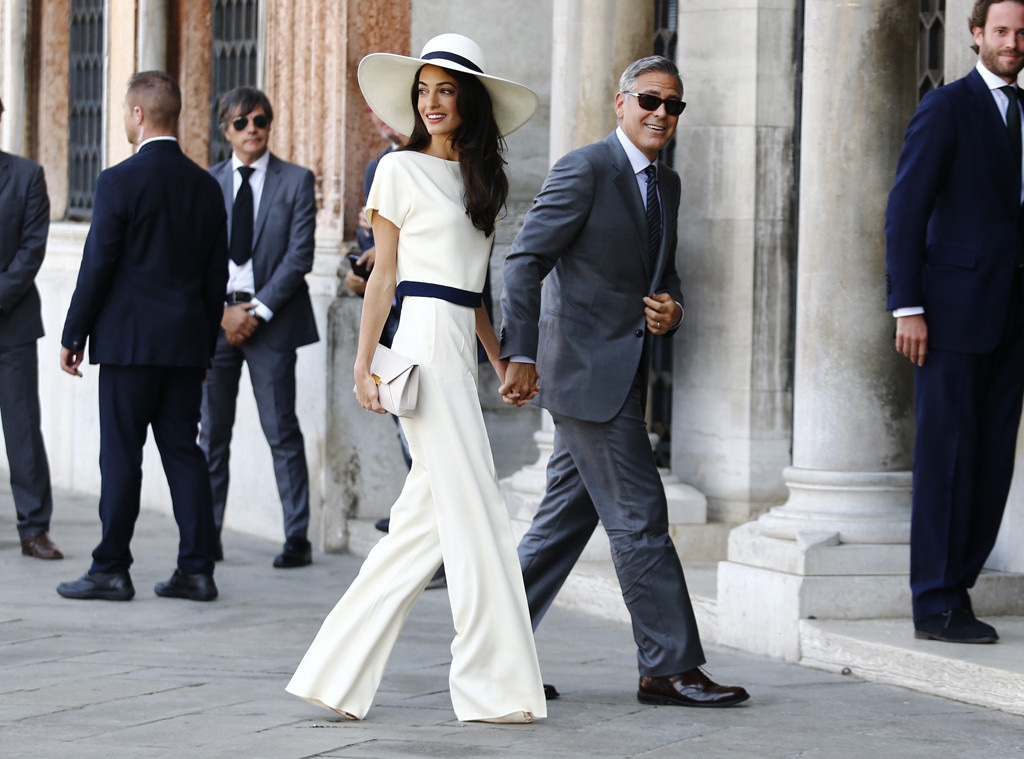 PIERRE TEYSSOT/AFP/Getty Images
George Clooney and Amal Alamuddin's wedding extravaganza cost a pretty penny!
Of course, it was probably expected that the A-list pair were going to drop some serious moolah on their lavish and luxurious nuptials, but the dollar amount for their special day might even be more than you imagined.
E! News has learned that the Hollywood star and his ladylove's Italian ceremony and the festivities leading up to it could add up to a grand total of nearly $4.6 million!
Let's break it down for you:
Hotel Stay: The bulk of the money goes toward the rooms for guests and the bride and groom. Hotel rooms at Cipriani varied between the Palladio Suite, which costs slightly more than $9,000 per night, and the Dogaressa Suite, which costs close to $8,000 per night. So three nights in the Palladio Suite would total around $31,000, while the same amount of nights in the Dogaressa is just short of $26,000.
 
Now take into consideration that roughly 95 rooms were being used at Ciprani, so with the above rates, the grand total comes to almost $3 million—just for the hotel!
 
Meanwhile, those who stayed at The Aman Hotel could have spent up to $4,650 per night.
The Big Night: Renting out The Aman for the wedding reception typically costs $250,000. The lighting, table rentals and other production rentals for the party total up to $300,000. Their five-course Italian style dinner on Saturday with Chef Riccardo de Pra cost around $300 per person, and with 100 guests, dinner came to a grand total of $30,000.
As for the flowers by Munaretto, a source tells E! News, "It depends on the final project, however Munaretto is quite expensive and for an excellent arrangement they will not take less than 200,000 euros or $250,000.
The Tux: Clooney's custom-made Giorgio Armani suit was over $5,000.

The Dress: Alamuddin's custom-made Alexander McQueen dress designed by Sarah Burton was a cool $380,000.
Transportation: According to Jayne Seddon, director and owner of Venice Events, the boats cost "600 euros per boat for just two hours. As they had all of the boat drivers on standby for 3 days, literally day and night," their bill for the boats at $400 per hour for 72 hours would equal $36,500.
Beverages: There were 250 bottles of champagne at $200, which comes to a total of $50,000 for bubbly. Meanwhile, 200 bottles of Grey Goose equals $8,000 and while we know they party received the 600 bottles of Casamigos Tequila for free, it would have cost them $30,000.
Bachelor and Bachelorette Parties: The two lovebirds each hung out with their pals for a nice separate dinner the night before their special day. Clooney's bachelor party at Da Ivo restaurant with his seven buddies on Friday cost approximately $250 per person, not including alcohol, so the guys had a bill of roughly $1,750. As for Alamuddin and her 10 ladies, they got a bill of somewhere near $2,000.
Sunday Festivities: The newlyweds kept the party going on Sunday with lunch and dinner with their guests and loved ones at Cipriani, which came to a grand total of nearly $15,000, not including alcohol.