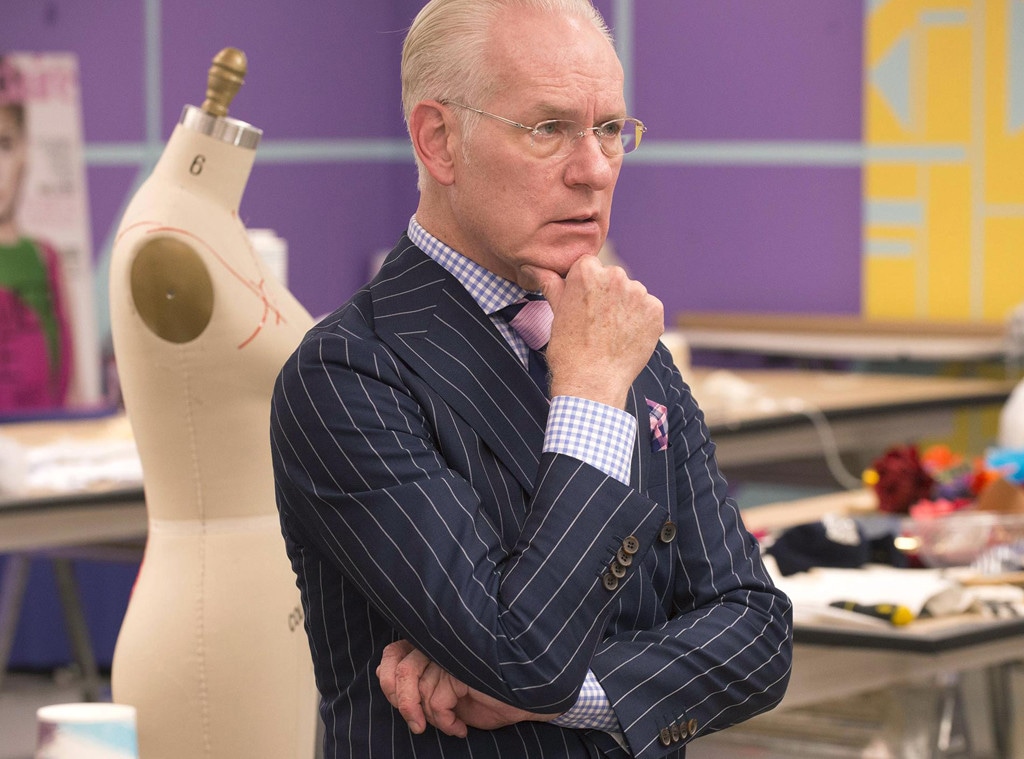 Lifetime
Tim Gunn was already a veteran of the fashion industry, but he built up his own personal brand and became a favorite on TV by telling people to "make it work."
And though that advice sometimes can't help but ring hollow when a struggling designer is really in the weeds on Project Runway, we'll tell you what always does work for us, and that's Gunn's insistence on telling it like it is—or at least as he sees it, and even if he's a man alone (Charlize Theron looked fabulous at the Oscars, Tim!), he doesn't hold back.
And that remains rather inspiring.
The Project Runway mentor is getting all sorts of virtual applause for an op-ed he penned for the Washington Post that went up yesterday, in which he, in no uncertain terms, ripped the fashion industry a new seam for persisting in catering mostly to American women who wear the smallest of sizes and comparably ignoring those bigger than a size 6.
The byline wasn't entirely shocking: Gunn has said many times that he'd like to see Project Runway do an entire season with plus-size (above size-12) models. He has also lamented what, in his eyes, is the sorry state of fashion for curvier women—but we still weren't quite prepared for what came next.
"This season, something different happened," Gunn wrote of the 14th season of Project Runway. "Ashley Nell Tipton won the contest with the show's first plus-size collection. But even this achievement managed to come off as condescending. I've never seen such hideous clothes in my life: bare midriffs; skirts over crinoline, which give the clothes, and the wearer, more volume; see-through skirts that reveal panties; pastels, which tend to make the wearer look juvenile; and large-scale floral embellishments that shout 'prom.'
"Her victory reeked of tokenism."
Tim Gunn, you are just everything. That's not going to come as welcome commentary for Tipton, of course, and she is a super-talented designer who did present some winning looks throughout the season...
But this isn't just what the reality-competition audience needs—deserves—from its judges, mentors, coaches and whoever else offers their two cents. It's a needed slap in the face for an industry that does get by on tokenism when it comes to expanding its borders to be more inclusive.
And Tim Gunn doesn't pull his punches for anyone, just because it would be more polite. Yet, simultaneously, he's really just trying to make the world a classier place. You could even say he wants to...make it work better. More stylish options for people of all shapes just unequivocally equals better.
Which is why it's time to celebrate the lack of you-know-whats he's given over the years, all the times he hasn't worried about ruffling feathers and just told it like it is—because the outspoken businessman, educator and TV personality realized long ago—as a young man who dealt with bullying, battled depression and overcame a stutter—that there's no time like the present to try to make the system work better.
"It's easier to ask forgiveness than permission," Gunn told an adoring crowd at a signing for his 2010 book, the admittedly "provocative" Gunn's Golden Rules.
This is the guy who took fashion's fairly official queen, Anna Wintour, to task for, as he recalled, trying to get him to retract a an anecdote he told reporters about her being carried down a flight of stairs after a fashion show. He called her a "history revisionist" and admitted last year that relations between them were "hostile." Oh, and that Vogue is "of another world and another planet," and he'd rather have a "bad relationship" with the publication than a good one.
Wintour's philanthropic work "is wonderful, he added, "and my hat's off to her but I just wish that she navigated the world with a little more respect for other people."
His longevity in the industry says something about both the respect people have for Gunn's opinion, even if it's harsh, and how entertaining viewers find it—Project Runway's 15th season premieres Sept. 15 on Lifetime.
And while we're still sort of marveling over the fact that he expressly critiqued Tipton's designs and the lack of progress her win represented, Gunn had already washed his hands of season 14. He lamented straightaway after the finale to Entertainment Weekly that he didn't feel any of the designers were "working up to their potential."
There hasn't been any response from Tipton yet to the personal critique, but she told E! News last fall, "It kind of hurts to hear that he doesn't think that we brought it. Because at the end of the day we're listening to him and we're listening to the judges, so somewhere along there someone's not doing their job."
Well, even though there are times when the judges see none of the "potential" that Tim may see in a dress (ahem, Duncan in season 14), there are plenty of other times where Tim shares his words of wisdom and the designers brush it off. And that's their prerogative, but it isn't that uncommon for creative people to prefer their own vision over someone else's.
That includes Gunn, of course, because if anyone sticks to his, er, guns when it comes to what he believes is the epitome of style—it's him. Gunn hasn't been afraid to go against all the grain in the field to bash the perennially best-dressed: Beyoncé, Jennifer Lawrence, Charlize. Etc.
He's burst the bubbles on 'em all. And admittedly, we thought he'd gone insane when he named Charlize worst-dressed at the 2016 Oscars on E!'s Fashion Police (and he "loathed" J.Law's look), but now we realize that we don't want a Tim Gunn who follows the herd, who just goes with the flow.
We prefer our Tim fighting the good fight, blazing his own trail down the runway. He has made that look work.