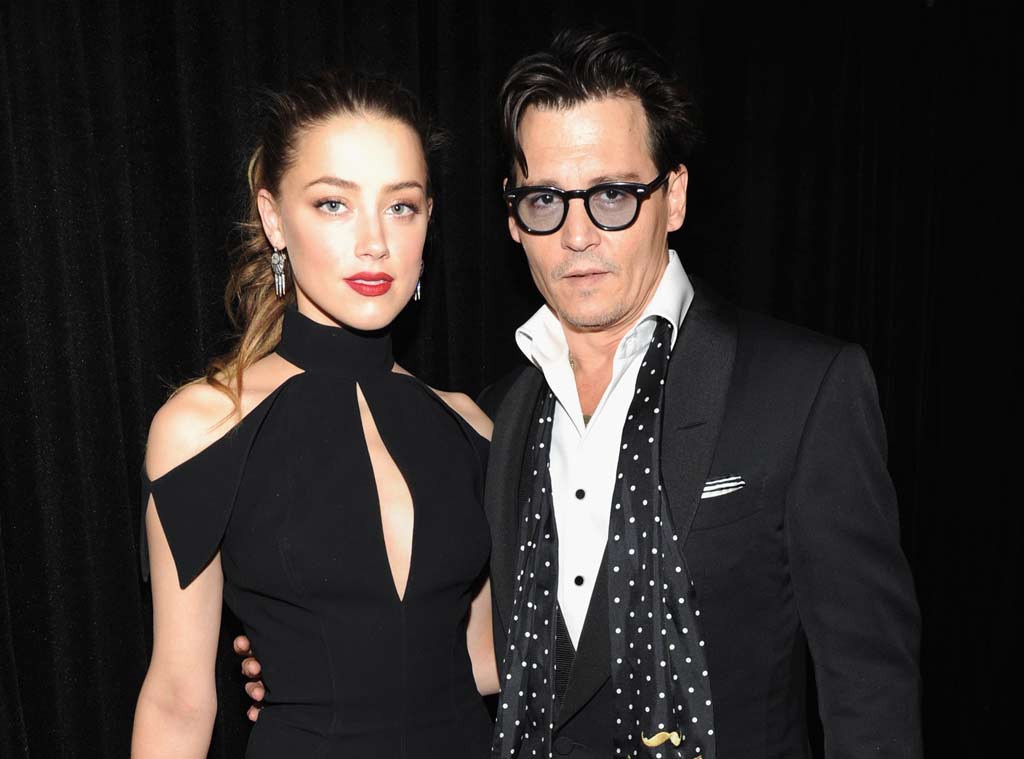 Kevin Mazur/Getty Images for Spike TV
It's always darkest before the dawn, right?
With settlement talks reportedly at a standstill and a hearing scheduled for Wednesday, the evidence that things were going horribly wrong between Amber Heard and Johnny Depp, long before she decided to file for divorce, continues to mount.
While it's still not known how TMZ got its hands on a months-old video and now year-old pictures, new-to-the-public allegations about the dysfunction going on behind closed doors have muddled the timeline and made it apparent that, while the ultimate ending of this sad saga may be decidedly undramatic, someone's in a secret-spilling mood.
So before it gets any more confusing—or they reach an undisclosed settlement and both sides are forbidden to discuss these matters in any way, shape or form—here's where the latest bits of information fit into what was already out there:
March 2015: Barely a month after they got married, Depp and Heard were in Australia, where he was filming Pirates of the Caribbean: Dead Men Tell No Tales. (This is also the trip that resulted in the infamous dog-smuggling incident, for which the couple were forced to apologize in the most bizarre fashion.)
It was reported around that time that Depp needed surgery after injuring his hand. Fast-forward to this past May when E! News learned that Depp hurt his hand by punching a wall during a fight with his wife.
A source close to Heard now tells us that this was also when Depp accidentally cut his finger. 
"Johnny continuously accused Amber of cheating on him," a source told E! News in reference to the March 2015 incident. The source said that he punched a wall and smashed bottles, and at some point during the altercation he lost a bit of his finger. In the heat of the moment, he stuck the detached tip of his finger in paint and used the broken-off bit to scrawl on a mirror, "Starring Billy Bob" and "Easy Amber." 
We had been told that there will be photographs of bloody writing on a mirror (seemingly the photos that TMZ posted today) among the evidence that's been gathered for Wednesday's hearing on the temporary domestic violence restraining order Heard secured against Depp back in May. 
Also going into evidence: Pictures of clothing racks knocked over, allegedly by Depp, inside her closet and texts from Heard family members discussing Depp's behavior.
December 2015: In her TRO petition, Heard stated: "There also have been several prior incidents of domestic violence with Johnny, in particular there was one severe incident in December 2015 when I truly feared that my life was in danger."
A source told TMZ, which posted just over the weekend a video of Depp shouting "motherf--ker" and kicking a kitchen cabinet, that the video was shot months before the May 2016 incident that Heard said hastened her decision to file for divorce. There's been no comment on whether the video and the December incident are one in the same or in any way related.
Heard did insist, however, that she had nothing to do with leaking the video, in which you can also hear her asking Johnny, "Have you drunk the whole thing this morning?" while pointing to a big bottle of wine.
"I am not responsible for the release of the video," Heard said in a statement Saturday. "It was not what I wanted and I am doing what I can to force the media to take it off the internet," she said in a statement to E! News. "I underestimated the toll that this difficult few months have taken on me, emotionally and physically, and the efforts made by the media to intimidate and discredit me. It is for that reason, and my desire to make the healthiest choice for myself, and hopefully for Johnny, that I am attempting to resolve this matter in the most private way possible."
A source also told TMZ that the video was "heavily edited" to cut out a part where Heard appeared to be "egging him on."
Frederick M. Brown-Dimitrios Kambouris/Getty Images
While we've been told that Heard didn't cheat, it appears that both of them had trust issues.
Also some months after the fact, a source told E! News that "one of their biggest fights" occurred after Depp got home following a night out and Heard accused him of being unfaithful.
"She questioned him about it and he blew up at her, got in her face yelling, chased her upstairs. Amber was scared," the insider recalled, noting that Depp "didn't admit to anything" but later apologized to Heard for his reaction and "she ultimately forgave him."
Sharky/Polite Paparazzi/Splash
April 21, 2016: Also according to Heard's TRO court filing, her husband missed a 30th-birthday party she held for herself at the downtown Los Angeles penthouse they shared. "After my guests had left, Johnny and I had a discussion about his absence from my birthday celebration which deteriorated into a bad argument that started with Johnny throwing a magnum size bottle of champagne at the wall and a wine glass on me and the floor—both which shattered…He then grabbed me by the hair and violently shoved me to the floor. Johnny was also screaming and threatening me, taunting me to stand up."
She stated that she didn't see him for a month after that.
May 21, 2016: Heard stated in the aforementioned documents that Depp came home "inebriated and high," as well as distraught over the death of his mother, so she tried to comfort him. "Suddenly, he began obsessing about something that was untrue and his demeanor changed dramatically," the actress further stated. "He became extremely angry." She then alleges he grabbed her cell phone out of her hand, "wound up [his] arm like a baseball pitcher and threw the cell phone at me, striking my cheek and eye with great force." 
Police confirmed to E! News that a 911 call was made that night, officers visited the address in question and spoke to a victim at the scene who ultimately declined to press charges. After concluding that no crime had taken place, the cops left.
May 23: Heard filed for divorce, citing May 22 as their date of separation. 
May 26: Depp's rep responded in a statement: "Given the brevity of this marriage and the most recent and tragic loss of his mother, Johnny will not respond to any of the salacious false stories, gossip, misinformation and lies about his personal life. Hopefully the dissolution of this short marriage will be resolved quickly."
May 27: Heard secured the restraining order, alleging, "During the entirety of our relationship, Johnny has been verbally and physically abusive to me. I endured excessive emotional, verbal and physical abuse from Johnny, which has included angry hostile, humiliating and threatening assaults to me whenever I questioned his authority or disagreed with him."
The hearing on whether to make the TRO permanent (i.e. extend it for three years) was originally scheduled for June 17. We had been told that Heard fully intended on testifying. A continuation was granted, however, and since then several attempts to depose Heard have been unsuccessful.
She did fly back from London, where she's been shooting Justice League, this past Friday—not in time to make the scheduled deposition, but in time to make the rescheduled appointment on Saturday. She was photographed making her way into an office building for the meeting, but it's unclear whether the deposition took place or if it turned into another day-long meeting, as it did a week beforehand.
TMZ also reported today that the sticking point in the settlement negotiations at the moment is Depp's refusal to sign anything in which he admits to abusing Heard—because he insists he did no such thing.
Watch:
Is the Johnny Depp & Amber Heard Abuse Commentary Dangerous?