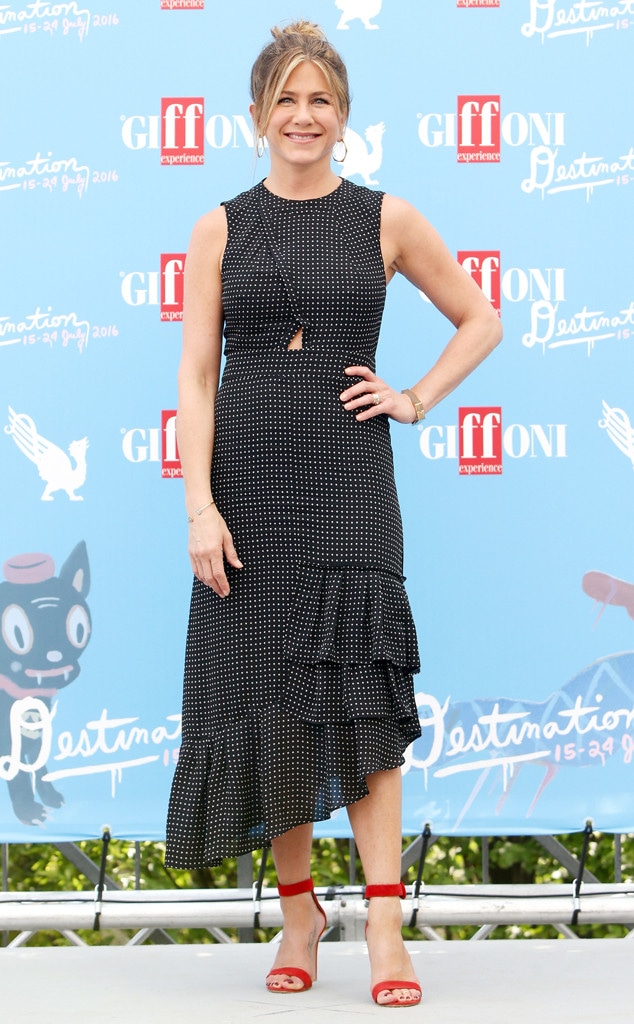 Vittorio Zunino Celotto/Getty Images for Giffoni Film Festival
When Jennifer Aniston traveled to the Giffoni Film Festival in Italy this weekend, she knew about the Lifetime Achievement Award coming her way.
But during a Q&A with children and teens from all around the world, the actress was visibly moved by the thoughtful and powerful questions that were sent her way.
One teenager asked Jennifer if she ever woke up in the morning and didn't know who she was. Her answer may surprise you.
"There are not enough fingers and toes in this entire room to count how many times that moment has happened to me," she told the audience via The Hollywood Reporter. "We're all human beings at the end of the day, whether we're a waitress or a baker or a student or whatever we are, at the end of the day you kind of can hit walls and think I can't go any farther. Or this is too much. My heart can't take it or the pain is too great, or am I good enough? Will I survive?"
She continued after getting emotional, "And you just have to sort of somehow miraculously overcome. You just go, 'I can't, yes I can, yes you can.'"
For those who firmly believe that a Hollywood celebrity with fame and fortune is exempt from this emotion, Jennifer assured the group that they are not.
"And also know that your actors, your idols, your icons, whatever you call them, have all had that experience or that moment in their lives many, many times. There's nothing that separates us from you, because we all started at the same place," she shared. "We all came out of nowhere. We were all born little innocent empty vessels. Don't punish yourself if you feel that. Go talk to people and seek help and always find something to inspire you."
Earlier this month, Jennifer also made headlines for her honest op-ed in the Huffington Post. In her essay, the former Friends star spoke out against the tabloid rumors, paparazzi and the objectification of women .
She would ultimately receive support from husband Justin Theroux and celebrities including Chrissy Teigen, Nikki Reed, Anna Paquin and others.
To watch more of Jennifer's Q&A with teenagers including her thoughts on bullying, click here.