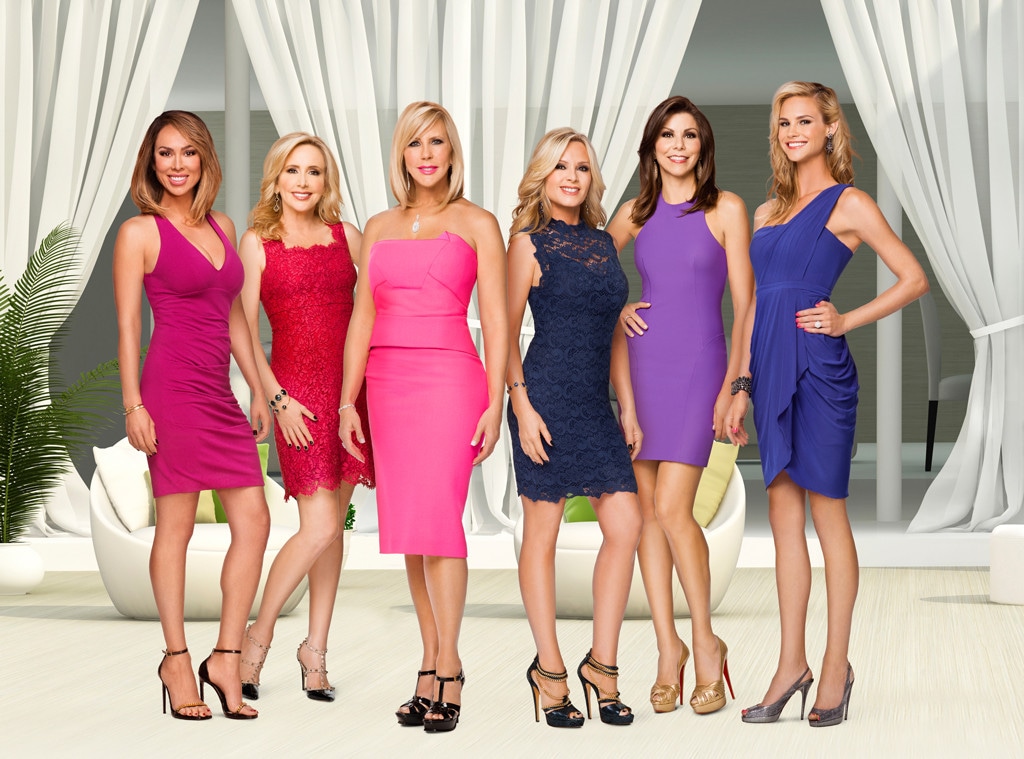 Bravo
The opening credits sequence for the Real Housewives franchise has developed something of a cult following in the 10 years since The Real Housewives of Orange County debuted on Bravo. No matter the city, no matter the season, viewers wait with bated breath to hear each woman's new tagline and see where she might end up in the final group shot. 
We here at E! News are so obsessed we've even ranked the 15 best (and 15 worst—they can't all be winners) taglines to date. But have you ever wondered how the opening sequence went from RHOC's simple first season with lines of lifted dialogue (i.e. Lauri Peterson's distressing "Are the police involved?") to the magical, witty, GIF-worthy works of art we know them to be today? You're in luck.
In our quest to understand all things Housewives, E! News sought out the one man who might be able to offer us the most insight into the process: Doug Ross, executive producer of both The Real Housewives of Orange County and Beverly Hills. Ross has been with RHOC since season two and is responsible for creating the taglines we've come to know and love. What he told us about the process might just might surprise you.
"It's fun to look back at the list…of Vicki [Gunvalson's] and [Tamra Judge's] over the years and [see] how they've evolved. It made me remember the processes at the beginning. I started in season two. We initially really tried to capture a moment that had happened in the show and reform it as a tagline," Ross explained. "So, they were more statements that felt lifted from the story as opposed to a tagline describing their personalities."
Eventually, a growing history to reference to (and the audience's greater familiarity with the ladies) pushed the sequence to greater heights. "As the show matured, not only did the characters mature, but [so did] our approach to how we were producing the show. We work very closely with the team at Bravo and it became clear that we wanted to have the taglines have a little bit more of a punch, a little bit more of a meaning to their characters," Ross said. "One of the interesting ones, I think, is in season seven [Vicki] says, 'My tank is full and I'm driving into my future.' That really was a take off on things that had been happening over the last couple of years where her relationship to her husband Donn was starting to fall apart and she had made comments that her love tank was empty. And then in season seven, she meets Brooks [Ayers] and her life turns around."
The new goal? To hint at Gunvalson's season ahead while also winking at the history behind her, Ross said. "We wanted to work with her to come up with a play on words that not only reference her story in the past and some of her notable catchphrases that she would throw out there like 'love tank,' but then also make it work specifically for what was going to happen that season," he continued. "We actually record the lines right before the season premieres, so we will have gone through taping most of the entire season, so we know what's happened and the lines are done at the end of the year."
Of course, the process to find exactly the right tagline for each Housewife isn't an easy one. "I will say that, with all due respect and I love all of our ladies equally, but it's always a struggle. Nothing is easy with the Housewives," Ross said with a laugh. "And that's why they're so good on TV. That's why they're so fun to watch! Part of what makes them great is that they're smart and opinionated and stubborn and if they've got something in their head, it can take several meetings, many phone calls, and several recording sessions before we all come to something that everybody's happy with."
So, how do the mad scientists behind the scenes find the perfect alchemy for a stellar opening sequence, season after season? As Ross described it, it's a lengthy process—one that begins pretty much right when cameras start rolling. 
"We actually start discussing what the potential tagline could be for each of the various 'wives pretty much at the beginning of the season, and we kick around ideas all season long, because they want their tagline to be unique and special and ones that really stand out from the pack," Ross said. "I've been working on Orange County for 10 years, 10 of the 11 years, and I will tell you it gets increasingly more difficult every season because, ultimately, a lot of the lines that pop into your head and make sense, well, they've already been used or they've been used now in another franchise. So it gets more difficult to come up with them each year, but the goal for every Housewife tagline, of course, is to not only be an accurate reflection of their personality and who they are as a person, but what's going on with them that season in their lives. What is their overall story that season? You want the tagline to kind of match."
However, what producers want and what the Housewives want is rarely ever the same thing. "In some ways, that makes it helpful to work with the Housewives to determine what it could be, but it also makes it more difficult because sometimes a Housewife will want to say 'I'm the prettiest and I'm the best and I don't take any s—t.' Well, yes, maybe," Ross added, laughing. "But everyone wants to say that and it really doesn't have anything to do with what's going on in your story this season."
Ross explained that the production team will take the Housewife's general and "usually much more unformed" thinking, "sit around and figure out how to take those lines and spin them into something that sounds like a tagline so we can go back to them and say, 'How about this?' And if it started with them, they're usually pretty open to saying it."
That also means for every tagline that makes it into the sequence, there can be a handful that were left on the cutting room floor. "Another thing that is interesting about the whole tagline scenario is that you never know exactly which one they're going to be able to say with the right inflection, the right meaning, so we'll ask them to record three, four, five, or six—each sort of variations on the theme or hitting on different parts of what's going on in their life that season," Ross revealed. "Sometimes, they'll just be able to nail one better than the others."
As an example of this yearly struggle, Ross offered up Shannon Beador's second season, the show's tenth. "She really wanted to have the line 'The best things in life are worth fighting for' because she had just spent the entire season on camera dealing with trying to put her marriage back together after she found out that her husband had had an affair. And it was really one of the most powerful stories we've been able to tell over the 10 years and they were so brave to let us witness that story. In Shannon's mind, she wanted to be very on the nose about it," he revealed. "We said to her, 'Well, that makes sense and it sounds like a tagline, but it doesn't quite capture the essence of who the Shannon is that we've come to know and love.' 
With a bit of negotiating—and the suggestive powers of one Bravo executive—a legendary tagline was created. "One of her big things in her first season was her interest in feng shui and she had made a big deal about that she would put nine lemons in a bowl and that would bring her good energy and good luck. And actually, it was the head of programming at the network, Shari Levine, who said, 'Let's see if we can work with Shannon to come up with a line that incorporates something about lemons and putting them in a bowl,'" Ross admitted.
"We actually had recorded a bunch of lines, none of them seemed to work, and I went down with the audio guy and spent the afternoon with Shannon in her closet because that's where we got the best audio, and we kicked around a bunch of different lines...about the lemons and it ended up being 'When life gives you lemons, put nine in a bowl.' And she delivered it with the right oomph…and it actually had the same meaning, overall, to the line that she had wanted to say," he sais. "And it actually became one of the best taglines of all time. It was so Shannon, but it also worked for the story. It was fun how that one came about."
When asked for some of his other all-time favorites, the ones he's most proud of, Ross had to take a minute to consider his answer. After all, there are SO many to choose from in just RHOC and RHOBH alone. (Trust us, we know. Remember that ranking we mentioned above?) But in the end, he singled out Judge and RHOBH star Lisa Vanderpump.
"Well, I've always had fun with Tamra's lines because she is such a strong flavor and I actually think that the lines in the last couple of seasons have really zinged. They're not necessarily the most clever of all time, but they still work for her," he said. "In season nine, she says, 'I'm not getting older, I'm just getting bolder.' And it was really this outgrowth of her getting divorced, getting married, coming to terms, starting her own business, but at the end of that season, she really had very difficult time with the ladies…They went to Bali and everything went to s--t and they started fighting and they really came down on her. She thought it was going to be the end of her time on the Housewives. And then in season 10, she discovers that she has this penchant for Christianity and for Jesus and for finding some religion in her life, and we wanted to make a play on her line from the season before as she goes through this redemption season. So we took the 'I'm just getting bolder' and twisted it around to 'Boldness comes at a cost…and I'm willing to pay.' It's not a super zinger, but it so worked and we used the tagline to help shape her story and her character for the viewers."
As for Vanderpump, well, he couldn't choose just one. "One of her famous lines, of course, is 'Life isn't all diamonds and rosé, but it should be.' That's a great line and said everything about the show and about Lisa. There was also her line when she had had a tough fourth season and she comes back and it's 'Throw me to the wolves, and I shall return leading the back.' Again, it was so much fun and who can deliver that line better than anybody? Of course, Lisa Vanderpump."
When we asked Ross if he was surprised by the fascination the fans have with the opening sequence, he admitted no, he's not. "I think that, as much as we try as producers to not fall into the fanboy-kind of thinking, we can't help but love the show and we get so caught up in it. We're equally as fascinated by the taglines. I wish you could just witness the brainstorming sessions where the whole story and production team will sit around the lunch table and take the suggestions from the ladies and then spend hours kicking around permutations and variations," he said. "So, I don't think that we're really surprised that the viewers are hooked on them too or fascinated by them. I love that they get spoofed. I think that's the highest form of flattery, when people make fun of them. And, of course, every crew member has their own tagline, too."
We'd expect nothing less.
The Real Housewives of Orange County airs Mondays at 9 p.m. on Bravo.
(E! and Bravo are both part of the NBCUniversal family.)