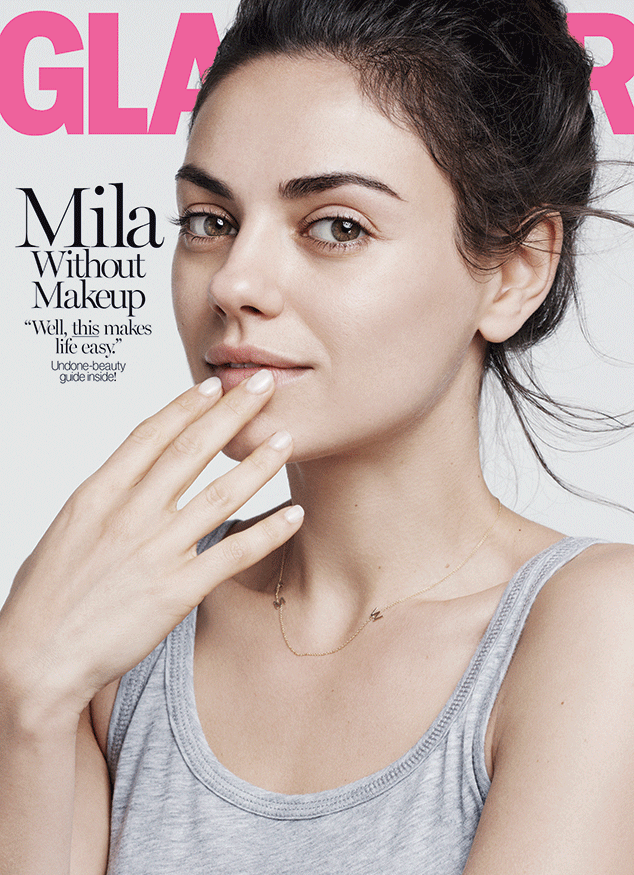 Steven Pan for Glamour Magazine
Mila Kunis is just as beautiful with or without glamorous, red-carpet makeup...Case in point? Her latest photo shoot with Glamour magazine.
The 32-year-old actress poses barefaced on the back cover of the magazine's August issue, wearing only serum, eye cream and lip balm. But while you'd think someone as famous as her would be stepping entirely out of her comfort zone doing this, she's actually quite used to it.
"I don't wear makeup," she told the publication. "I don't wash my hair every day. It's not something that I associate with myself. I commend women who wake up 30, 40 minutes early to put on eyeliner. I think it's beautiful. I'm just not that person."
In fact, that's a big reason why she really can't stand Photoshop.
"I hate it," she said. "There was a company that I did a photo shoot for once that manipulated the photo so much, I was like, 'That's not even me.' Like, what's the point? You wanted my name, and then you wanted the version of me that I'm not. I absolutely hate it."
Of course, she admits that some touch-ups are OK, but nothing dramatic. "Now, do I sometimes want them to depuff my eyes? Help me out with a little bit of lighting," she admits. "But do I want them to stretch my legs, thin out my waist, curve my hips, elongate my neck, blah, blah, blah? No."