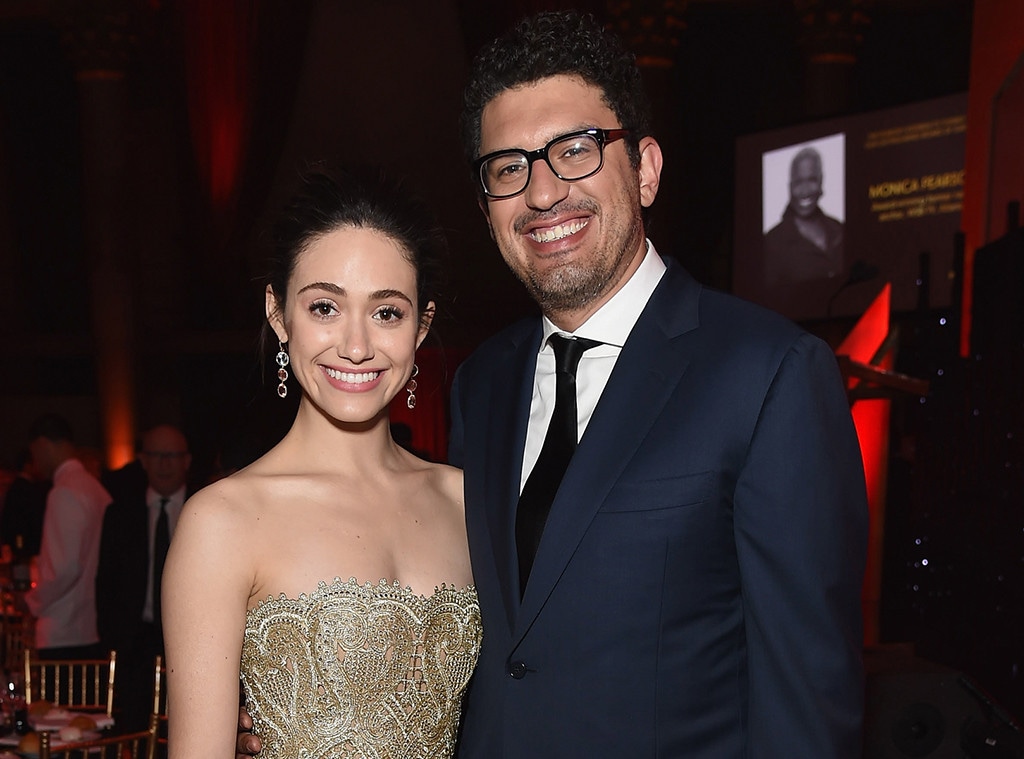 Gary Gershoff/Getty Images for Peabody
Emmy Rossum and Sam Esmail have reasons to celebrate—but not for the reasons one might assume.
Esmail's USA Network series Mr. Robot received six Primetime Emmy Award nominations Thursday: Outstanding Lead Actor in a Drama, Outstanding Drama, Outstanding Writing for a Drama, Outstanding Music Composition, Outstanding Casting and Outstanding Sound Mixing.
"The entire team at Mr. Robot is thrilled with our nominations this morning," he told E! News in a statement. "Today is officially shoot day 80 for season 2 and we couldn't be happier to hear the news from set. We are humbled and honored to be in the company of such innovative, groundbreaking storytelling. On behalf of the cast and crew who continue to work tirelessly to make this show, as well as USA Network and Universal Cable Productions, thank you to the Academy of Television Arts and Sciences."
Esmail also tweeted about the honors, praising actor Rami Malek and composer Mac Quayle. "Congrats to @ItsRamiMalek @macquayle and the rest of the @whoismrrobot team," he wrote. "Thank you @TelevisionAcad for this wonderful recognition."
Rossum, who got engaged to Esmail in 2015, tweeted, "So so so proud of you @samesmail !!!!" The Shameless actress' co-star, Shanola Hampton, also congratulated him—and accidentally implied that the stars were secretly married. "To the genius that is @samesmail CONGRATS on marrying my girl @emmyrossum, oh and on SIX #EmmyNominations!" she tweeted. Rossum responded to the message with a smiley face but provided no additional context.
Watch:
Where Is Emmy Rossum With Wedding Planning?
As such, many of the actress' Twitter followers assumed she had tied the knot in secret. Rossum laughed off the speculation, though, tweeting to E! News Friday, "hahaha nope not yet!"
Last fall, Rossum played coy about her wedding plans during an interview with E! News' Marc Malkin. "We're just chilling for a hot second," she said. "I'm not even answering my family who asks me. I know everything. I'm just not sharing it...I'm honestly just chilling and enjoying it for now."
Esmail, 38, began dating Rossum, 29, in 2013 after casting her in his directorial debut, Comet. And though Rossum didn't receive an Emmy nomination for her work in Showtime's Shameless, her co-star, William H. Macy, did earn a nod in the Outstanding Lead Actor in a Comedy Series category. "I couldn't be more pleased," Macy told E! News in a statement Thursday. "As I write this, I'm sitting in my trailer somewhere in South L.A. and we're doing a wonderful scene in a homeless shelter. Not only do I get to tell these great stories, but I get to act with Emmy Rossum and our stunning cast. I don't have much to compare it to, but I gotta say, this is a wonderful way to make a living. Thank you fellow Academy members. I blush with pride."
Malek, meanwhile, also released a statement to after receiving his nomination. He's up against Bloodline's Kyle Chandler, Better Call Saul's Bob Odenkirk, The Americans' Matthew Rhys, Ray Donovan's Liev Schreiber and House of Cards' Kevin Spacey on Sept. 18. "I couldn't be more honored to receive this nomination," he said. "To be included among of list of actors whose work I've admired for years is truly humbling. I'm so grateful for the brilliant Sam Esmail who brought Elliot to life and has allowed me to play a role one could only dream of. Thank you to the cast, crew, USA Network and Universal Cable Productions. And, of course, to the Academy."
(E!, USA Network and Universal Cable Productions are all members of the NBCUniversal family.)