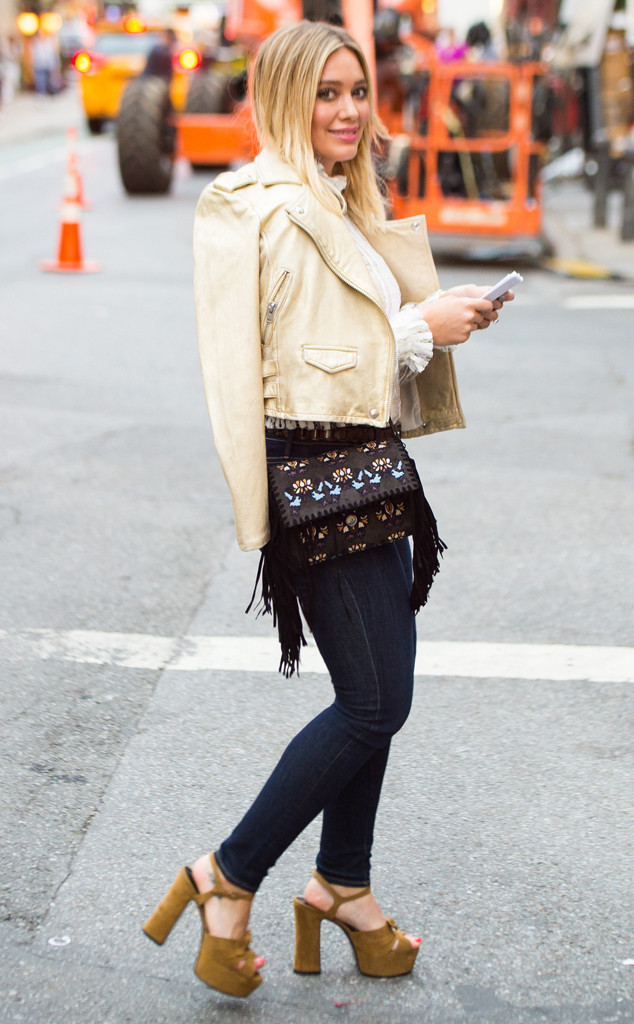 Splash News
It's officially summer, and that means it's time to get in gear for some sun-filled soirées...and who better to ask for some advice on party-planning this season than Hilary Duff?!
E! News sat down with the Younger star, who is partnering with Stella Artois this summer to help people "host one to remember," and thus, we had to pick her brain on some of her favorite entertaining secrets.
"My style of entertaining is pretty casual, especially since I have a child now," she told us, referencing her 4-year-old son, Luca. "But I love to cook and I always think that cooking for your guests is memorable and personal."
One of her absolute favorite party-time appetizers—other than guacamole, which she blames her Texas roots on—is bacon-wrapped dates stuffed with cream cheese. "It's really low-fat and low-calorie, but they're really fun to make, and everyone loves them—even if you're not a big date fan. They're really easy to just pop in your mouth."
She's also a big on bringing in fun elements that make people feel at home. 
For example, she told us, "I bought these vintage bath tubs a while ago and I tend to fill them with ice and beverages and, of course, Stella Artois. Creating a flow where people can help themselves and feel comfortable is super important."
She continued, "[Another] thing I've been doing is buying little potted plants and putting them by the front door for people to take home or using them as a main placeholder at the table. It's a nice little party favor!"
In fact, flowers and plants were a central theme for her favorite party she ever threw: sister Haylie Duff's baby shower last year.
"We bought all these buckets of fresh flowers, and we made flower crowns," Hilary recalled. "People got to take a little bundle of flowers home with them. We had people painting wild flowers on everyone's faces. It was super hippie-dippie and really fun. I was searching high and low for original ideas, and [Haylie] loves flowers…So I was like, 'I gotta do this, and I gotta do it big!'"
So presh!
Other than hosting great parties, Hilary has always been big on staying healthy and in shape—obviously an important factor for being bikini-ready this summer. However, with her busy schedule filming the next season of Younger in New York, she's had  to switch up her normally strict routine and give herself some leeway. 
"It is so hard here! Our first day back on-set we worked 16 hours, so I don't know what kind of class I can catch at the time of night," she explained. "But I did just sign up for this really cool app… It's called MindBody. I think that's going to help because it has all the schedules right there, and I like to do so many different kinds of workouts."
She continued, "In L.A., it's easier for me to do private training and have a set schedule, and here it's going to be more of hitting classes. I like to run, too, so running in the city is always fun for me."
LGjr-RG, PacificCoastNews
And speaking of fitness, Hilary has been spotted out and about with her personal trainer, Jason Walsh, lately. While some speculated that the two are an item, they're just casually dating—something Hilary plans to stick to this summer.
"I am just focused on work and my son," she explained. "And [dating] is something that just happens naturally. I don't seek it out or try to hunt it down. If it comes, it comes, and that's great, but it's something that just happens naturally."
Some of her girlfriends, on the other hand, are actively seeking out love by using dating apps. She explained, "So many of my girlfriends are on dating apps, and I'm like, 'You girls are crazy!' But then you hear success stories, and it's so hard to meet people!"
Especially for someone like Hilary who—dating, fitness and party-planning aside—maintains three full-time jobs: motherhood, acting and music. 
In fact, she revealed she's been working on new songs. "I was in the studio a few weeks ago, and I tend to do this a few weeks before filming…Just during the season it kind of helps me get excited for the possibility of making a new record or having something to play people," she said, admitting there's no set date of when she'll release the new stuff.
As for the vibe of the new music, it's slightly different than her last album. "It's a bit of a darker tone," she explained. "The one I teased [on Snapchat] is called 'Tied to You.' It has a little big of a heavier, darker sound. But it changes all the time."
Her divorce from Luca's father, Mike Comrie, was finalized in February, which may provide some new inspiration to her music. "I do have some new things to write about," she continued. "It's exciting."
We can't wait!