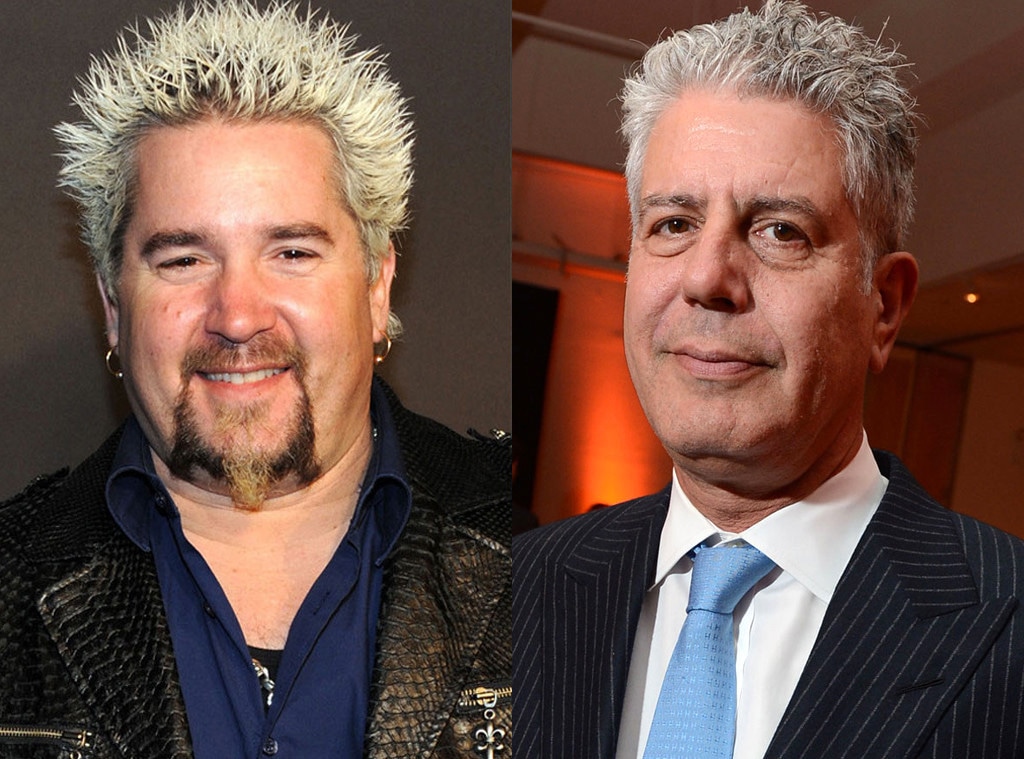 Getty Images
Isn't food supposed to unite instead of divide us?!
Just when we thought Anthony Bourdain squashed his beef with Guy Fieri, the celebrity chef decided to discuss the Diners, Drive-Ins and Dives host in a new magazine interview.
While he certainly has some nice things to say (we think) about the Food Network star, other parts are leaving a bad taste in some fans' mouths.
"I find Guy Fieri a rich and deep vein of comedy, there's no doubt about it, and he's worthy of a solid and maybe relentless mocking as anyone who has made his sartorial choices deserves," he shared in this week's Food Issue of Adweek. "But is he bad for the world? On balance, probably not."
He added, "I would greatly prefer to not have a Guy Fieri restaurant in Times Square. It hurts me. It offends me. But somebody clearly loves it."
It's certainly not the harshest thing Anthony has said about Guy in the past. After all, who can forget when he called him a douche? But is it exactly a glowing compliment directed at the businessman? Not exactly.
Perhaps the consolation in this long food fight is that Guy insists all the words from the fellow chef doesn't concern him in the slightest.
"What you see is what you get with me. There's no show," he shared with Success magazine. "I'm like anybody else. You get enough, you can get beat up. You can get hurt. You can get frustrated. You can get demoralized."
He added, "If there are 100 people who don't like me, 90 of them don't have a reason. Have I pissed some people off? Yes. Have I done wrong? I'm not sitting here saying I haven't. But most of the negativity is entirely superficial."
In the latest issues of Adweek, Anthony also addressed the rise of YouTube food stars and admits to being "all for it" even though he doesn't know any of them. As for boycotting Chick-fil-A anytime soon, the CNN host isn't exactly joining that club yet.
"Are we looking for nice people to run our companies?" he asked the publication. "We're going to be looking pretty hard....I support your inalienable right to say really stupid, offensive s--t and believe really stupid, offensive s--t that I don't agree with. I support that, and I might even eat your chicken sandwich."
Watch:
Anthony Bourdain Breaks Silence on Guy Fieri Comments