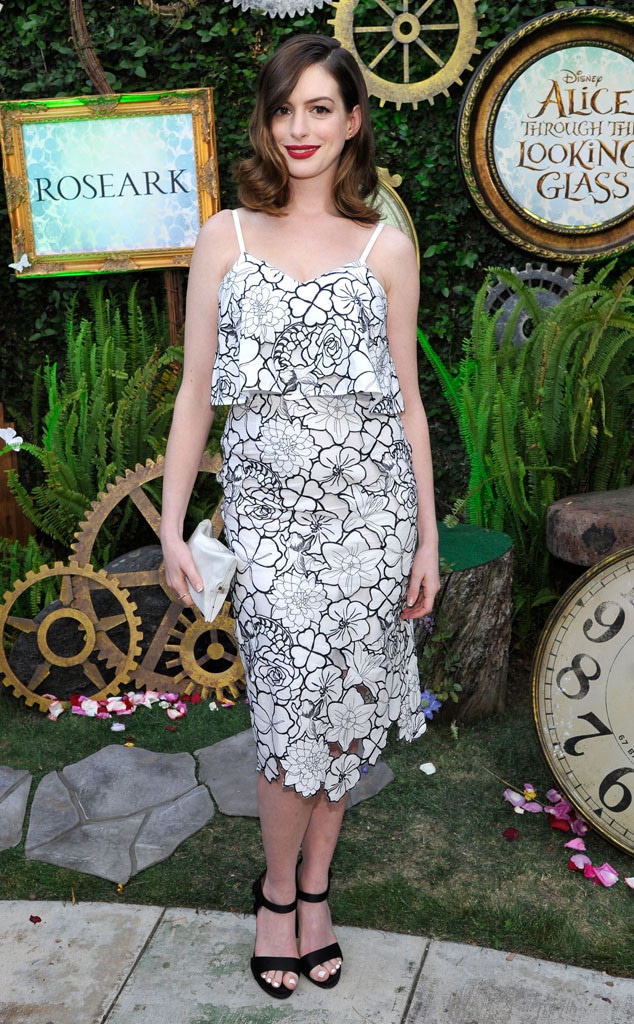 John Sciulli/Getty Images for Disney Consumer Products & Interactive Media
Anne Hathaway couldn't tell you what happens during the first 20 minutes of her new movie, Alice Through the Looking Glass.
The new mom opened up on Good Morning America Friday about how motherhood has changed her life—and schedule—and shared that her baby boy, Jonathan Rosebanks Shulman, prevented her from watching the beginning of the flick.
"I'm sorry. I am a new mother and I didn't time the feeding schedule—well, like I have any control over it," Hathaway, 33, shared, laughing. "My kid was hungry, I had to feed him, I missed the first 20 minutes so I can't tell you about the beginning of the movie."
Hathaway explains that the sequel tells the story of her character, the White Queen, and her secret past, and admitted that she and her fictional counterpart had one thing in common: a secret. The Oscar-winning actress and her husband Adam Shulman wanted to reveal her pregnancy on their own terms, so they kept it as secret for as long as possible.
Alberto E. Rodriguez/Getty Images for Disney
"I hadn't planned on ever confirming it and then I just, I had seen a photographer while I was on vacation, taking a photo, and I just thought, 'It's such a joyful and a sacred experience, you know, carrying life,'" Hathaway explained. "And I just thought, 'I don't want the first version of this to be out there with me covering or scowling at someone.'"
She added, "You know, that's not representative of the experience, so I chose a photo that I was happy with, and I put it out there."
It seems as though Alice Through the Looking Glass has given Hathaway's fictional characters a promotion, as she now plays a queen but at the start of her career she was crowned a princess. Fifteen years ago Hathaway played Mia Thermopolis, Princess of Genovia, in The Princess Diaries.
"More so than any other film that I've been in, that film has legacy and it just has meant so much to so many people," Hathaway said of the film, which also starred Julie Andrews as the Queen. "It's given people the opportunity, you know, little girls and little boys to curl up with their parents on the couch and throw on their sweatpants and sit and cuddle and it's a real honor to think that something that you've been a part of becomes a part of the fabric of people's lives, you know?"
Watch:
New Mom Anne Hathaway Hasn't Slept in 8 Weeks