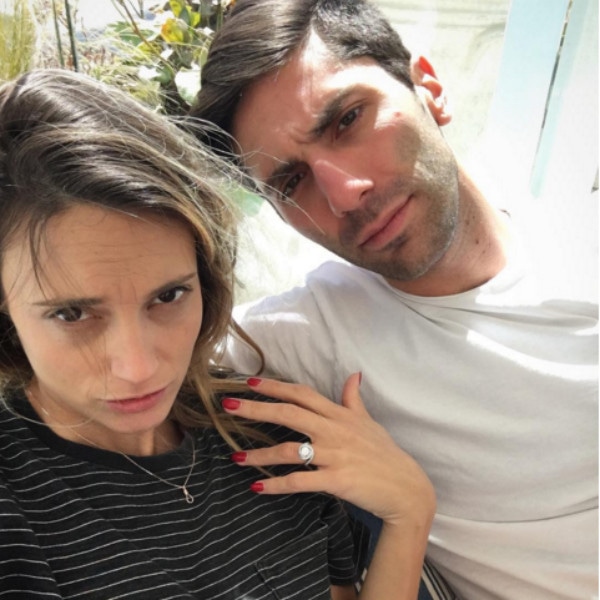 Instagram
Nev Schulman has a lot to celebrate these days!
Less than two weeks after the Catfish creator and girlfriend Laura Perlongo announced they were expecting a baby girl, Nev revealed the parents-to-be are now engaged. 
He Instagrammed a selfie with his pregnant bride-to-be that showed them both making mock-upset faces. He comically captioned the photo, which also features Laura's beautiful diamond engagement band, "we're enraged!!!"
Laura posted a photo showing off her new bling as well. In it, she's feeding Nev, who has his eyes closed, what appears to be deli meat of some sort. "It's all v serious now," she captioned the shot.
Dimitrios Kambouris/Getty Images
Laura wrote an op-ed for ATTN explaining the story of how she found out she was "pregnant accidentally on purpose."
"To make a long letter short, Nev and I certainly have no idea what we're doing, we just know we're doing something we want to be doing," she ultimately concluded. "Hopefully we don't suck at it or turn into know-it-all zombies. Mainly we're just really happy and excited."
Nev echoed this sentiment, writing on Instagram, "IT'S A GIRL! No words can capture the excitement and joy I feel about becoming a father. I am so in love with you @el_peego and thank you for giving me this incredible gift. You inspire and excite me every day."
Congratulations to the growing family!
In other happy news, Eva Longoria got married this weekend! Watch the video below to find out new details about her wedding.