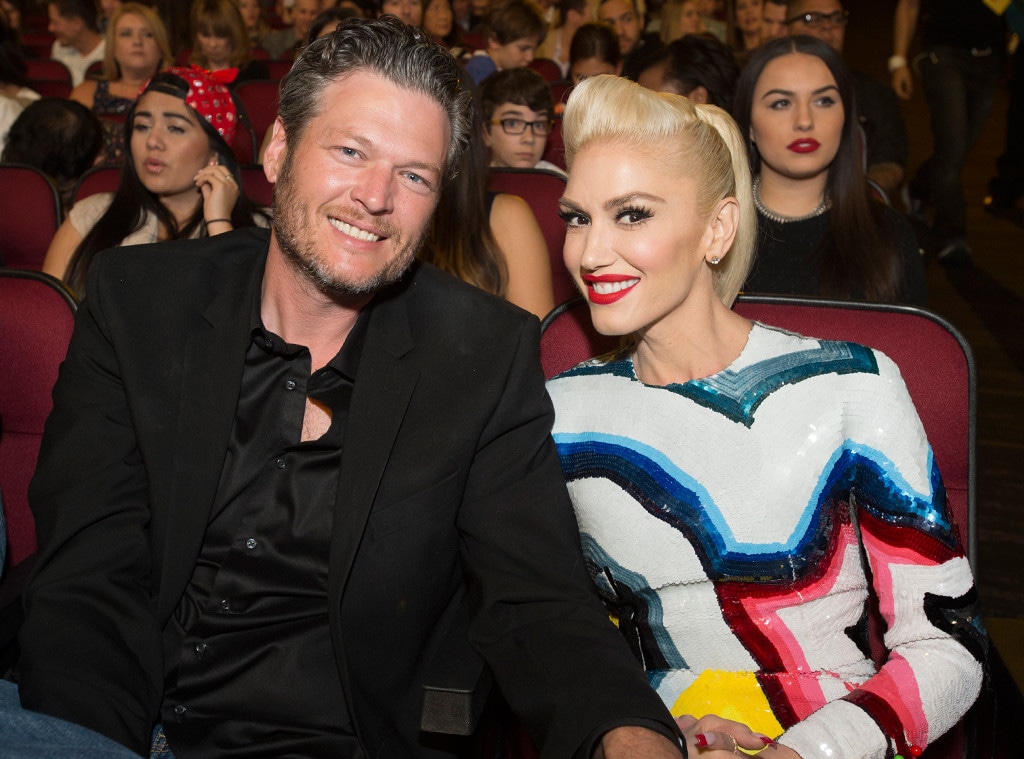 Disney Channel/Image Group LA
We wouldn't exactly call Blake Shelton comfortable in the hot seat, but he at least doesn't seem to be melting under pressure.
For the last several, five, six...wow, seven months now, since he and Gwen Stefani went public as a couple, it's been Gwen who's had to field the majority of the questions about what's going on with them since day one.
And though it was really the people asking the questions who filled in a lot of the blanks early on—"This is what I'll say about that: I never said nothin' about being in a new relationship," she said way back in November in a radio interview—Gwen is primarily the one who gauged what to say and when.
Because she's the one who had the major project—her first solo album in 10 years—to promote.
But now it's Blake who's on the publicity circuit, with his new album and a role in Angry Birds, so we finally get to hear from him. And we're all ears...
He admitted on Today Thursday, after Savannah Guthrie was the one to point out all the "musical chemistry" and "chemistry-chemistry" between them, that the constant attention that he and Gwen attract is "a little weird" for him.
"We could not be, on paper, any more different. I mean, I'm a country singer and she's a ska, rock, pop, whatever it is...and it's just an odd idea," he said. "But man, it's a lot of fun. I've gotta be honest about that."
And like Gwen, whose lead single off This Is What the Truth Feels Like was the heartbreaking "Used to Love You," obviously inspired by real-life events, Blake is serving up a bigger slice of his own life than usual with his 10th studio album, If I'm Honest (which came out today).
"I figure since everybody else is cashing in on my life, I might as well too," he added, "so that's what the record is."
Also just like Gwen, he called the response to their first songwriting collaboration, "Go Ahead and Break My Heart," just "crazy."
"I actually wrote that song, started it just to try to impress her, to be honest with you," Blake said on Today. "And I sent it to her just half done...and she wrote the next verse and sent it back to me. And so it was like, oh, we've got a song together. That's kind of cool."
Courtesy Getty Images for iHeartMedia
So now we know that the country artist wasn't content to rest on his well-timed laurels.
Thank you, promo tour, for the info!
And on Friday's episode of Live! With Kelly, he acknowledged it was "obvious" that his trendsetting significant other wasn't rubbing off on him in the fashion department.
"And it's probably so boring for her," Blake suggested. "Because, literally, you know I'm going to have gray hair every day, I'm going to wear blue jeans with boots."
Then he re-told the story about writing "Go Ahead and Break My Heart" to impress Gwen, that she wrote the other half and it was "crazy."
And then Kelly Ripa filled in the blank: "You're like a match made in heaven!"
Blake also clarified their creative process: "We really don't work together at all. That's what's crazy about writing that song, outside of just going in and recording our vocals...She's Gwen Stefani. I'm a country singer, you know, we don't really work together. It's crazy that thing happened anyway."
In response to Kelly remarking that they at least had "crossover appeal" for each other, Blake added, not taking the bait, "She probably has a better chance crossing over to my world than I do going ska."
Ain't that the damn truth.
Blake relayed the "nuts" songwriting tale to Carson Daly on AMP Radio yesterday morning as well (and think of how many times Daly has heard that story!), as well as revealed he thought "Hey Baby" was a TLC song before he and Gwen started dating. "Of course I knew all those songs," he added, naming some major No Doubt tunes, "I just didn't know it was No Doubt that sang them. Some songs are so big. I don't care if you live in the jungle, you're aware of [them]."
Case in point: Blake also guest-hosted an hour on Beats 1 as part of his whirlwind If I'm Honest press tour and, asked to share some of his favorite music, he revealed that Gwen's "Sweet Escape" had always been one of his favorites—most unwittingly! 
"One day I was driving down the road," he said, "and this song came on and Gwen was in the car with me and the intro started and it was like, 'What is this? I know this song, I love this song,' and she said, 'That's…that's my song.' I thought that was so funny that literally we're just starting to learn about what we do professionally. I thought I'd throw that in on the mix here."
Carson also asked the Oklahoma native yesterday if he felt any more comfortable living out in Los Angeles now than he did when he first started doing The Voice.
"Well, I got a girlfriend now," Blake replied. "There is that." Moreover, he's driving more than he used to, as Carson pointed out.
Blake explained, "I don't think it's very manly to be like, 'Oh, you want me to come over right now? OK, let me call a driver.' It's way better if I can just cruise up in my Nissan Altima."
Country or ska, no matter what's going on behind closed doors, in L.A. or when Gwen makes the trip to Oklahoma with Blake, we're guessing the main soundtrack of their relationship is a lot of laughter.
And perhaps because they're buddies, even once driving all the way out to the Inland Empire to Bass Pro Shops to make Blake feel more at home in SoCal, Carson got a lot of good dish out of the artist.
"I think it was last fall, sometime at the beginning of the fall, I sat down one day and I started writing this song ['Go Ahead and Break My Heart'] because she and I were—even though we were, you know, beginning this relationship, we're having some trust issues with each other because of what we had been through, and you kinda get to a point where you're like, 'Man, am I really gonna do this again already,' you know what I mean? But it is happening."
Cue the part about trying to impress her.
And we'll be darned if "You Can't Make This Up," also off of the new album, doesn't tell the tale of two people who fell in love on The Voice.
"People would say I'm lying / If I tried to tell 'em how we met tonight / They'd ask how many drinks I'd had / Cause ain't no way it all went down that right / You waiting on somebody and they never did show / You were pissed off, leaving, came back cause you forgot your phone," Blake sings.
"There I was, yeah I just sat down in the seat you left / You walked up I said 'what are you doing with your beautiful self?' / You rolled your eyes but you laughed and your song came on / I begged you for a dance and we danced / And it was on, eyes locked, clock stopped / One little kiss, no, we never meant to start falling in love / Oh man, you can't make this up."
That, as someone might say, is "nuts." And since it's a true story, it may as well be told in song.
"It's not something anybody could've seen coming besides God, I guess, because it doesn't look like it would make sense, you know," Blake acknowledged as much to CMT's Katie Cook a few days ago. "All I can tell you is that it does. It just makes the most perfect sense for us and where we're at in our lives. I tell people all the time, Gwen saved my life last year. She did, and I think she would probably tell you something similar about me."
And she has.
"Even the first season that Gwen was on the show, which was season seven I think [in fall 2014, when both were still married], I didn't ever really get to know her that well," he recalled. "I mean, she was on the show, high five and 'good to see ya,' so even coming into the second season of The Voice when it started, I didn't even really know her that well and it just all of a sudden," he shrugged, "this thing just happened because of the things that we were going through. Saved my life, period."
Coming full circle, the reason why we're getting to hear Blake's side of the story at all was once again front and center.
"There's just been such a media craze around us being together so I think that's why there's been a lot of views on YouTube," Blake continued, referring to how excited people were by his duet with Gwen on The Voice (and happy times, they'll be reliving the moment Sunday at the 2016 Billboard Music Awards). "I'm good with it because at least we're able to now direct people, instead of it being about, you know, whatever our relationship is—now I can just go, 'Yeah, we did a song together, y'all should go buy it and listen to it.'"
And did you know that he started writing the song because he was trying to impress her?
(E! News, NBC and Universal Pictures are all members of the NBCUniversal family.)