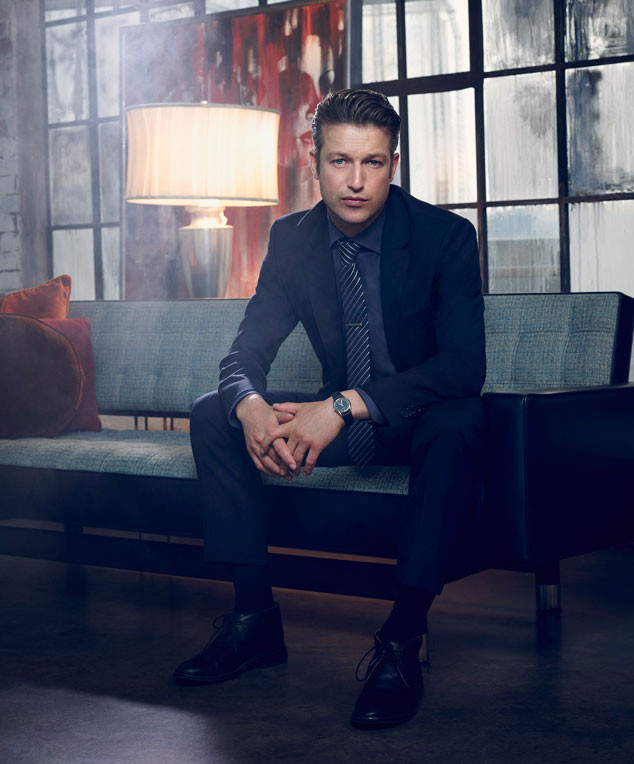 Jason Bell/NBC
Under executive producer and showrunner Warren Leight, a lot has changed for Law & Order: SVU. Characters have personal lives and the stories have moved from black and white/open and shut to a shades of gray. But Leight and SVU have also changed the lives of those involved, particularly Peter Scanavino.
"Me, personally, I can't say enough amazing things about [Leight] because he literally called me up and offered me this job when I was sitting on my couch wondering what I was going to do next. Now it's totally changed my life and I'll be forever grateful," Scanavino told E! News about Leight's legacy. The executive producer and writer is leaving the show at the end of this season and E! News was on set for the season finale.
Prior to being a guest star and later a series regular, Scanavino appeared on Law & Order: Trial by Jury, Law & Order: Criminal Intent and the mothership, Law & Order. The only Law & Order he's missing is Law & Order: LA.
When Scanavino got the call to come on board as Detective Carisi for three episodes, he said he surprised. He had played a perp not long before.
"OK, I got a call to be a perp on the show in season 14 and that was great, just to get a job offer out of nowhere. I was like, 'OK, done SVU, now I've done 'em all. So that's it, it was great while it lasted, guess I can't do that for a while.' A year goes by and I get another call and he was like, 'Do you want to come back on SVU?' and I was like, 'Do you remember that I was on this show last year?' and he said, 'Yeah, it's fine. Do you want to do three episodes?' I said, sure and that was fantastic, and then it turned into more and then this," he said. "Now it's a different world for me. It's amazing."
A different world that includes getting treated to coffee by fans.
"Just the other day [Laughs.] I was at Starbucks of all places," he said. "The bill came out to like $14 and I gave 'em $15 and the teller gave me $5 back and I was like, 'Did I give you $20?' He said no. I said, 'It was $14 right?' and she was like, 'Just showing some appreciation.' It's like pfftt! Know what I mean?"
He's also won over the boys in blue.
"What I have gotten a lot of is actual cops who would come up to me on the street, off duty, or guys that were on the job and they'd be like, 'I was 20 years on the job and love you,'" he said. "I feel like that's kind of a great compliment to get. I take a lot of pride to get that from some of the real deal."
When it comes to his character, Detective Dominick "Sonny" Carisi, viewers will be pleased to know they will get an answer about his bar status—meaning whether he passed the attorney exam—by the end of the season.
"He's just waiting around to first figure out if he's going to pass the bar and if he has a decision to make at all because if he doesn't pass the bar, there's no decision to make," he said. "But if he does pass the bar, what's going to be the best way for him to continue in law enforcement? Is it prosecutorial role or continuing to be a detective? That's something he's got to investigate himself and kind of dig deep to find out."
Law & Order: SVU airs Wednesdays, 9 p.m. on NBC.
(E! and NBC are both part of the NBCUniversal family.)
Related:
Mariska Hargitay Teases "Law & Order: SVU" Season Finale