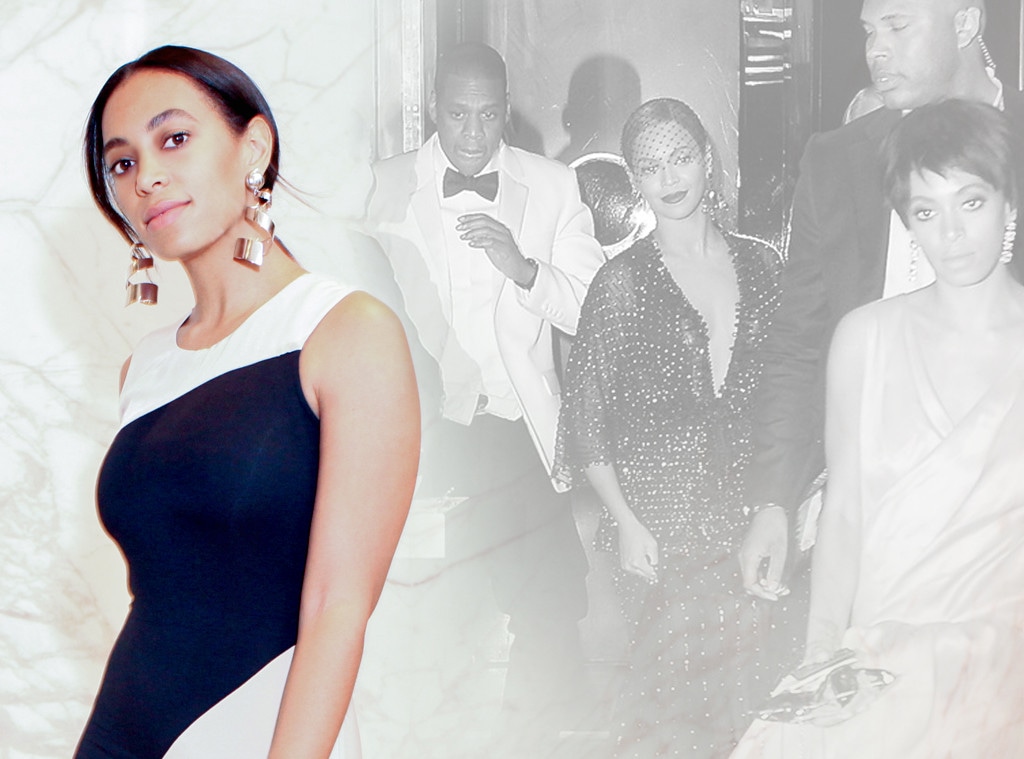 Splash News; Samantha Nandez/BFA/REX/Shutterstock; E! Illustration
Today marks the two-year anniversary of The Incident. 
It was on May 5, 2014 that the now-infamous Elevator Attack went down at the Standard Hotel after the Met Gala. It was the fight heard 'round the world, and it sent shockwaves through the entire industry and fan base. Even the Beyhive, normally quick to jump into action, was left stunned. And why wouldn't they be? The most famous family in Hollywood just got into a royal brawl on tape, exposing a closet full of infidelity and side chicks and all sorts of unspeakable skeletons. 
Plenty of people went after Solange in the days and weeks following the leaked video. They were less concerned with what Jay Z had done to possibly deserve this outburst and more interested in the salaciousness of a Real Housewives-style catfight caught on video in all its grainy glory. And everybody missed the point.
First of all, let's address the not-quite-large-enough elephant in the room: Solange crossed way over the line of appropriate behavior. We never endorse physical violence and this situation is no exception, the almost laughably uneven match-up notwithstanding. No matter how angry she was with Jay, there were far more appropriate (and less presumably booze-fueled) ways to handle it. But now that we're two years out from the whole scenario, with way more information and evidence to digest, we're looking at things in a different light and have decided it's time to come to Solange's defense. 
Do we wish she had done like they teach in kindergarten and used her words instead of her fists (and feet and purse)? Yes. Can we change what happened? No. So here's why we're on her side.
In keeping with the grade school theme, it's time for America to walk a mile in Solange's shoes. How must she have felt that night; how must she have felt throughout Jay Z and Beyoncé's entire marriage? If all the cheating rumors are to be believed, just imagine the pent-up frustration and anger that a sister would develop. Siblings often feel it's their job to protect each other, and there's no scenario that warrants more protecting than the possible breakup of a marriage.
Then cut to the night in question; As sources told E! back in 2014, rumored flame Rachel Roy was "being flirty" with Jay at the Met Ball, so much so that it prompted Bey (with Solange in tow) to confront her about her "disrespectful" behavior. Jay then allegedly said some hurtful things to the Knowles sisters as the whole confrontation was going down, and the next thing you know they're in the elevator and all hell breaks loose. One has to imagine that Solange was in the mindset of B's not gonna do anything, so I will. Celebrities may seem otherworldly at times with their good looks and wealth, but at the end of the day they're as human as the rest of us.
Solange's outburst also shone a light on one of her best qualities: Fierce loyalty and dedication to family. She'll defend her sister to the ends of the Earth, and she's not going to take any disrespect towards Bey lying down. And, in the midst of a marital dynamic that is hard for most people to wrap their heads around, she seems like the one person who sees the Carter's alleged arrangement as possibly not so fair. Jay Z gets to do whatever he wants and it's swept under the rug because it helps both of their careers? Not so fast, says Solange. You respect your vows and commitment or you will face the long arm of the law Solange.
Of course, now, Solange is getting the last laugh. That's because while she stayed silent all these years, telling magazines that everything was behind them, she is now, finally, justified. That's because of one thing: Lemonade. After two years of the public questioning whether the infidelity rumors that spawned the elevator fight could really be true, and the lyrics of that revenge album blew the debate lid wide open. Lines like "If you try this s--t again you gonna lose your wife" or "Looking at my watch, he shoulda been home/Today I regret the night I put that ring on" don't leave much to the imagination. 
You have to respect her patience and restraint. How easy it would have been to just speak out and put the situation on blast, but Solange, like the prosaic Justin Bobby, knows that truth and time tells all. 
Of course, she hasn't been completely silent. Solange is one slick lady and don't think for one second that she hasn't taken the opportunity to slip in some sly references to the situation. It all boils down to one picture, really: This now-infamous lemon-yellow dress. 
Dimitrios Kambouris/Getty Images
Don't think for one second that this wasn't an allusion to Beyoncé. After all, she wore it barely a week after a release of Lemonade, to the Met Gala of all places (where that elevator incident went down, remember). And make that a Met Gala at which Jay Z was a no-show. We see you, Solange, and we are feeling this subtle shade. In a world full of passive-aggressive Instagram posts and ill-conceived Tweets, this is an old school way to say, I told all of you.
And for the record, this would be the point where Solange drops the mic.