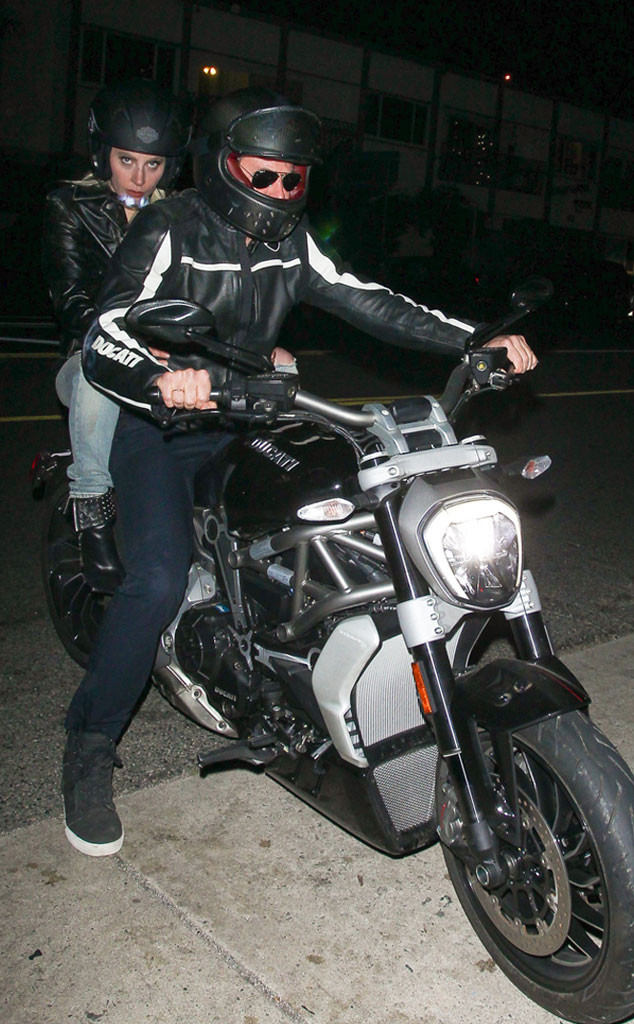 DCAP / GOME / Maciel / AKM-GSI
"Hey, you're famous, I'm famous, you're good looking, I'm good looking, you've been nominated for an Oscar, I've been nominated for four, I drive a motorcycle, you turned yourself into one...wanna take a ride?"
This may or may not have been part of the conversation that preceded Bradley Cooper and Lady Gaga's night out Friday. The actor was photographed giving the pop star and American Horror Story actress a ride on his Ducatti motorcycle and arriving with her at the Giogio Baldi Italian restaurant in Santa Monica, California—a favorite eatery of power couple Taylor Swift and Calvin Harris.
Gaga looked every bit the biker chick, sporting a black leather jacket, black top, ripped light blue jeans, a black studded belt and black leather studded boots. Cooper sported a black leather jacket with white trimming, paired with black pants and tennis shoes.
The two arrived by themselves and appeared to be in great spirits during dinner, E! News has learned.
Cooper and Gaga had never been photographed together before but have attended the same events. They are also involved romantically with other people—he has been dating model Irina Shayk for about a year, while she and Chicago Fire actor Taylor Kinney have been engaged since Valentine's Day 2015. Gaga wore her engagement ring to her dinner outing with Cooper.