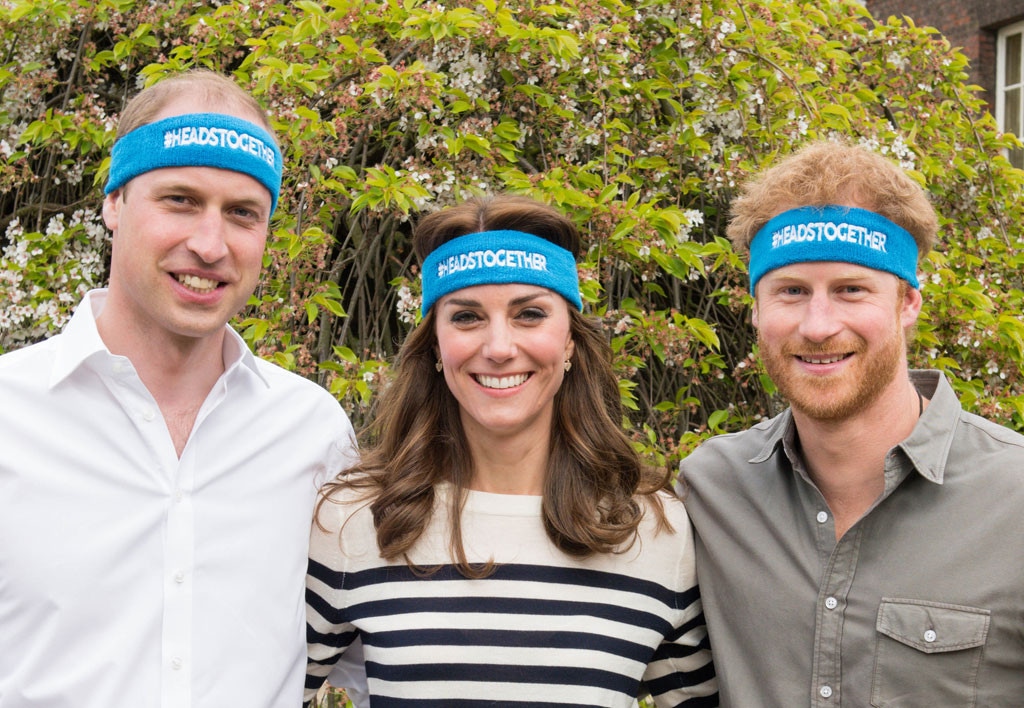 Nicky J Sims/Getty Images for Royal Foundation
Kate Middleton, husband Prince William and brother-in-law Prince Harry are banding together for a great cause.
The three are spearheading a new campaign titled "Heads Together," in partnership with several charities, in a bid to eliminate stigmas of mental health. In a heartwarming PSA released Sunday, the royals appear with several other people, including children, and wear matching teal headbands that read #HeadsTogether. The other adult stars sport the same, as well as teal jerseys, and run together to promote the cause. Kate, William and Harry clap as they reach their destination.
"Mental health is just as important as physical health," Kate says.
"We can all play our part by talking and listening to each other and helping each other find support," Harry adds. 
The prince is also seen laughing and snapping a photo of his brother with a phone.
"Let's get our heads together and change the conversation on mental health," William says.
The three are also shown laughing and joking around as they pose for photos.
"Can we do a serious one?" Harry asks.
"Do a serious one?" William echoes.
The three then pose, unsmiling, although Kate cannot contain her laughter, which causes her husband to burst into a a hearty one himself.
"No, serious, this is a serious one," he says. "Guys, serious one."
This marks the "biggest single project Their Royal Highnesses have undertaken together," Kensington Palace said in a statement obtained by E! News.
"The Heads Together campaign aims to change the national conversation on mental well-being and will be a partnership with inspiring charities with decades of experience in tackling stigma, raising awareness, and providing vital help for people with mental health challenges," the statement read.
Kate, William and Harry have promoted similar causes before.
In February, the duchess appeared with children in a PSA for Mental Health Week 2016. In March, she and William met with a man who once attempted suicide as part of their participation in efforts to promote mental health care awareness. Harry, who served in the British military in Afghanistan, has also spoken out about the stigmas of mental health, especially with regard to veterans who suffer from Post Traumatic Stress Disorder (PTSD).