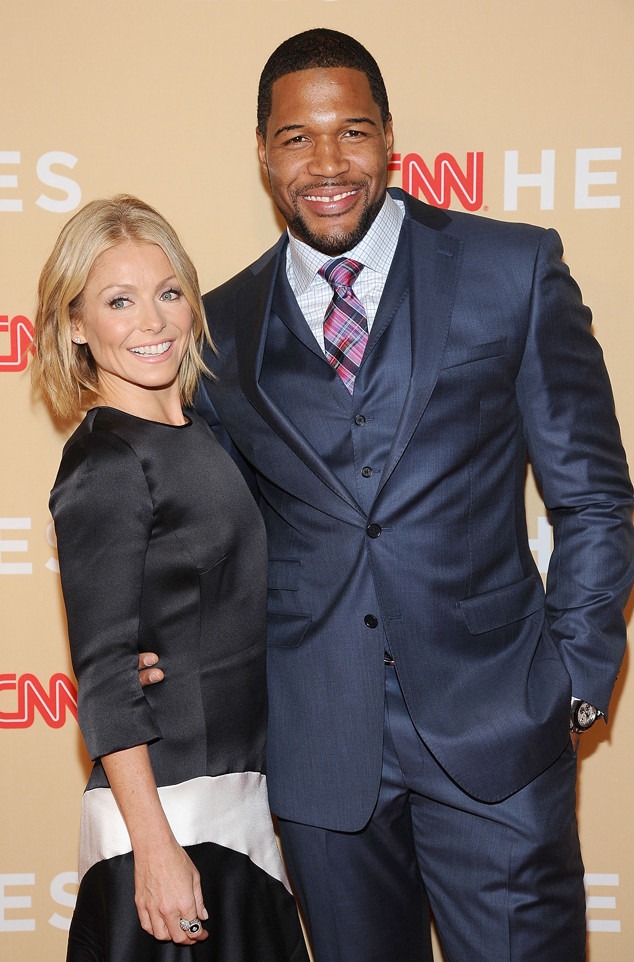 Gary Gershoff/WireImage
When will we see Kelly Ripa back on Live With Kelly & Michael after the shocking announcement of Michael Strahan's departure?
After the two finished taping Tuesday's episode of the syndicated ABC talk show, executives broke the news to Ripa that Strahan was set to leave the series. ABC News later put out a statement. A source had said Ripa and other staffers did not receive a heads up to prevent leaks and that when she was told about it, she was "livid." Ripa was absent from Wednesday's show. She, Strahan and ABC have not commented.
Media expert Brian Stelter, host of CNN's Reliable Sources, told E! News Wednesday Ripa is "beyond angry."
"It's unclear if she'll back tomorrow or the rest of the week. There's conflicting information on whether she'll return to work on Thursday or Friday with some people in Hollywood and New York convinced she will not come back to work," Stelter told E! News. "My understanding is that her agent and manager are flying in to meet with her today to talk about next steps. It's clear this is a botched transition by ABC."
It is unclear whether Ripa's absence from Live Wednesday was scheduled before Strahan's announcement. But by being absent, she made the issue "very public, very quickly," Stelter told E! News.
"[By her not showing up] it proves tension between Kelly and the network...maybe between her and Michael as well," he said. "My understanding is Michael is only there because Kelly wants him to be there. She's the biggest star of the show. It can't be that bad between them because they put on a show together every day."
Strahan's announcement had sparked many rumors about the future of Live!, which Ripa has hosted for more than 15 years. Some speculate she will be absent from the show for a long time and others think she too could jump ship.
"From a legal point view, there's no way she can stay off the show for that long," Stelter told E! News. "Her contract requires her to work. It's hard to fathom a situation she can refuse to work for a long period of time."
However, he also added, "I'm sure other networks would love a chance to talk with Kelly and have before."
Strahan joined Live! as Ripa's co-host in 2012. ABC News said he is leaving to concentrate on ABC's Good Morning America full-time. He had joined the show on a part-time basis in 2014. No timetable for Strahan's exit from Live! was given. A source said he is expected to stay on through August and that the shakeup was a "network decision."
"Michael has been put in an incredibly delicate situation," Stelter told E! News. "He was negotiating with his new job and unable or unwilling to tell her. I would say unable. I'm sure ABC told him not to or his representatives told him not to. But the bottom line is by only informing her a few minutes before the announcement, this was made to explode."
Meanwhile, Ripa is concentrating on off-air endeavors. Macy's announced in a statement Wednesday the launch of a new home collection by Ripa, set to hit stores this summer. Her branded bedding and rug collections are already available for sale.