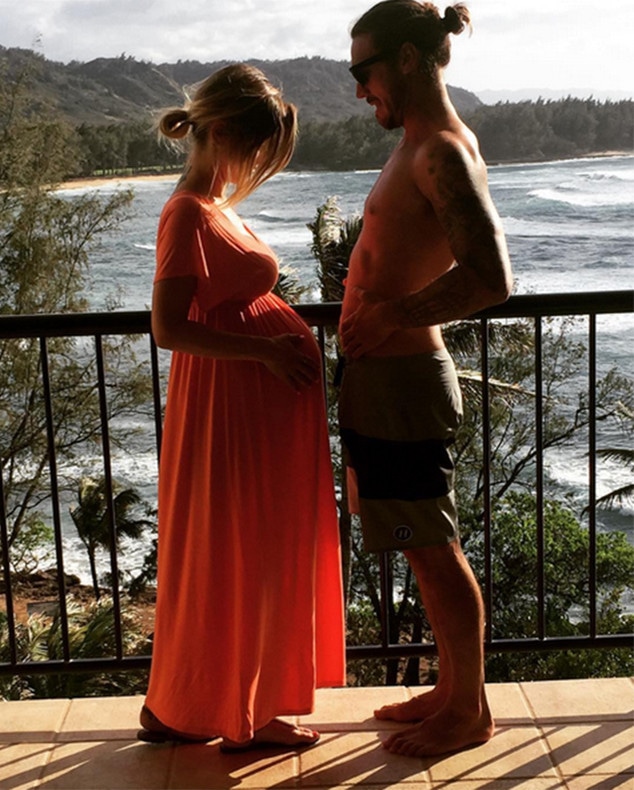 Instagram
Audrina Patridge still has a couple more months left before her baby is due sometime this summer, which means more adorable baby bump photos for us!
In fact, the Hills alum took to Instagram on Monday night to share a precious photo with her fiancé, Corey Bohan, and their matching buns.
"2 buns and 1 in the oven," she adorably captioned the pic, standing in front of a gorgeous background and alluding to their two hair buns and the little baby growing in her belly.
Audrina and Corey first announced the news of their pregnancy in December with a photo of the reality star holding a Christmas gift and a positive pregnancy test. In March, the brunette beauty informed her family, friends and followers that she is having a baby girl.
The reality star has continued to update her followers throughout her pregnancy, posting blogs about the various stages of getting ready for her little one as well as sharing several bumpin' photos on social media.
Most recently, Audrina and her hubby-to-be attended the launch of fashion and beauty LaPalme magazine's spring 2016 issue in March. Audrina looked glowing in a gold mini dress that showed off her belly, while Corey held her close by his side.
The pair first got engaged in November, a month before announcing their pregnancy. Though Audrina has admitted it's been "backwards" for them, she knows everything is meant to be.
"God has a plan for us, and even though it is all happening so fast, I am confident that I'm ready to be a mama!" she wrote on her blog.
She has said she and Bohan plan to wed after their child is born.
Watch:
Marki Mentors Audrina Patridge