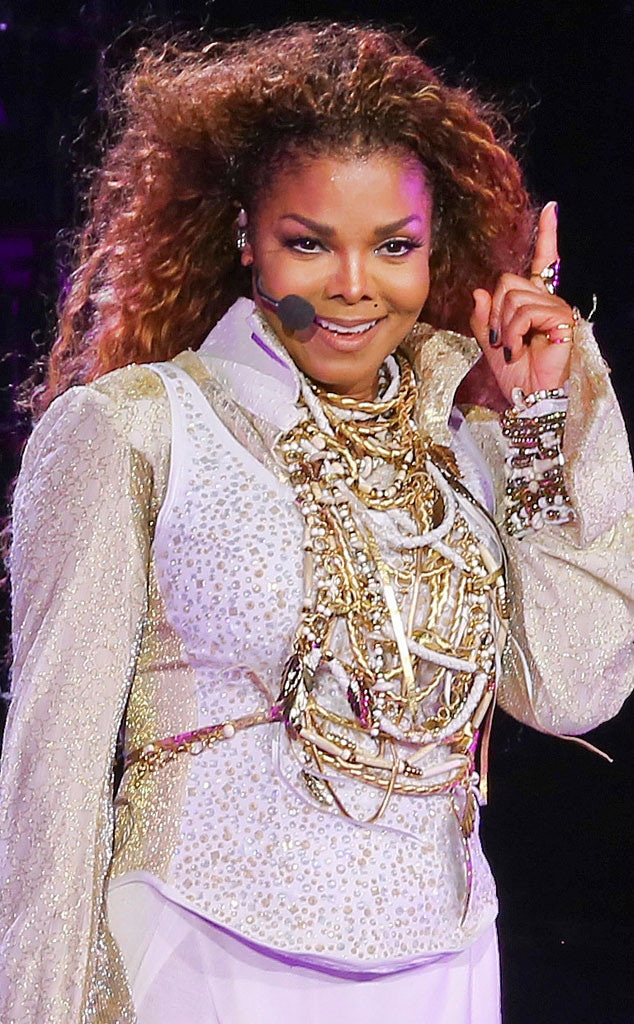 R Chiang / Splash News
Janet Jackson had said that if she was "really supposed to have kids, it will happen."
Well, it's happening!
The pop icon both saddened and delighted fans last month with the announcement that she was postponing her Unbreakable World Tour while she and husband Wissam Al Mana were busy "planning their family." But congratulations are most definitely in order, because a source now tells E! News that Jackson is pregnant with her first child.
And this is a blessed event that's been on her mind for some time—partly because people just couldn't stop asking her if she planned to have kids!
Starface.ru / Splash News
No one was the wiser when the "Escapade" artist married Al Mana in 2012, the couple not sharing the happy news until February of the following year, so it's not surprising that every step Jackson has taken toward starting a family has been a quiet one.
In an inexplicably successful feat of trickery, Jackson—a member of one of showbiz's most public families—has managed to remain private, almost an enigma, over the years, even when the world could talk about no one but her larger-than-life brother Michael Jackson, who died in 2009. She became downright elusive in recent years, largely thanks to her decision to live abroad with her Qatari-born hubby.
One fan even mocked up a missing-person flier online pleading with Janet to show herself, a joke she applauded appreciatively via Twitter.
While the pregnancy news was pleasant enough to hear on our end, this is a moment that the 49-year-old star has always dreamed of.
Asked in September 2009 on the heels of her breakup with record producer Jermaine Dupri after seven years together whether she thought about having kids and her various options, she said, "sure," she'd consider adoption.
"And I think that if I'm really supposed to have kids, it will happen, if that's God's plan for me," she told Harpers Bazaar. Since she'd already contributed to the births of so many other babies, after all!
Kevin Winter/Getty Images
"I would hope my legacy would be bringing smiles to faces," she also told the magazine. "Happiness with my music. Also, to make babies. I've had so many people come up to me and say, 'My child was conceived by listening to your music.'"
That's the way love goes…
Swan Gallet/WWD/REX Shutterstock
Jackson told Access Hollywood in 2010 at the For Colored Girls junket that people had been asking her whether the Rhythm Nation would be hearing the pitter-patter of little feet anytime soon "for a long time, for years" (which was literally the case by then). Once again, she directed the question to a higher power.
"You have to ask God," she smiled, somewhat coyly. "And once you ask Him, will you let me know what he says?
"I would love to, I would love to have a family," she continued, "but it's in God's hands. So if it's meant to be, it'll happen. I hope it does."
But it turned out that the five-time Grammy winner was still working her way through issues that had been with her since she was a child that stemmed from her own famous family, perhaps a necessary step on the way to being truly ready to be a mother herself.
Gallery Books/Karen Hunter Publishing
Her memoir/self-help book True You came out in 2011 and in it Jackson opened up about her abusive childhood, as well as self-esteem and body image issues she'd had since she was a kid, the multitalented performer having gotten her big break on the sitcom Good Times at the age of 10.
As she made the rounds promoting the book, you could tell that the process of writing the memoir, and then discussing it, was key to finally exorcising those demons for good.
Still, though, the timing's got to be right...
Jackson eloped when she was about 18 with James DeBarge (of sibling singing group DeBarge fame), but the union was annulled in 1985. Starting what would be a a pattern as far as her nuptial style is concerned, she was married to dancer-choreographer Rene Elizondo Jr.—he of the hands cupping her breasts on that famous Rolling Stone cover—for more than eight years, but no one even knew the couple were married until he filed for divorce in 2000.
A couple of years later she started dating Dupri. After they broke up, when asked about the possibility of tying the knot again, she said on Piers Morgan Tonight in 2011, "You know how everyone says 'third time is the charm'? And I thought, Well, maybe marriage isn't for me. Maybe I'm just meant to, I don't know, have someone—live with someone, but not tie the knot. And I always thought I don't need a piece of paper to validate what it is I have with someone."
Well, the third time was the charm. In any case, the timing was finally right and Jackson found the right man to actually plan her family with.
And so the last few years, as she led a quiet married life (for a global superstar, that is) and slowly geared up for a much-awaited comeback—fans went insane when they caught the first whiff of a possible tour—Jackson has been preparing to really live her dream.
"I love you, too," the radiant star told the audience at the 2015 BET Awards in response to the wild standing ovation as she took the stage to accept the Dance Icon Award.
"It's been a very long journey to this moment," she said. "My heart is so full. Thank you, God, for making everything—anything—possible. I'm so grateful for the support you've always given me. To my beautiful mother, my beautiful father, and to my entire family. Your love is unbreakable."
"And to my loving husband, and all the fans," she added, "I've missed you so much. And I love you so much. Thank you."
Now fans are going to have to wait again to see their idol grooving like it's 1989 onstage, but it sounds as though Janet Jackson couldn't be more ready to take the most important step of her life.
(Originally published April 6, 2016, at 1:21 p.m. PT)