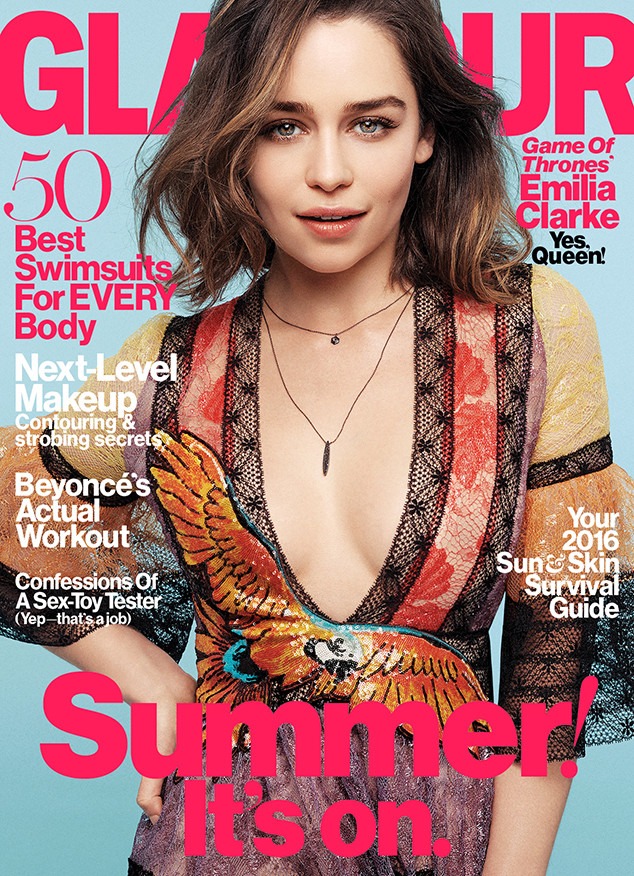 Steven Pan / Glamour Magazine
It's been 3 years since Emilia Clarke and Seth MacFarlane reportedly broke up, and for the first time, the Game of Thrones actress is opening up about her relationship with the comedian.
Covering the May issue of Glamour magazine, Clarke wasn't afraid to get real about the annoyances of dating someone in the public eye.
"Well, a con is you have strangers giving you love-life advice like, 'I'm a big fan of the show, and I'm not sure what you're doing with that guy,' which I didn't react well to," she explained. "That happened in New York when Seth and I were together. This guy started to give me advice: 'Can I get a selfie? And by the way…' Unh-unh, bro."
Clarke and MacFarlane reportedly started dating in 2012 and eventually split up in 2013 as a source told E! News the long-distance relationship just didn't work out.
As for any new men in the brunette beauty's life? "No, I'm just chilling," she tells the publication. "I've got a good thing going."
In fact, Clarke says she has a strong support system and doesn't need a man to fill any void at the moment.
When asked who she relies on most, she says, "My family. My drama school friends—some of them aren't acting anymore. The gorgeous thing about having friends who aren't in the entertainment world is they're like, 'You're letting important moments pass you by. Don't be cool about it.' Like, we're at a Hollywood party, whatever. Stop. Appreciate this."
Steven Pan / Glamour Magazine
Part of not letting anything pass her by, Clarke lives by one motto: "Take the meeting."
"He asked you out? Take the meeting," she explains. "They want you to do this job? Take the meeting."
Thus, after taking the meeting, she landed the role of a lifetime on GoT—something she admits has had its ups and downs.
"Within the space of time between them saying, 'You've got the part of Khaleesi' and now, I lost my power. I found it. I lost it. I found it."
She continues, "As a woman—no, as a young adult, you spend your twenties figuring out who you are and what you want to do; it's a scary time. There are days when I feel like the less strong version of myself."
Check out her full interview in Glamour magazine, on stands April 12.