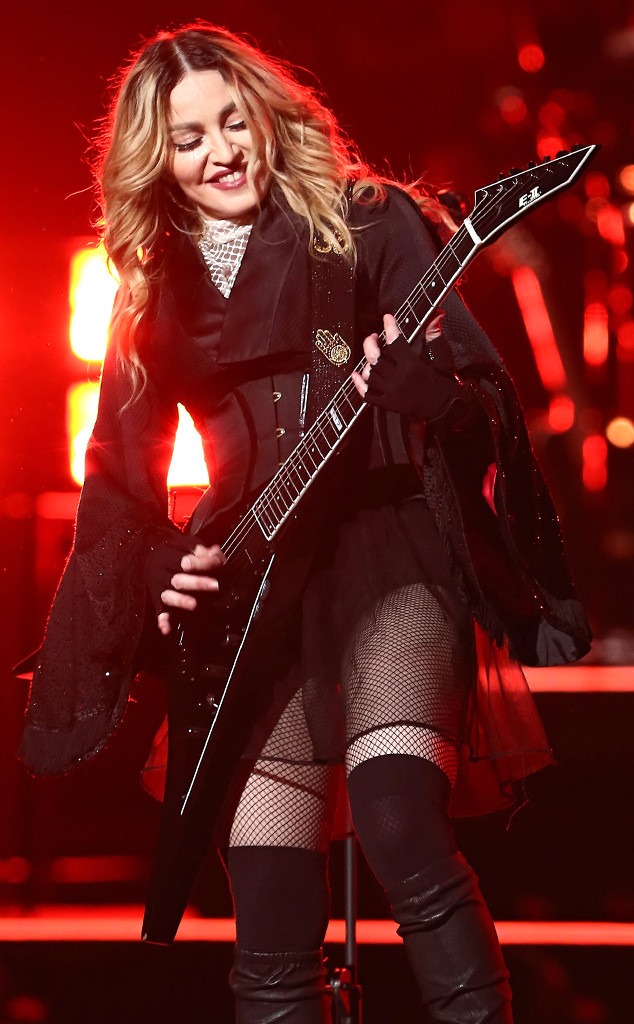 Alexander Tamargo/Getty Images
It's not often we see Madonna in tears. The Queen of Pop has a steel persona and is a beacon of unflappable girl power. Strong and resilient, every aspect of her public life carefully controlled for our viewing pleasure.
But over the past few months we've witnessed the most shocking transformation yet from a woman who has surprised us for decades. Now we are seeing a vulnerable, sensitive mom who is experiencing a pain so raw and deep that for the first time she's exposing herself in front of the whole world as she struggles to comprehend her new reality.
Over Christmas it was revealed the 57-year-old is involved in a tug of war with her ex-husband Guy Ritchie (they were married for eight years, but divorced in 2008) over their 15-year-old son, Rocco Ritchie. While Rocco has spent most of his time since the split living stateside with his mom, he has now decided he wants to be based with his dad in London.
"There is a stability that being with his dad can give him. He wants to be near his friends," a London source says. "Over the holidays he decided he didn't want to be on the road touring with his mum. He seems to really like London. It's a cool place to live and he feels at home there."
But that decision has been heartbreaking for Madonna. It's a hard thing for any mother to accept her child is choosing not to be with her. As one source explains to me, "She is doing how you would imagine she is doing. The best she can under the circumstances but it's been incredibly upsetting for her."
Another source echoes, "Her heart is broken over this whole situation, she loves her son so much."
When Rocco refused to fly back to New York to spend Christmas with his mother, Madonna and Guy took their disagreement to court (both in New York and London). Shortly thereafter, Madonna went back on the road. She had a world tour to finish and was forced to confess to her arenas full of fans the pain she was going through.
"It's true, there is no love stronger than a mother for her son," she admitted while singing "La Vie en Rose" during a New Zealand show. And then on stage in Mexico City she tearfully revealed, "I, too, go through challenging times in my life, and right now is one of them."
But Madonna's critics are translating her emotional low into a downfall that straddles all spheres in her life—both personal and professional. Three decades of hard work seemingly forgotten as observers try to find a deeper reason why Rocco wouldn't want to be with her anymore. Her vulnerability has been met with accusations of weakness. Headlines and rhetoric focusing on what a "mess" she is and how she's drinking too much (because she's been doing shots on stage—which a source clarifies is actually just water). Bashing Madonna has become a blood sport. At times it's been misogynistic and ageist.
And then there are the stories about her being late to the stage, and not being able to sell out her concerts.
While there is no denying Madonna can be outrageous and scandalous. And, yeah, I get it, starting a concert late so some people miss their train home is rude (although bear in mind she has completed 82 concert dates since September so in my book we can excuse her for the odd bit of tardiness). But somehow people are forgetting that losing a son is probably the hardest thing she has ever had to endure. It doesn't matter how much fame or money you have, that kind of loss is universal and debilitating on every level.
She has spent three decades at the top of her industry. She's managed it by adapting, by knowing what she wants and not being afraid to go for it. She's a trailblazer who has constantly pushed the boundaries and arguably given performers such as Miley Cyrus and Britney Spears the freedom they have today. Just because she's showing us her soft side, and admitting she's hurting like hell, does not make her a target.
One friend is keen to set the record straight: "I'm fed up with reading all the negative press about her. She barely drinks; so all those stories of her being drunk are not true. She only occasionally has alcohol. Her whole routine on stage is meticulously choreographed. She's an artist, there are times when she is doing the most complicated moves, there's no way she could do that if she was drunk."
"You have to remember, Madonna is the ultimate performer, and some of the outrageous things she says on stage are part of her act. But people are taking things literally, they are trying to see the negative in everything."
Another source says, "This is real life. This is the kind of situation that cuts hard. And yet despite it all she's doing her work for her fans, she's keeping it together. She's allowed to hurt. She's allowed to be emotional."
Meanwhile, Rocco's world in London is very different from life on the road with his mom. He's now been enrolled in school and has a good group of friends; he's even been hanging out with Victoria Beckham and David Beckham's son, Brooklyn Beckham. "He seems really happy," says a London-based source. "He enjoys being with his dad. That doesn't mean he doesn't love being with him mom too, but his life in London seems to suit him right now. He's been cycling around and really likes being in the city."
The next court hearing over where Rocco will be based is currently scheduled for June. And ultimately Madonna and Guy will have to accept whatever the court decides—no matter how tough it will be for either of them to swallow.
For Madonna, now that the tour is over, it's time to pick up the pieces, privately. While one source claimed Madonna was planning on traveling to London to spend time with Rocco during his Easter break, unfortunately that does not seem to have worked out. Guy and Rocco are now in the Maldives on holiday. When her world tour ended last weekend, Madonna instead flew back to New York. It may be a while until mother and son are reunited.
"She's heartbroken, but ultimately it will be OK," says an insider. "She's going through what any of us would feel faced with the same situation." Her child has grown and wants to be able to make his own decisions. She was admittedly a rebellious teenager herself, and knows what it feels like to want your own independence.