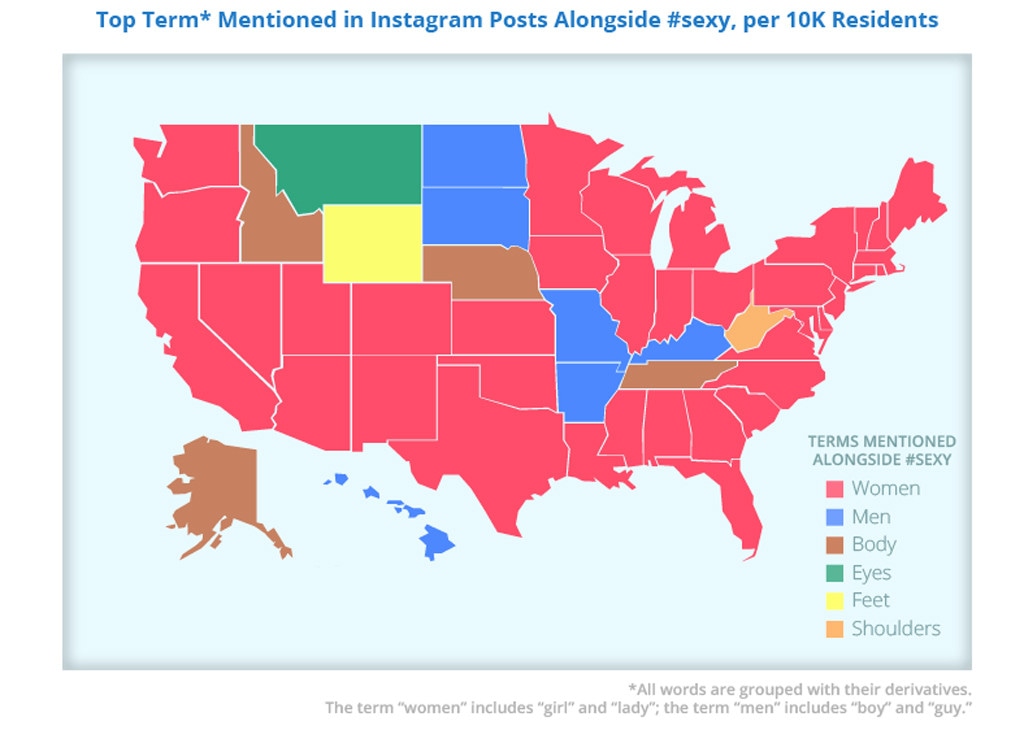 Courtesy Superdrug Online Doctor
Have you ever questioned just how sexy your home state is? Have you ever wondered if you're living in one of the most babe-tastic places in America? Now there's a way you can find out. The folks over at Superdrug Online Doctor conducted a little study of the Instagram hashtag #sexy, explaining, "We scraped all Instagram posts containing the tag #sexy over a period of January 3, 2016, to January 4, 2016, collecting approximately 4.2 million posts, over 375,000 of which had geolocation data." They collected data from countries all over the world, including the states. The results are pretty hilarious. Do you happen to live in a state that thinks they're the shiz? If you reside in Nevada for example, you're probably guilty of going heavy on that #sexy hashtag. 
Courtesy Superdrug Online Doctor
Who are the least sexy states of the bunch? Our hearts go out to South Dakota, Iowa, North Dakota, West Virginia and New Mexico. Each of these poor states have the least amount of Instagram's tagged with #sexy. C'mon, BB's! Where is your sense of confidence? Aside from Nevada, Florida, Hawaii, California and New York are among the rest of the states who think they are hottie po-totties. Again, they've got the most Instagram posts tagged with #sexy. So silly. The experiment also found that along with #sexy, certain states tagged other words in the same post like #women, #shoulders (interesting) and #body to name a few. Montana is loving #eyes while the majority of the states use #women. Wyoming, we applaud you for being the state that tagged #sexy #feet the most. Y'all keep doing you.
Is your state among those who think they're the hottest in the land? Tell us in the comments! 
Selena Gomez's Instagram popularity gets the emoji treatment!