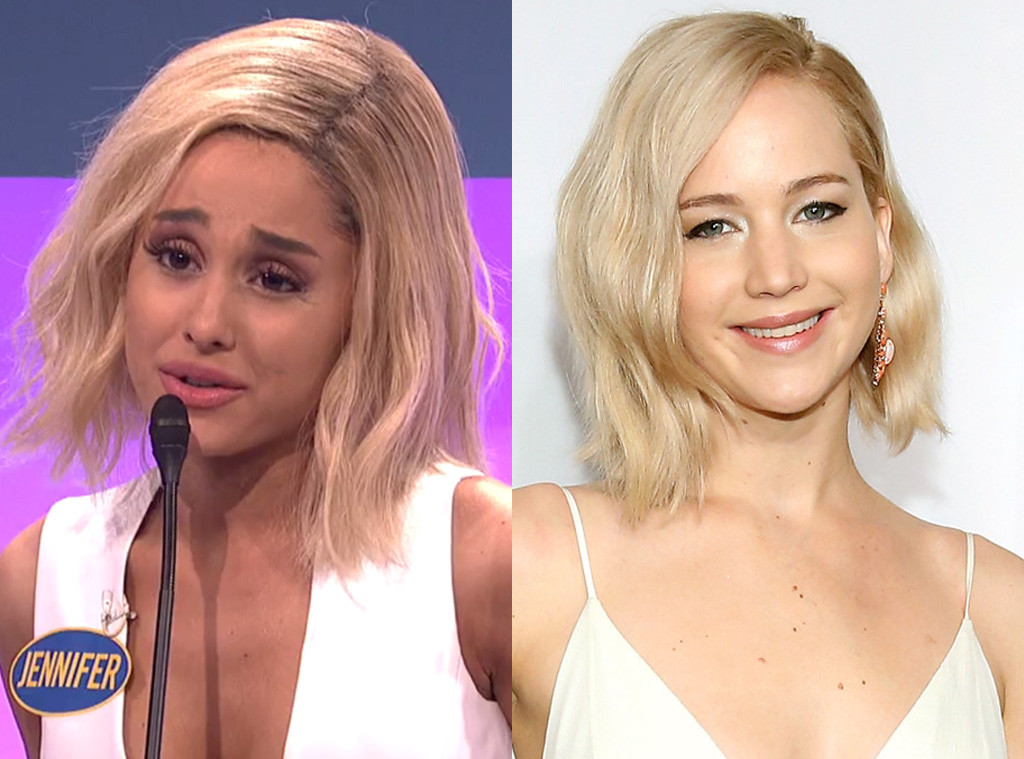 NBC; Getty Images
Ariana Grande hosted NBC's Saturday Night Live and showcased a slew of impressions of top celebs, including Jennifer Lawrence and yes, the late, great Whitney Houston.
This marked Grande's first time hosting SNL and second appearance on the show. The 22-year-old pop star first appeared in 2014, with host Chris Pratt.
In her monologue, she mentioned her 2015 doughnut scandal. A leaked video, filmed over the Fourth of July weekend, showed her and her boyfriend licking doughnuts sitting on a tray. Grande then says, "I hate Americans. I hate America." Following a backlash, the singer apologized, adding, she is "EXTREMELY proud to be an American."
"I've learned that it's really time to grow up," she said in her SNL monologue. "I think I'm in a place where I'm ready...to be caught in a real adult scandal. A real scandal, you know? Something to take my career to the next level."
She then sings about what her scandal could be.
During Saturday's show, the singer also performed her new songs "Be Alright" and "Dangerous Woman."
Check out highlights from the episode:
1. Tidal intern
Grande plays an intern for Jay Z's Tidal and after the music service experiences technical difficulties, she comes to the rescue by impersonating singers Britney Spears, Shakira, Rihanna, Celine Dion, and Houston.
Grande had also showcased a number of music artist impressions in talk show interviews.
2. Family Feud - Celebrity Edition
Grande imitates Lawrence, channeling the Hunger Games star and Oscar winner's often blunt attitude that she showcases in media interviews.
"They told me not to do a game show, but I was like, 'Screw it, I can have fun, I'm a regular person,'" she says.
3. Sound of Music parody
Grande plays an extra sassy Maria.
"You thought Maria was a problem before?" she asks. "Well, buckle up."
(E! and NBC are part of the NBCUniversal family.)