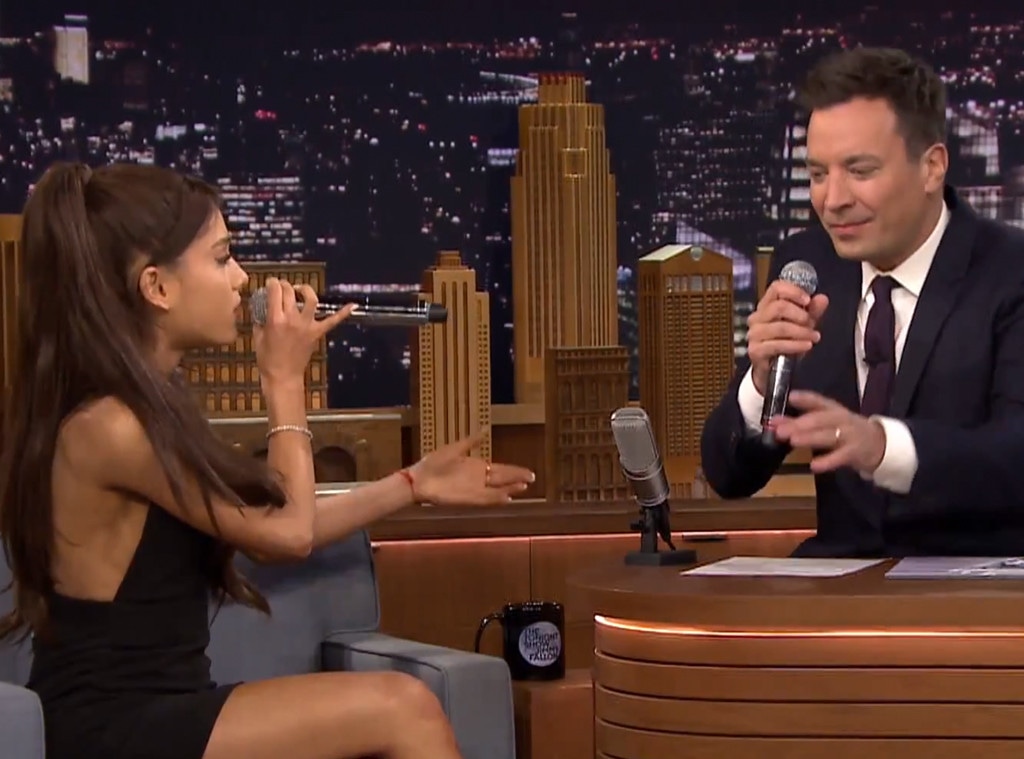 YouTube
Taking a page from Christina Aguilera, who did impressions of Britney Spears, Shakira and Cher on The Tonight Show last month, rising pop star Ariana Grande showcased her best imitation of another female diva on Friday's show.
The 21-year-old Love Me Harder singer channeled Céline Dion wonderfully as she and Jimmy Fallon sang part of the Canadian star and Peabo Bryson's 1992 duet "Beauty and the Beast," from the soundtrack of the hit Disney animated film. Grande even imitated the pop diva's French-Canadian accent while speaking to the host and incorporated a passionately-performed hand gesture, similar to those Dion showcases at her concerts.
Dion has performed the gorgeous duet with Bryson on stage several times, including at award shows such as the American Music Awards and at a concert in Japan in 1994.
Dion is preparing to resume a concert residency at the Caesars Palace Colosseum in Las Vegas this summer with a whole new act, it was reported this week. She had announced last August that she was postponing her shows there and canceling an Asia tour to care for her husband René Angélil, who was battling cancer. The singer herself was also treated for throat muscle inflammation.
Also on The Tonight Show, Grande and Fallon both sang (well, one of them did) in his recurring sketch "Ew!," in which the stars play teenage girls on a mock Teen Nick show.
The singer played a character named Alexa and wore a multi-colored The Children's PLACE Photo-Real Treat skater dress, with pink flamingos printed on the front. She paired the look with a blue headband with flowers and red and yellow streamers.
"Alexa" and Fallon's character, "Sara," took part in a sing-off, which proved to, as expected, be a poor decision on the host's part.
Meanwhile, Sara's stepdad Gary, played by The Tonight Show head writer A. D. Miles, joins in the fun with a valiant attempt at 4 Non Blondes' 1992 rock ballad "What's Up."