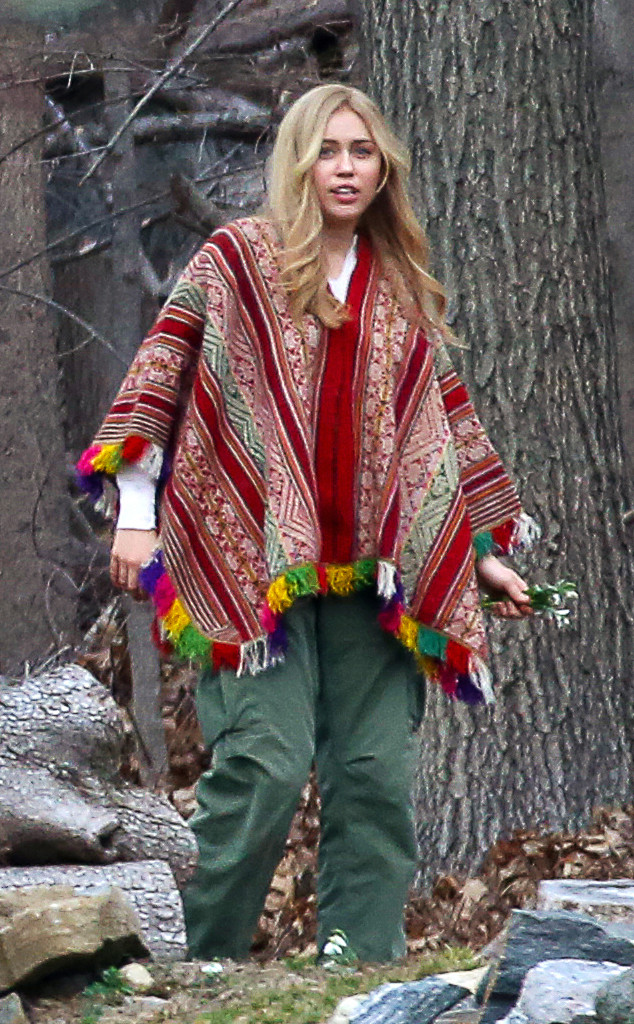 TheImageDirect.com
Miley Cyrus is returning to her Hannah Montana roots...so to speak.
The 23-year-old pop star and actress was recently spotted filming scenes for Woody Allen's new Amazon series, his first TV show, in a rural area of Westchester County, NY. She sported a long, blonde wig, channeling her alter ego from her former Disney Channel show Hannah Montana, minus the bangs.
Cyrus, who has for more than three years sported a super short hairstyle, also showcased a '60s look on the set—she wore a red printed poncho with a rainbow fringe and dark green pants. During the shoot, she was filmed sitting at a sun dial and picking daisies in the backyard of a home, E! News has learned. A man then arrives and the two go for a walk. She was photographed with co-star John Magaro, 33.
Cyrus appeared relaxed on the small, quiet set and shot for about 10 hours, starting at 9 a.m. During her lunch break, Cyrus requested a vegan wrap and ate it on the set.