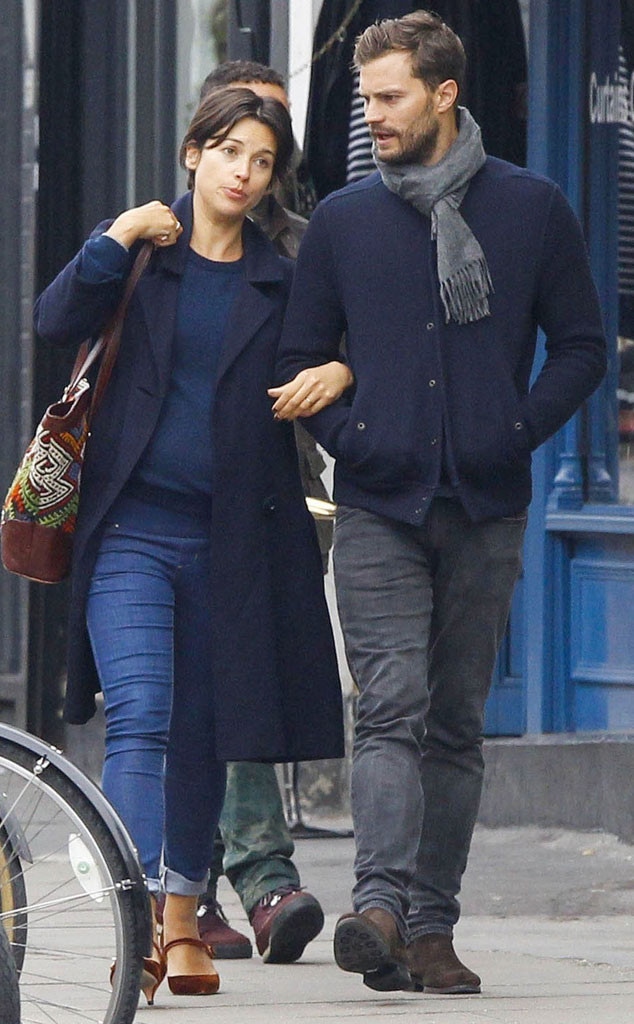 FameFlynetUK/FAMEFLYNET PICTURES
Congratulations are in order for Jamie Dornan and Amelia Warner!
E! News has learned that the actor and his wife recently welcomed their second child. Details including the baby's name and sex were not immediately available. Photos of Warner pushing a stroller in Notting Hill surfaced online Monday, and the following afternoon, Dornan was photographed back on the set of Fifty Shades Darker in Vancouver.
The couple, who wed in 2013, are also parents to 2-year-old daughter Dulcie. "I love fatherhood," Dornan told British Vogue in February 2015. "These last couple of years have been quite something. But we're enjoying it." That same month, he admitted to the U.K.'s Stylist that it was a "mad situation" when Warner went into labor the first time. "My father has delivered over 6,000 babies, my stepmother's an obstetrician gynecologist and I've been around a lot of baby talk in my life. But still, nothing actually prepares you," he said. "I hope I'm a good dad. It's the most joyous thing imaginable. It's totally changed our lives but only for the positive."
"People are so f--king down about having kids—in those early months when people are saying, 'Say goodbye to sleep.' Well, of course! You've got a baby!" Dornan continued. "I was discouraged by people's attitude so it was refreshing when we occasionally met people who said, 'It's the best thing, you're going to love it.' I saw a pregnant friend the other night and I was like, 'Embrace it! Don't listen to all the people who are down on it, because it's only good.'"
Luckily, Dornan had some experience with babies prior to becoming a father. "Before I had my daughter I changed my niece's nappy on a horrific occasion in Hyde Park. And it was like more s--t than I'd ever seen in my life," he said with a laugh. "I was with my wife, who wasn't my wife at the time, and it was quite early on in the relationship. I was like, 'I'm not sure I could ever get used to this.' But you do, and you don't even think about it. Weirdly, I get enjoyment out of changing a nappy. I find it such a leveling thing. I don't mind getting up in the middle of the night with her —although we're lucky because she sleeps for 12 hours."
E! News confirmed Warner's second pregnancy in November.
In Fifty Shades Darker, Dornan, 33, returns as the brooding Christian Grey, while Dakota Johnson, 26, is reprises her role as his lover, Anastasia Steele. The movie also stars newcomers Kim Basinger, 62, and Bella Heathcote, 28. Fifty Shades Darker is set for release on Feb. 10, 2017.
Watch:
Is Jamie Dornan Ready for Hardcore "Fifty Shades" Fans?