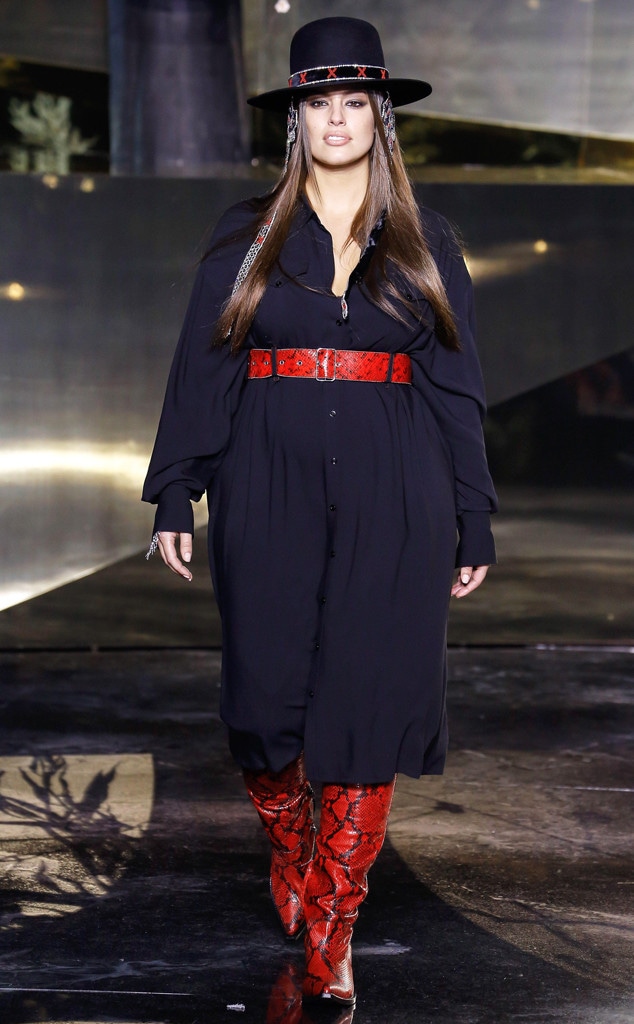 PIXELFORMULA/SIPA/REX/Shutterstock
Ashley Graham has been breaking all kinds of barriers in the modeling world lately.
The curvaceous brunette beauty walked the runway today during H&M Studios Autumn/Winter 2016 show for Paris Fashion Week, something she describes to E! News as her "first major show" because it's "not considered a plus-size show only. I'm in it with the big dogs."
And while we are just dying with praise for our girl, who is helping redefine the industry's depiction of what a model is "supposed" to look like, we can't forget that Graham was on the receiving-end of some eyebrow-raising comments recently from another supermodel.
Cheryl Tiegs caused quite a stir when she criticized Sports Illustrated for choosing Graham for one of the three covers of its 2016 Swimsuit Issue, claiming the magazine was showcasing a body type that isn't healthy, and, well, Ash had a few words to say about that.
JB Lacroix/WireImage/Laura Cavanaugh/FilmMagic
"Cheryl Tiegs may have said what she said and it may have hurt a lot of peoples feelings," Graham began to tell E! News, "but my skin is so thick. I kind of rolled my eyes, I was like, 'Oh whatever, another one of these ladies.' But what's great is that—the fact that she said it—it means that other women think like her. And what that means is that we really need to change the industry."
She adds, "There are too many people thinking they can look at a girl my size and say that we are unhealthy. You can't, only my doctor can!"
Tiegs attempted to clarify her comments by taking to Twitter and writing, "To clarify re bodyweight. Being anorexic/bulimic/overweight all connected to health problems. I want all to be as healthy as they can," she wrote.
And while some may label that as an apology, Graham is not.
"I've never personally heard from her. She said her comment about me, then never heard a follow up. People are saying she apologized. But I never heard one," the 28-year-old said, but did mention what she would say to Tiegs if they ever crossed paths.
"You never know, and I will go up to her and say hello, and all the SI girls, I've always looked up to them. They are classic, amazing, beautiful women and it's a shame that we have to bring other people down, but that's why I'm here. I've got to bring other women up."
Ashley Graham, ladies and gentleman. Beautiful inside and out.
—Reporting by Vanessa McDonald