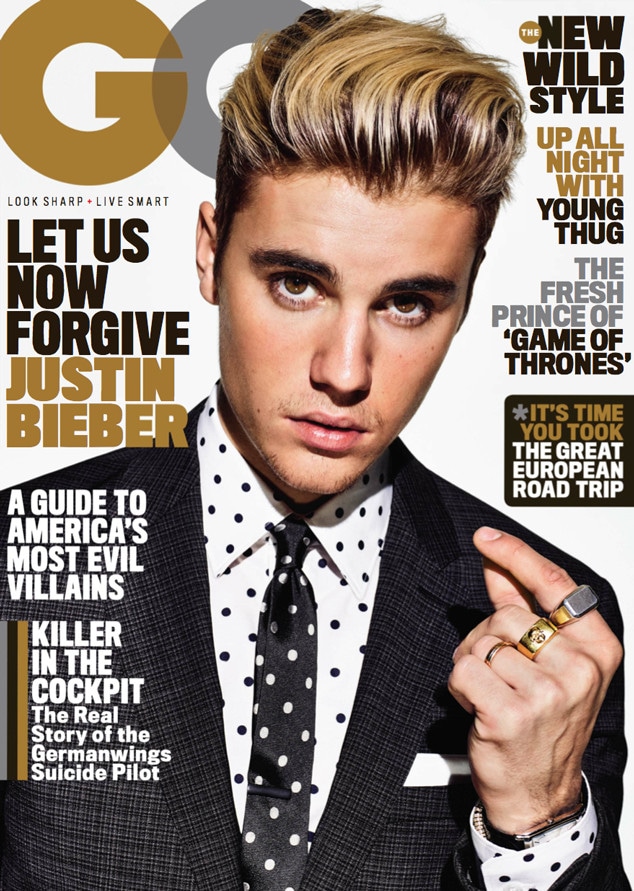 Eric Ray Davidson/GQ
Justin Bieber's love life has always been a topic of conversation in the entertainment world—is he or isn't he with Selena Gomez? What's going on with Hailey Baldwin? The Biebs covers GQ's March issue and is getting candid about the latter lady in his life and what "Sorry" is really about.
The Purpose singer admits that the model is "someone I really love." Ooh la la! Bieber also tells the magazine, "We spend a lot of time together." That's for sure! After going on an exotic vacation together over New Year's, Justin and Hailey also spent the Super Bowl together, hanging out with friends and having a good time.
The 21-year-old crooner is also opening up about all the confusion surrounding "Sorry." Justin opened up many times about his past transgressions, so many listeners assumed the hit single was one last apology for the mistakes he made.
"People ran with that," he says. "—that I was like, apologizing with that song and stuff. It really had nothing to do with that...It was about a girl."
Cue the debate about which girl it could be! But Bieber wants everyone to know that his candid interviews about his DUI, arrest and more weren't meant to be taken as him seeking atonement.
"Everyone when they start growing up realizes, 'Man, I did some dumb s--t when I was younger,'" he says. "It's not just me...If I could go back I wouldn't really change much. I think it's all my journey. That stuff made me who I am."
Ever since Justin released Purpose it seems like he has stayed out of trouble—aside from a few meltdowns here and there—choosing to focus on a close group of friends and his music. "People take advantage of vulnerability," he explained on The Bert Show in January. "After a while I started putting up walls and boundaries and for a while I shut everybody out. 
"I just had to figure out what kind of man I wanted to be. I have awesome people in my corner," he said. "I'm human I'm still going to make mistakes. I think that's what's cool about this growth is people can see it. I've made a transition and been consistent."    
Justin's full GQ story will be released tomorrow.