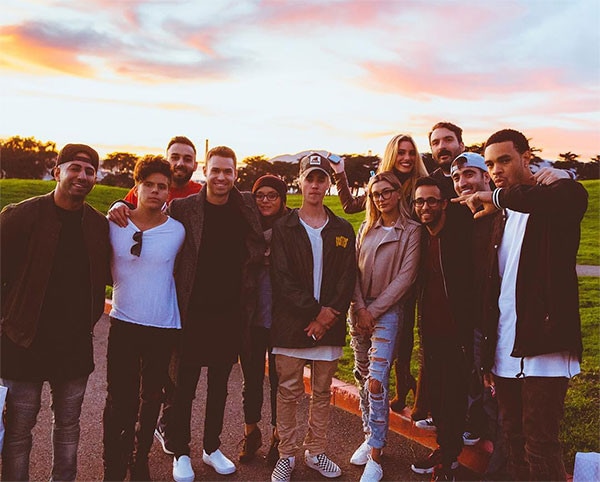 Instagram
Even though we haven't really seen Justin Bieber and Hailey Baldwin together since their exotic New Year's festivities, it looks like the twosome are still together and taking in some sports while they're at it.
Justin and Hailey spent Super Bowl weekend together, but it didn't start out all glitter and roses. "It started out that Hailey was a bit annoyed with Justin the first day, but by Saturday night they were very much together," a source tells E! News.
Even though they spent the weekend together, however, they're not official, our source adds. "They are not an exclusive couple even though Hailey has made it clear that's what she wants from Bieber," the insider dishes. "They spent the night together Saturday."
Though they're not boyfriend-girlfriend, our source says that Baldwin has become close with the Biebs' group of friends, who have given their stamp of approval should they decide to make things official. "All of Bieber's friends like Hailey and would like to see them together," the source adds. "They are dating. They both had a great time this weekend with each other."
Bieber and Baldwin hung out with a group of friends at Fort Mason National Park in San Francisco Saturday, a day before the Denver Broncos beat the Carolina Panthers in Super Bowl 50 at Levi's Stadium. "She loving the crew," Bieber wrote alongside his Instagram photo. The 21-year-old crooner and 19-year-old model kept their looks casual, with Stephen Baldwin's daughter wearing ripped jeans and sneakers and Bieber donning khakis low enough to show off his Calvin Klein undies, naturally.
After vacationing together in Anguilla and St. Barts, Bieber and Baldwin got the rumor mill kicking into full gear regarding their relationship status, but another source told us at the time that it was "more of a fling" than anything serious. "They have a lot of fun together but don't know what will happen now," the source said.
It doesn't look like they've figured out the technicalities just yet, but based on their time together this weekend it doesn't seem like they're too worried about it.