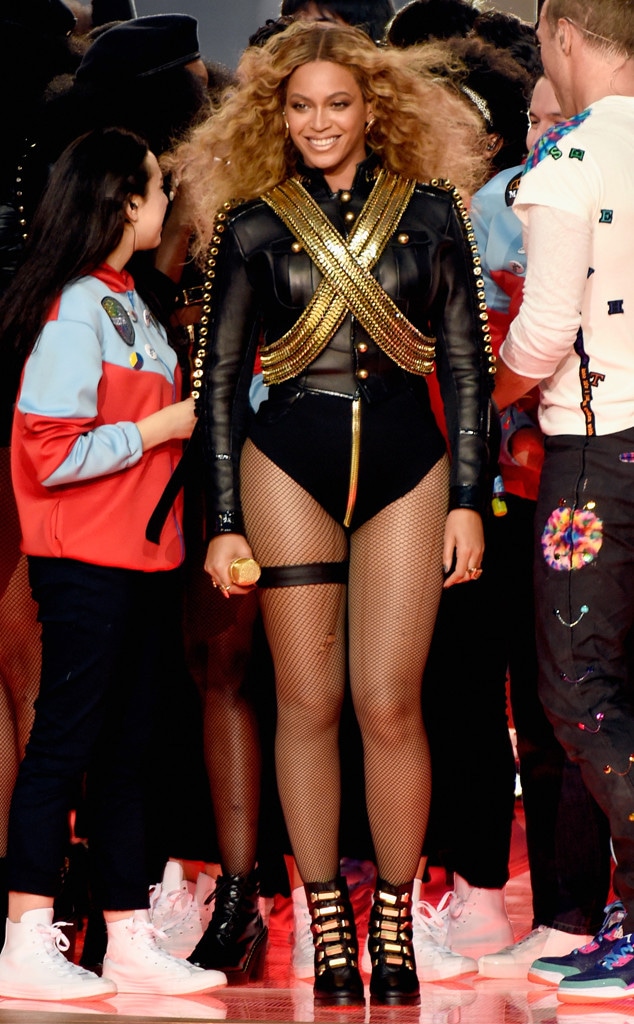 Kevin Mazur/WireImage
When faced with an iconic moment like performing at the Super Bowl, rest assured Beyoncé utilized every resource to make an equally iconic fashion statement. 
With millions of eyes fixated on her, the 34-year-old Grammy winner marched onto the football field in Calif. Sunday adorned in a black custom leather jacket with gold metal military details. It was a unique twist on the singer's classic and consistent one-piece stage look. 
The men behind the ensemble, Dsquared2's designers Dean and Dan Caten, knew they were designing for a musical battle. 
"We love Beyonce and wanted to create something where she resembles a warrior leading her female posse who fall into formation and take Super Bowl 50 at half-time!" the men said in a press release. 
However, don't mistake the outfit for a copy of one of Beyoncé's personal musical icons, Michael Jackson.  
"It was not [Michael Jackson inspired]," the men told E! News exclusively. "Both looks were military inspired and it was a happy coincidence to have the look be a nod to a past performance for the 50th Super Bowl." 
For the outfit's color scheme, the designing duo told E! News the singer wanted gold and black for the month-long project. 
"Bey knows what she wants and we were happy to work with her on this," they added. "The final piece turned out great and she looked amazing in it." 
Now that the songstress has officially announced her next world tour, we know two designers who'd be more than happy to craft some fresh looks for the star. 
"We've loved working with her on past tours," they admitted. "Who knows—we'll all have to see the show to find out."
We're already anxiously waiting with our credit cards in hand. 
—Reporting by Vanessa McDonald