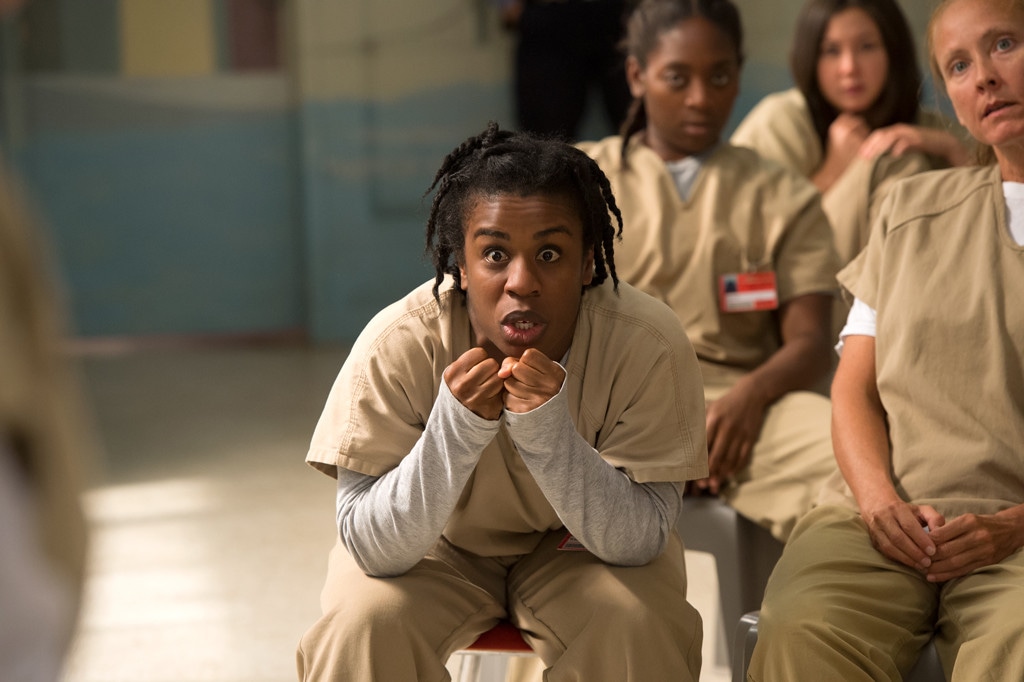 NETFLIX
Orange Is the New Black's stay on Netflix has been extended for three more seasons. Yes, Netflix has renewed Orange Is the New Black for THREE more seasons, bringing it to a total of seven seasons when all is said and done. Season four is set to premiere on Friday, June 17.
"Our sentence has been extended. 3 more seasons, bitches. @OITNB," Netflix's Twitter account shared.
The series hails from Jenji Kohan and stars Taylor Schilling, Laura Prepon, Uzo Aduba, Kate Mulgrew, Taryn Manning, Laverne Cox and more.
"Three more years! Not quite a political term, but still plenty of time to do some interesting things. In some cultures, 'May you lead an interesting life,' is a curse, but I don't live in those cultures," Kohan said in a statement. "Here's to keeping it interesting. Thanks Netflix! Both thanks and you're welcome Lionsgate! And kudos and gratitude to the stellar cast and crew and writers and producers and editors and musicians and mixers and shleppers...with whom I have the pride and honor of crafting this show. Three more years! Three more years!"
Kohan will remain as showrunner and executive producer for seasons five, six and seven. Don't fret, they won't release all of them at the same time. Netflix notes the future seasons will premiere in "future years."
"Jenji and her team have produced a phenomenal and impactful series that is both funny and dramatic, outrageous and heartfelt. Audiences around the world have come to love the ladies and men of Orange is the New Black, and we are eager to see where three more seasons will take them," Cindy Holland, vice president of original content at Netflix, said in a statement.
Danielle Brooks, Dascha Polanco, Selenis Leyva, Samira Wiley, Yael Stone, Jackie Cruz, Lea DeLaria, Adrienne C. Moore, Elizabeth Rodriguez, Michael Harney and Nick Sandow also star.
"We're proud to continue our long-standing relationships with Netflix and the incredibly talented Jenji Kohan and delighted that one of the most acclaimed shows on television will continue on Netflix for three more seasons," Kevin Beggs, chairman of Lionsgate Television Group, said in a statement. "Jenji's brilliant creative vision and a truly amazing cast have catapulted Orange is the New Black to the forefront of the platinum age of television, and we're pleased that Orange fans around the world will be rewarded with another three seasons."
Watch:
Laverne Cox Reveals "OITNB" Season 4 Secrets