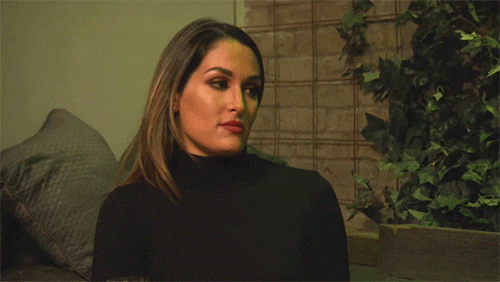 E!
Nikki Bella had some choice words for her twin sister Brie Bella on Tuesday's episode of Total Divas.
On the episode, Brie and Nikki are hanging out with their friends when Brie embarrasses her sister.
Nikki then decides to leave but before she does she calls her sister a "big fat bully."
So what did Brie do to Nikki?
Take a look at the Total Divas recap below to get the scoop! Plus find out what happens when Alicia Fox learns that her boyfriend Darryl was lying to her about his age!
1. Bella Twins Meet Patrick Schwarzenegger & Maria Shriver:
When Nikki and Brie attend a charity event for Best Buddies, they bump into co-chair Maria Shriver and her son, Patrick Schwarzenegger. Later on, Nikki and Brie watch Maria give a speech to the crowd and are instantly inspired by her. Watch the video above to see them gush over Maria and Patrick! 
2. Foxy Has a New Man, But Paige & Rosa Are Skeptical About Him:
Foxy is spending time with Rosa Mendes and Paige when they ask about her new man, Darryl.
"How's your beau?" Paige asks.
"He's good," Foxy says. "I just started seeing Darryl and I really like him. He's very manly, he bowhunts. And since Wade I haven't been dating anyone so I just really have a lot of fun with him."
But then Foxy tells her friends one little issue with Darryl.
"But I did find out that his ex-girlfriend lives in his house," Foxy says.
"What? Seriously that's not cool," Rosa says.
"I would kick Kevin's a-- if I found out he had an ex in one of his houses," Paige says.
Even though Foxy understands where Paige and Rosa are coming from, she says she trusts Darryl.
"I know Rosa and Paige have their opinions, but I trust Darryl," Foxy says. "Even though he's trying to help his ex-girlfriend out I don't think anything fishy is going on because she's got kids and he's allowing staying at his place until they get on their feet."
3. Mandy Learns More About Eva Marie:
Mandy is starting become good friends with Eva Marie, and they two are even thinking about becoming a tag team.
But then Nattie tells Mandy that Eva Marie has tried that same thing before with Summer.
"Eva and I have been you know getting along pretty well," Mandy tells Nattie. "She seems really nice and we've been talking about like possibly doing a red and gold thing."
"It's funny because Eva's done that before and it wasn't a success," Nattie tells Mandy.
"Hm, I didn't know that," Mandy says. "That's weird."
4. Foxy Finds Out Her Boyfriend Has Been Lying to Her:
Rosa convinces Foxy to do a background check on her boyfriend, just to make sure he isn't hiding anything.
When she does, Foxy learns that Darryl isn't 45 like he told her, he's actually 50.
She then calls Darryl to see if he'll confess, but he continues to lie.
"That pisses me off," Foxy says.
5. Nikki Leaves Dinner After Brie Embarrasses Her:
Nikki was so inspired by Maria Shriver that she decides she wants to give motivational speeches. After Brie makes some comments about her wardrobe, Nikki decides to buy some new clothes in order to be "taken seriously."
After her makeover, Nikki meets up with Brie and their friends to have some drinks. While there, Brie tries to put Nikki on the spot.
"I wanna put you on the spot," Brie says. "Granted you look very pretty and you can dress the part, but I need to know if you can speak the part."
Brie wants Nikki to stand up and pretend like she's giving a speech, but Nikki isn't into that idea.
"You put me on the spot and I got nervous and embarrassed," Nikki says. "Sorry I'm not perfect."
She then gets up to leave and says, "Don't bring me down, try to lift me up instead of just being a big fat bully the whole time."
6. Foxy's Boyfriend Sends Her Flowers:
When Foxy confronts Darryl about his lie, they end up getting into a fight. After their fight, he ends up sending her flowers to apologize but Rosa isn't buying it.
Foxy then calls Darryl to thank him and Rosa yells that he's a "liar."
Watch:
Mandy Confronts Eva Marie Over Nasty Rumors
7. Mandy Reveals She Went Behind Eva Marie's Back:
After Mandy witnesses some tension between Eva Marie and the Divas, she starts to get suspicious. She ends up asking some of the Divas about Eva Marie because she doesn't understand what happened.
In the video above, Mandy confesses to Eva Marie that she asked the Divas about her and Eva isn't pleased.
Later on, Mandy apologizes to Eva Marie for going behind her back and makes things right between them.
8. Paige Says She "Can't See Herself" With Kevin Forever:
Rosa and Paige realize that Foxy really cares about Darryl and tell her "no relationship is perfect" so they shouldn't judge her and her relationship.
They then start talking about Paige's relationship with Kevin.
"I just can't see myself with him forever," Paige says.
She then reveals she's going through a stage where "he's beginning to annoy me."
When asked if she's going to break up with him Paige says, "I don't know."
9. Nikki Gives a Motivational Speech:
After getting into a fight with Brie, it's time for Nikki to give her motivational speech at the Center for Women in Tampa, Fla.
Even though Nikki's nervous, her boyfriend John Cena attends the speech with her and she says "his calmness kinda helps me calm down a bit."
Before she takes the stage, Brie calls Nikki "to wish her good luck" and says that she's "proud" of her.
After getting that phone call from Brie, Nikki then takes the stage and gives a beautiful speech!