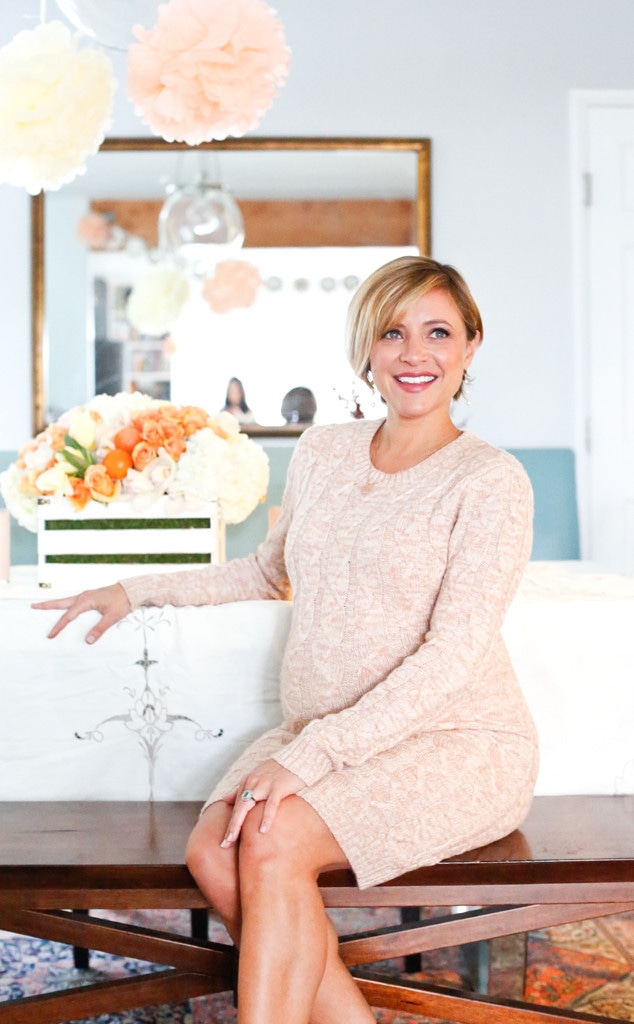 Christine Lakin's countdown to baby has been quite the beautiful experience.
The former child star is anticipating the arrival of her baby girl, and was able to celebrate with a sweet baby shower thrown by family and friends at a private Hollywood Hills home on Sunday. And despite Mother Nature giving SoCal a downpour on that day specifically, Lakin couldn't have been happier with the turn-out.
"My baby shower was such an incredible and memorable day, made in part by my wonderful friends, Good Carma Studio, Coldstone and the torrential rains of El Nino," the Step by Step star joked.
"Talk about mother nature showering us with love! I knew the theme would be Peach since I'm having a little girl, who will likely inherent some of her mama's Southern qualities."
The USANA-sponsored shower was adorned by beautiful white and peach flowers from Bashful Rose, and included a bar set-up with mason jars and sweet tea. Guests enjoyed a wonderful spread of food from private chef Theresa Rountree, including some "absolutely delicious BBQ pork cups with coleslaw, which to my utter surprise were vegan! Could have fooled me," Lakin tells E! News. 
And when it came to the sweet-tooth fix, party-goers munched on a dessert bar by Polkatots. Christine herself received a Mia Moda stroller and Tiny Devotions mama mala.
Guests included mom-to-be DeAnna Pappas Stagliano, Kelly Sullivan and Stacy Kenan, who went home with goody bags that included an USANA Kit, fully-equipped with a vita c booster and their popular "pure rest" supplements to help keep everyone healthy during the winter.
Unfortunately, fellow child stars Jodi Sweetin and Beverley Mitchell were unable to make it, but Lakin did share that she and Mitchell made a pit-stop on the Fuller House set to see Sweetin in action.
"It brought back so many memories, especially since I filmed a monologue when I was 12 on the set of Full House that helped me land the job on Step by Step," she tells E! News, and also goes into whether or not a Step by Step reunion is possible!
"There's definitely a sense of nostalgia buzzing right now and while I would personally love to imagine what the SBS family would be up to now, I don't know if the gang is too scattered these days to bring back a reunion show."
But TGIF fans, don't lose hope just yet! "Patrick Duffy and I have talked about an idea my partner and I wrote and are going out with a production company this spring, just because I'd love him to play my dad again, but it's hard to get him away from his beloved fishing these days and truthfully, I don't blame him."
Put the fishing rod down, Duffy. Put it down now.
Anyway, let's not get too ahead of ourselves. Lakin still has a baby on the way, and her pregnancy has become a very fulfilling journey.
"This whole journey has been such a fun ride—scary at times, which is natural I think—but I've been so lucky to have a fairly easy pregnancy overall and have really been enjoying these last few months," the actress tells E! News.
"I'm getting so big it's comical doing things I once took for granted, like tying my shoes and shaving my legs, but I feel emotionally ready for this little lady to take the spotlight in my life and just about physically ready once we get her room organized. 
"I'm constantly in awe of the miracle having a baby truly is and my husband and I feel so grateful for the wonderful people in our life and fans who continue to support us and wish us well."
People was first to report on the baby shower.