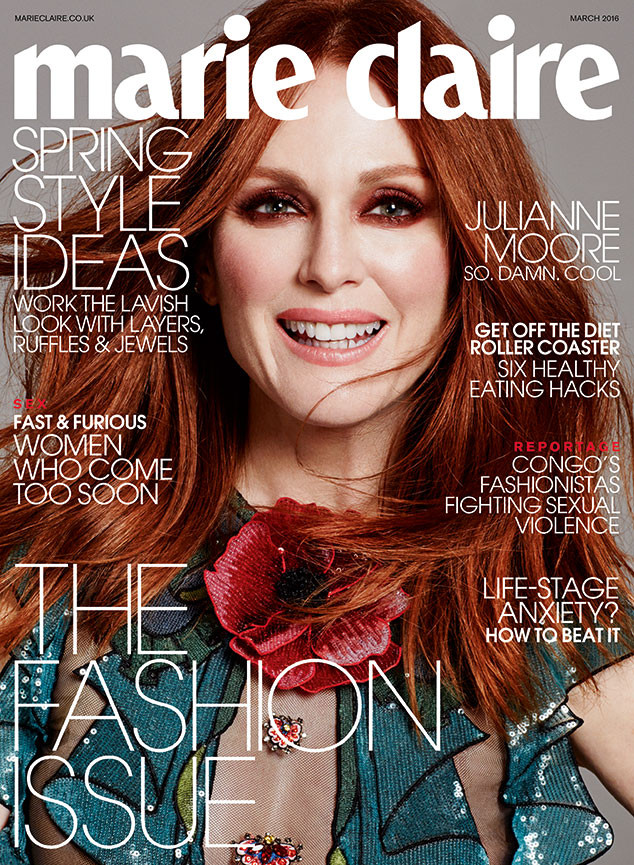 Marie Claire UK/David Roemer
With a decades-long career in Hollywood under her belt, Julianne Moore has a lot to say.
The 55-year-old Oscar winner has portrayed seemingly every kind of woman on the silver screen, from a 1950s California housewife in an unhappy marriage to a linguistics professor facing early on-set Alzheimers disease. In her newest role in the documentary-inspired drama Freeheld, Moore immersed herself in a battle familiar to the LGBT community as she portrayed police office Laurel Hester, a woman on her deathbed fighting to transfer her benefits to her domestic partner, portrayed by Ellen Page. To recreate the struggle of this famous woman, the actress drew on the real-life experiences of her co-star, who famously came out as gay in 2014. She discussed all that and more for the March issue of Marie Claire UK.
"Ellen was miserable," Moore said in an interview with the magazine. "She talked to me very frankly about her own experience—what it felt like, about the nature of the discomfort. A lot of people I know came out a long time ago. None of my friends were celebrities when they came out; they were college students. So here I was talking to this very young woman, who had recently come out, about experiences that were very, very fresh, so it was a different kind of conversation."