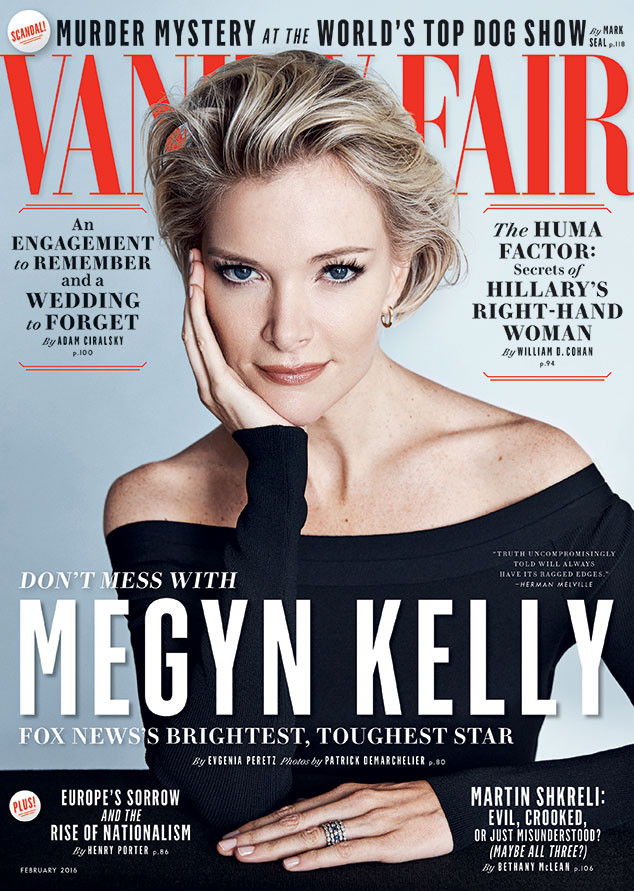 Patrick Demarchelier exclusively for Vanity Fair
In sickness or health, Megyn Kelly is a journalist on a mission.
Nearly five months after her now infamous interaction with Republican presidential hopeful Donald Trump during the first GOP debate, the 45-year-old Fox News host is opening up about the events that led up to that climactic moment. As the saying goes, hindsight is 20/20.
"He would send me press clippings about me that he would just sign 'Donald Trump' and he called from time to time to compliment a segment," Kelly said in Vanity Fair's February issue, recollecting her interactions with Trump prior to his June announcement of a presidential bid.
"I didn't know why he was doing that and then when he announced that he was running for president, it became more clear. But, I can't be wooed. I was never going to love him, and I was never going to hate him."
The storied journalist maintained her composure all the way up to the August debate stage, which she co-hosted alongside moderators Bret Baier and Chris Wallace as a then total of 17 candidates vied for America's attention.
However, there was one question in particular Kelly couldn't wait to ask the hot-button candidate, Trump—and nothing would stop her.
"I would have crawled over a pile of hot coals to make it to that debate. No one was going to be sitting in for me, reading my questions," she said, revealing that she had woken up the morning of the debate "violently ill."