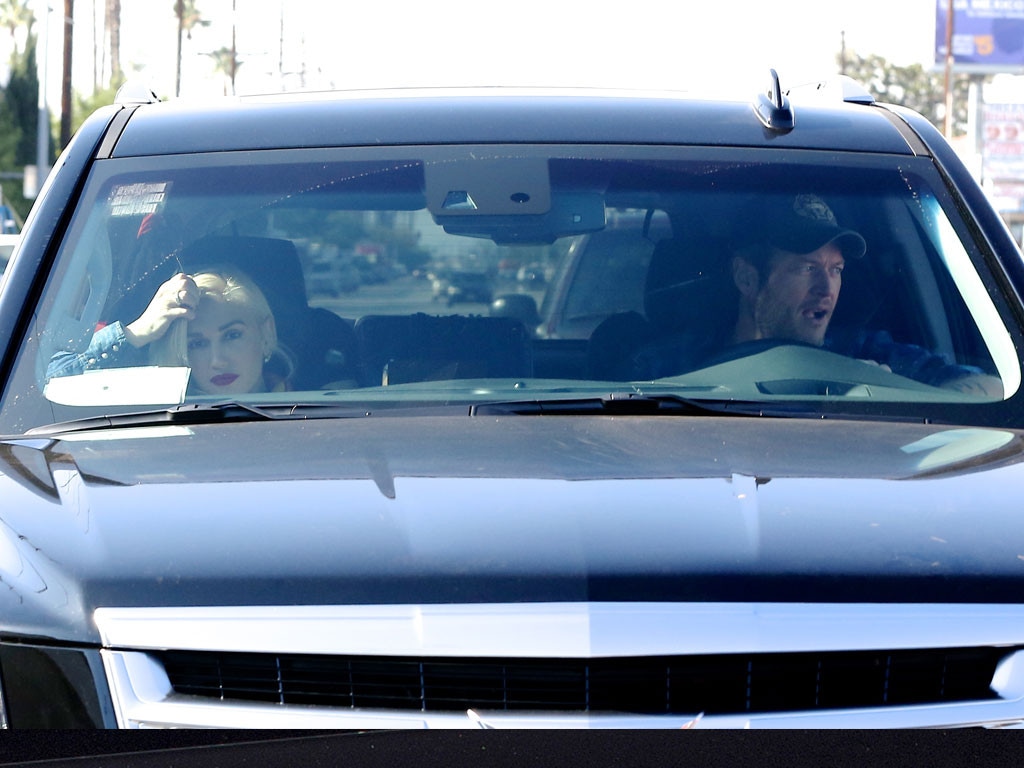 Mariotto/Chiva/INFphoto.com
UPDATE: E! News can confirm 50-60 guests including Blake Shelton and Gwen Stefani traveled to Bound'ry in Nashville for a private engagement party in honor of singer RaeLynn. 
"Blake and Gwen were great. They looked happy. They were having a great time and dressed in spirit," a source told E! News. "Blake gave a nice little toast to Raelynn and congratulated his close friend…what a friend would do for another friend."
Guests enjoyed light appetizers including crab cakes, double-stuffed new potatoes, hush puppies and more at the private event and catering venue . Photobomb Nashville provided the photobooth and guests competed for Best Dressed in the Ugly Holiday Sweater contest. "Everybody was having a good time," our source added.
—————
Gwen Stefani and Blake Shelton took the weekend to get away from Los Angeles and spend some time together in the south for a very special reason.
The two were photographed driving to the Burbank airport on Saturday. Blake drove his Cadillac SUV, wearing his go-to baseball cap and scruffy beard, while Gwen sat in the front seat, smiling and showing off her platinum locks and bright red pout.
The Voice coaches then parked and hopped on a private jet together that E! News learned dropped them off in Nashville a few hours later.
So what exactly did they have planned in Music City? Turns out they were celebrating one of Blake's former teammates, RaeLynn's engagement party with her future hubby Josh Davis—and Blake helped plan it all!
The former The Voice contestant shared a photobooth pic from the silly, ugly-sweater themed party in which we see Gwen and Blake rocking their holiday gear, seemingly having a great time.
RaeLynn wrote, "Thank you @AmandaCraigST and @blakeshelton for hosting the BEST engagement party/ shower. #destinedtobeadavis."
She also shared another funny photo of the two couples rocking a few props in the photobooth and making silly faces. "Squad," RaeLynn captioned the pic.
Before enjoying their fun-filled weekend, the couple has been busy getting ready for the holidays, looking forward to their first Christmas together as a couple.
Earlier this week, Gwen was spotted shopping for men's shirts at a local country store, picking out what we're sure were some great outfits for her country-singin' beau. And while she was busy shopping, Blake was photographed helping Gwen's father load some big, present-sized boxes into his car before driving off into a private community.
Splash News, Mariotto/Chiva/INFphoto.com
While we're not sure how much of the holiday they're planning to spend together, a source told E! News they definitely will make a point to see one another. However, Gwen's kids come first.
"It's very likely they will be together for some parts of it, but Gwen still wants to have the holidays as normal as possible because of her kids," the source explained. "So Gwen may do a more traditional holiday with Gavin when their kids open up the presents, but it's clear to her children they are not with each other in any romantic capacity."
—Reporting by Mike Vulpo