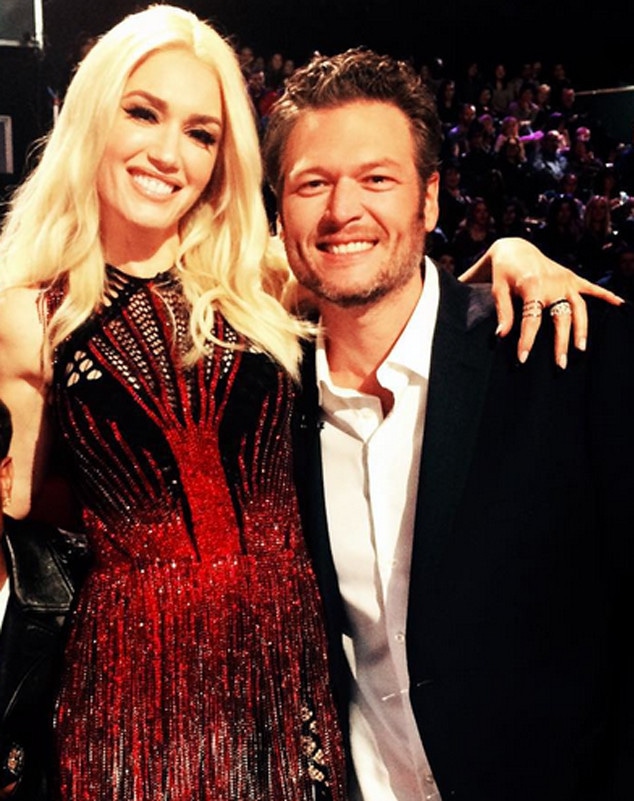 Instagram
Now that Gwen Stefani and Blake Shelton have come forward with their relationship, they're ready to take it to the next level.
The Voice coaches have been more public with their romance as of late, hugging and twirling on TV and holding hands while out in Nashville, so it's no surprise that a source tells E! News exclusively that they're "extremely happy" together.
"Many of Gwen's friends love how happy she has been over these past few months, and they believe she found love again," the source tells us. "The media craze just annoys her because of the way it can affect kids in situations like this, but she has been giving them unconditional love and talking to them."
And Blake has, too! The insider adds that Blake has met Gwen's kids, but they're making sure to do it in a "very natural and healthy" way so as to keep everything as normal as possible following her split from Gavin Rossdale. Fortunately, the former couple are doing OK in their separation.
"Gavin and Gwen are not on bad terms," the insider adds, "she is just ready to move on with her life."
And that includes closing the door on Mindy Mann, Gwen and Gavin's former nanny. The source says Gwen "hasn't spoken to the nanny for some time, that's a chapter she ended in her life and she is ready to begin her next one."
Gwen and Blake began seeing each other only after both of their marriages ended, but the source says they started out as close friends; she even referred to the twice-divorced country artist as her "work husband" in a platonic way.
"After things ended with both of their relationships they explored some time together. It all happened the way it was supposed to happen," the insider explains. "Gwen believes timing is everything."
And with the holidays right around the corner, will this relatively new couple spend it together or separately?
"It's very likely they will be together for some parts of it, but Gwen still wants to have the holidays as normal as possible because of her kids," the source says. "So Gwen may do a more traditional holiday with Gavin when their kids open up the presents, but it's clear to her children they are not with each other in any romantic capacity."