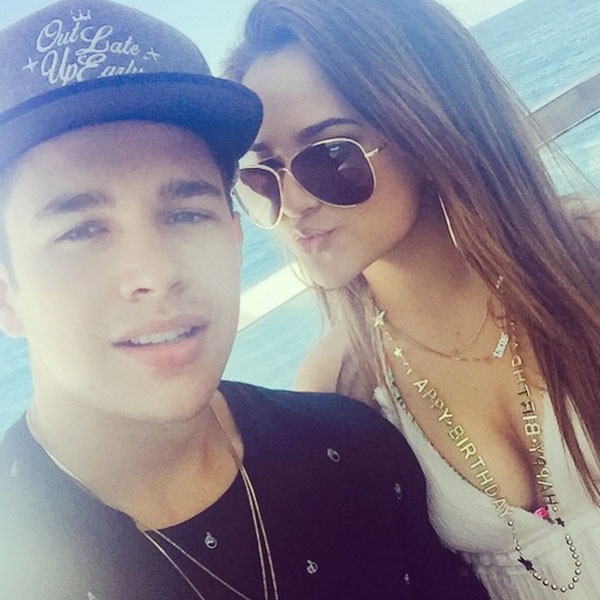 Instagram
Today is a great day to call yourself a Mahomie!
Although he still hasn't dropped his long-awaited album, Austin Mahone did release new music in a track list appropriately titled This Is Not the Album on Thursday as a big thank you to all of his fans for being patient with him.
"I've been working so hard on my new album, and I've taken a lot of time figuring out my new sound and making my debut perfect," Austin said in a statement. "This Is Not the Album is for my Mahomies, who have continued to be so supportive throughout the entire process."
The release includes 19 tracks of all-new material, featuring artists like Chris Brown, T-Pain, Sage the Gemini, Kalin and Mylie, Rob Villa and Kylie Dion.
Most notably, however, it also features a song titled "Rollin" with his ex-girlfriend, Becky G. The two began working on music together before they split up in August.
Mahone talked about their relationship with E! News in July and said ahead of the split, "It's going good. I mean it's cool, you know, we have a good time. I visit her in L.A., she visits me in Miami. We make music together. It's great."
However, he foreshadowed the breakup, adding, "A long-distance relationship is definitely tough, but I think you know the fact that we, you know, are in the same career mode, it kind of brings us together even more."
Rodrigo Varela/Getty Images for Univision
Well, long-distance is eventually what led to their split.
A source told E! News after the breakup, "[Austin] thinks she is amazing and the best person, but it's just so hard. It's hard enough to have a relationship at all, but when you're traveling—like they both travel so much—it's almost impossible. So we'll see what happens. But yeah, they are taking a break for a minute and focusing on work."
Mahone also took to Twitter shortly after the news broke, writing, "You'll always mean the world to me."
You can download his new song with Becky G as well as the rest of the track list on WeTransfer or stream it on SoundCloud and YouTube.
Watch:
Austin Mahone Gushes Over Girlfriend Becky G and Album!