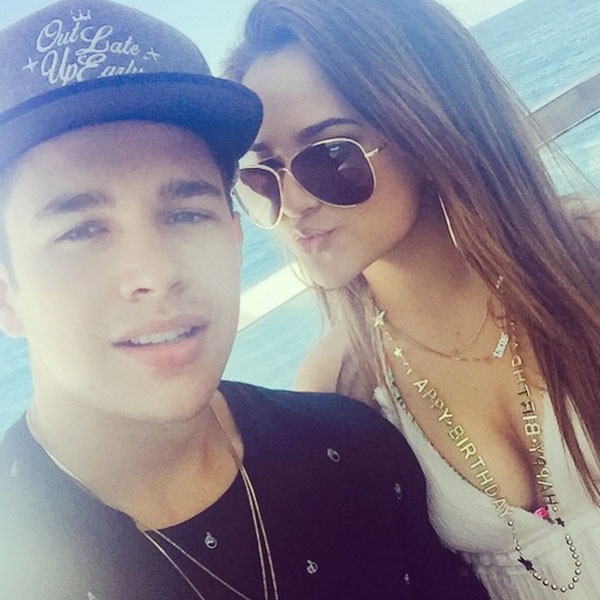 Instagram
Oh, the trials of young love.

Austin Mahone and Becky G have broken up after a few months of dating, sources confirm to E! News. Reps for the two have not returned request for comment. 
The source says that the teenage singers are still friends who really did love each other and there is no bad blood. Moreover, the insider adds, anything can happen in the future. 
Another source tells E! News that Austin "thinks she is amazing and the best person, but it's just so hard. It's hard enough to have a relationship at all, but when you're traveling—like they both travel so much—it's almost impossible. So we'll see what happens. But yeah, they are taking a break for a minute and focusing on work."
After posting a fairly cryptic message on her Instagram a few days ago ("What's always meant to be will always find a way"), Becky G, 18, took to her Twitter yesterday to let everyone know that she is doing OK, but things are "just stressful" right now.
Austin also tweeted a hindsight-is-20-20 message a few days ago, writing, "You'll always mean the world to me."
Last month while talking about his new single "Dirty Work" to E! News at the NBC Experience Store in New York City, Mahone said things with Becky were going great, but it was tough being in a long-distance relationship.
"It's going good. I mean it's cool, you know, we have a good time. I visit her in L.A., she visits me in Miami. We make music together. It's great," the 19-year-old "Dirty Work" singer said. "A long-distance relationship is definitely tough, but I think you know the fact that we, you know, are in the same career mode, it kind of brings us together even more."
Back in June Mahone told E! News, "What I love so much about Becky is I feel like I can just relate to her so much. It's cool to date someone that does the same thing you do so you can express when you're stressed out about this and that, and they can be like 'I feel you and understand because I'm feeling the same.'"
The duo took their romance public in April when they were spotted kissing at the airport in Miami, right around the time Becky G started sharing pics of her new beau.

Watch:
Austin Mahone Gushes Over Girlfriend Becky G and Album!
Watch our interview with Austin Mahone as he talks more about Becky G and who else he collaborated with on his upcoming new album. 
Just Jared was the first to report the split.