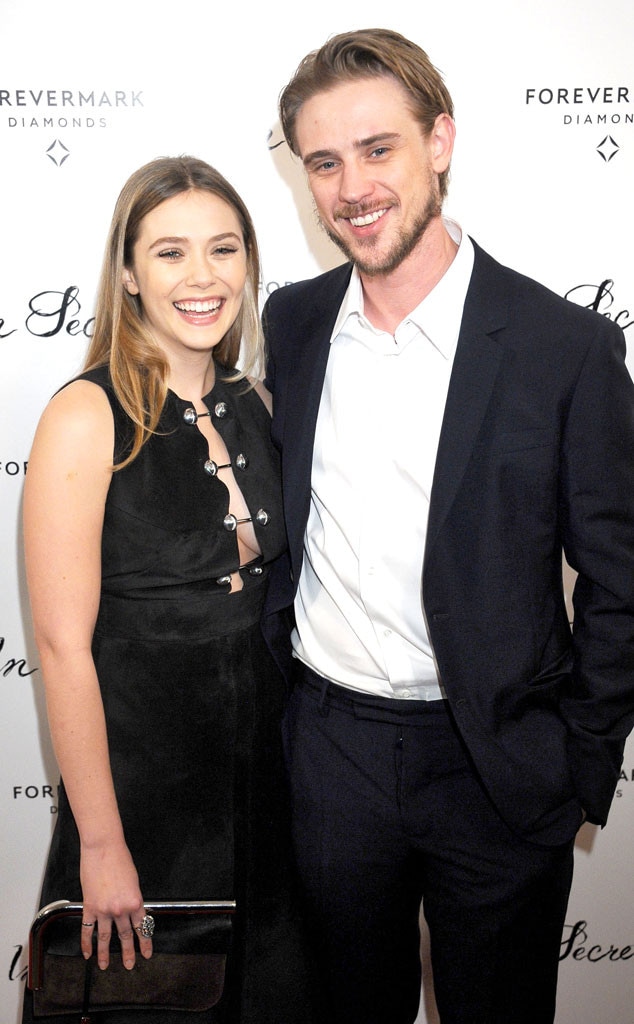 Courtesy: Gregg DeGuire/WireImage
Breakups are never easy, but that doesn't disavow a person from breaking the news in person. Nearly a year after it was reported that Elizabeth Olsen and Boyd Holbrook had called off their engagement, the Narcos actor has finally revealed how it went down in Man of the World's Issue No. 14. Describing their breakup as a "divorce," Holbrook confessed to the magazine, "On the same day that my best friend died, I got a call from my girl to tell me it was over." The actress has not shared her side of the story (and may never do so publicly), but Olsen is certainly not the first person in Hollywood to initiate a breakup without doing it in person.
Here are 10 more couples whose splits came as a shock to one party involved:
1. Clint Eastwood and Sandra Locke
The six-time co-stars lived together in Eastwood's Bel Air home. In 1988, after more than a decade together, Eastwood's lawyer sent a letter to Locke saying the locks had been changed and her clothes and other belongings—including a parrot—were waiting to be picked up. Locke sued Eastwood for palimony, then tussled with Warner Bros., claiming the studio persuaded her to drop her suit by offering her a contract to direct three films, then reneging on the deal.
2. Minnie Driver and Matt Damon
The Good Will Hunting actress learned that her seven-month relationship with Damon was over when he appeared on The Oprah Winfrey Show in 1998 and described himself as single. Driver was blindsided by Damon's announcement. "It's unfortunate that Matt went on Oprah," she told The Los Angeles Times later that year. "It seemed like a good forum for him to announce to the world that we were no longer together, which I found fantastically inappropriate."
Steve Granitz / Getty Images
3. Sylvester Stallone and Jennifer Flavin
In 1994, Stallone used FedEx to break up with the model. "He sent me a six-page handwritten letter, in pen," Flavin told People that year. "It was pretty sloppy." At the time, it was rumored that Stallone had fathered a daughter with Janice Dickinson, and Flavin believed the rumors after the surprise breakup note arrived. "It hit me like a ton of bricks," Flavin said. "I had no idea this was going to happen. We talked about us having children, about when I was going to get pregnant. We were already picking names, marking down names that he liked and I liked." Dickinson had conceived her baby with Michael Birnbaum, and Stallone and Flavin later reconciled. They married in 1997, and they now have three daughters.
4. Jennifer Love Hewitt and Carson Daly
When the actress dumped the Total Request Live host after a yearlong romance, he got the news from the radio. "I woke up to Howard Stern telling me my relationship with [Jennifer] was over," he told People in 2000. "Then I heard Steve Kmetko on E! say, 'Just off the Associated Press: Jennifer Love Hewitt and Carson Daly have officially broken up.'" Daly recalled telling the actress, "If we were going to break up officially like this, maybe we could have just talked about it. I don't see why you had to tell your publicist. And now I have been publicly humiliated." Six years later, Hewitt appeared on Last Call With Carson Daly and the exes buried the hatchet. "It ended a little weird, I got to be honest," Daly said. Hewitt agreed, admitting, "It did, but that doesn't matter." Daly reiterated that it was "weird," but after some awkward banter with his ex, he conceded that it "doesn't matter."
5. Britney Spears and Kevin Federline
After a brief and tumultuous marriage, the pop star dropped a digital divorce bomb via text message. A crew from Canada's MuchMusic channel had been interviewing Federline when he got the message on his BlackBerry. The rapper became visibly upset and removed his microphone. Federline left for 30 minutes before returning to continue the television interview, but he did not mention the split on camera.
6. Taylor Swift and Joe Jonas
In 2008, Swift confirmed the Jonas Brothers singer had dumped her. "It's all right; I'm cool," she explained on The Ellen DeGeneres Show. "You know what, it's like, when I find that person that is right for me, he'll be wonderful. When I look at that person, I'm not even going to remember the boy who broke up with me over the phone in 27 seconds when I was 18." Swift couldn't believe how, well, swift the breakup was. "That's got to be a record," she told Ellen DeGeneres. Jonas defended himself a week later via MySpace. "For those who have expressed concern over the '27 second' phone call, I called to discuss feelings with the other person. Those feelings were obviously not well received. I did not end the conversation. Someone else did," the musician wrote in a blog post. "Phone calls can only last as long as the person on the other end of the line is willing to talk."
7. Russell Brand and Katy Perry
What a way to end the year. In 2013, the pop star talked to Vogue about her ex. "Let's just say I haven't heard from him since he texted me saying he was divorcing me December 31, 2011," she said. "I felt a lot of responsibility for it ending, but then I found out the real truth, which I can't necessarily disclose because I keep it locked in my safe for a rainy day," she added. "I let go and I was like: This isn't because of me; this is beyond me. So, I have moved on from that."
8. Porsha Williams and Kordell Stewart
The Real Housewives of Atlanta star learned about her breakup via Twitter. "I literally was lying in bed and I looked at Twitter and it was going crazy," she told ABC News in 2013. "I saw on Twitter that my husband has filed for divorce." Stewart, who was down the hall in their Atlanta mansion when she saw the reports, had no choice but to fess up. "It wasn't a confrontation," she explained. "It was me just simply asking my husband, 'Had you filed?' He said he thought about it and we'll talk about it later and he left for work. I had to call my attorney to find out."
Gustavo Caballero/Getty Images
9. Rory McIlroy and Caroline Wozniacki
According to various reports, the golfer ended his relationship with the tennis pro in a surprise three-minute phone call in 2014. While writing about Wozniacki's French Open loss, The Times' Neil Harman opened his article by describing how she was still seeking answers about why McIlroy ended the relationship: "The last time he called, less than a day after telling her how much he loved her, it was a three-minute conversation she thought was a joke." The New York Times' Christopher Clarey didn't put a length on the phone call but confirmed that it happened. Wozniacki later revealed that the phone call lasted 10 minutes. "I was shocked. I thought at least I would get a face-to-face or something but there was nothing," she said on In Depth with Graham Bensinger. "It was just a phone call and then I did not hear from him again."
Courtesy: Manny Hernandez
10. Jason Derulo and Jordin Sparks
The musicians called it quits in 2014. In an October interview with Power 105.1's DJ Envy, Derulo said their relationship simply ran its course. "Every relationship has their ups and downs and, you know, when you start having more downs than ups, you gotta take a look at your relationship and be like, 'Is this something that I'm supposed to be doing?'" Derulo also revealed that he dumped Sparks "over the phone" because he "wasn't in town." Sparks later assured Today's Kathie Lee Gifford and Hoda Kotb she was doing "good." Later asked by Wendy Williams if Derulo cheated on her, Sparks said, "I actually don't want to comment."