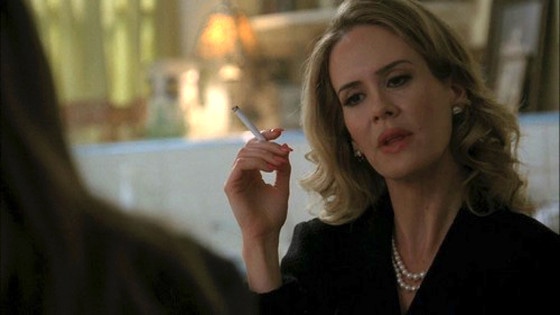 FX
The connections between seasons of American Horror Story just got a little tighter. Sarah Paulson, who is currently playing drug addict/ghost Sally in American Horror Story: Hotel, will reprise her first American Horror Story role: Billie Dean Howard from AHS: Murder House, according to EW. Viewers will remember Billie Dean Howard was the psychic hired by Constance (Jessica Lange) to help Tate move on. Will she be coming to Hotel to help all the ghosts? Will we get some meta scene with two Sarah Paulsons?
Request for comment was not immediately returned.
Seasons one and five have already had connections front and center. Lady Gaga's Countess visited Dr. Montgomery in the titular Murder House for an abortion (that didn't go exactly as planned, demon babies and all) and the realtor who sold the Harmons that infamous house in season one, Marcy (Christine Estabrook), sold Will Drake (Cheyenne Jackson) the Hotel Cortez in AHS: Hotel.
Previous connections between seasons include, but are not limited to: Lily Rabe playing Sister Mary Eunice in both American Horror Story: Asylum and Freak Show and Pepper, played by Naomi Grossman, appearing in both Asylum and Freak Show. Fingers crossed for Myrtle Snow (Frances Conroy) from AHS: Coven to somehow make an appearance and really class this whole thing up and tie in the third season (aside from the Montgomery name being shared by season one characters and Emma Roberts' Madison Montgomery from Coven).
Paulson's pulled double duty before, playing conjoined twins Dot and Bette in AHS: Freak Show. She also filmed AHS: Hotel and American Crime Story: The People v. O.J. Simpson partially at the same time. Finn Wittrock played model bad boy Tristan in AHS: Hotel before taking on the role of Rudolph Valentino (the actor who changed Gaga's Countess).
What do you think of the latest twist?
American Horror Story: Hotel airs Wednesdays, 10 p.m. on FX.