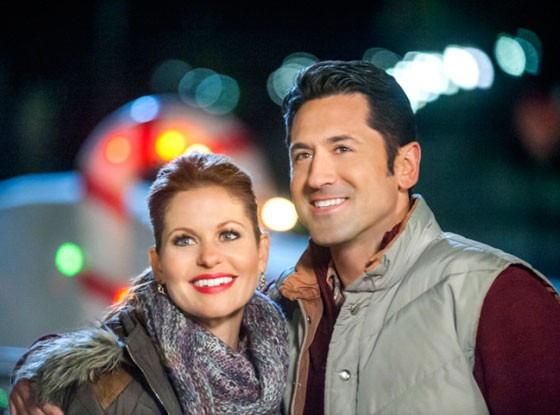 It's finally December, so you know what that means: It's time for a daily holiday movie on both the Hallmark and Lifetime channels. It is winter, after all.
Seriously, around the holidays, there's no greater guilty pleasure than those saccharine-sweet, low-budget films featuring every single beloved '90s TV actor ever. Through the years, our minor major obsession with these gloriously goofy, yet ultimately uplifting movies has led us to wonder what our own personal holiday TV movie might be about. Relying on our years-deep experience, we've put together a storyline generator guaranteed to give everyone their very own personalized holiday TV movie plot. You're welcome.
Part One:
Using the first letter of your first name, find out just what sort of protagonist you are.
A: A single parent who has fallen on hard times and must return to your home town
B: A snooty socialite whose holiday flight to Paris has been grounded in rural Maine by an unexpected blizzard
C: A country singer who can't get out of Los Angeles and back to the homestead for the holiday
D: A secret relative of Santa Clause who is undergoing a holiday awakening
E: An underappreciated assistant forced to travel abroad during the holidays with your demanding boss
F: An overworked executive who hasn't spoken to your family in years
G: A matchmaker whose most difficult client has been yourself
H: A party planner hired to throw your high school rival's annual Great Gatsby-themed New Year's Eve party
I: A mall Santa's helper who has lost the holiday spirit, but needs to make rent
J: A total Scrooge haunted by a holiday tragedy
K: A dog walker who'd rather spend the holidays with animals rather than people
L: A widowed parent whose spouse tragically passed away only a year ago
M: Someone with a wedding just three days away, but a serious case of cold feet
N: A pilot who gets scheduled to fly on Christmas Eve last minute
O: A celebrated novelist with writer's block to just wants to get away from it all for some inspiration
P: An overworked lawyer who won't take a case that isn't a slam dunk
Q: A big city surgeon who hasn't been to your family's small town medical practice in over a decade
R: A school teacher whose fiance is constantly out of town for work
S: A caregiver to an affluent family who longs for children of their own
T: An out-of-work actor who is forced to move back in with their parents
U: A reality TV producer whose hit series leaves no time for love or family
V: An ad exec whose only failing ad campaign is their online dating profile
W: A divorced parent who can't afford a Christmas tree this year
X: A junior attorney who is singularly focused on the partner track
Y: A grandparent who takes in their grandchildren after their child dies tragically
Z: A washed-up rock star who longs to reconnect with your estranged children
Part Two:
Using the first letter of your last name, discover your love interest.
A: A garbage collector with a heart of gold under all that grime
B: Your high school sweetheart who fell off the map the day after graduation but is back in town twenty years later
C: A local politician and single parent who doesn't have time for their kid, let alone love
D: An exotic dancer hiding a big secret
E: A homeless person with ties to your town's most prominent family
F: A real Grinch who hasn't celebrated the holidays in nearly a decade
G: The black sheep sibling in the family who was your next-door neighbor growing up
H: The concierge of the hotel where you're snowed in
I: A descendant of Santa who needs help remembering who they are
J: The recipient of your dead spouse's heart
K: The actual ghost of Christmas past
L: The owner of the family farm threatened by the mega-corporation you work for
M: The lawyer for the mega-corporation threatening your family business
N: Your high school bully who doesn't seem to remember you
O: Your widowed co-worker 
P: A new friend who is definitely an actual angel
Q: A gnome who is actually a human under a terrible curse
R: An angsty billionaire hermit
S: A journalist writing a scathing expose on your hometown
T: Your sadly single wedding planner
U: The local butcher who likes to grumble about vegetarians
V: A mysterious psychic
W: Your ailing parent's doctor
X: Your child's second-grade teacher
Y: A librarian on the hunt for a first edition copy of Dickens' A Christmas Carol
Z: A snowman magically brought to life
Part Three:
Using the month you were born in, find the obstacle standing in the way of your eventual happy ending.
January: You must work together to save the town from an avalanche (and fall in love in the process).
February: You help them unite their family for the holidays (and fall in love in the process).
March: You need their help to save your family's Christmas tree farm (and you fall in love in the process).
April: You're forced to travel together to beat a storm and get home for the holidays (and fall in love in the process).
May: You work together to find foster homes for homeless kids for the holidays (and fall in love in the process).
June: You work together to throw the demanding mayor's massive holiday party (and fall in love in the process).
July: They need your help to find the perfect gift for their mother, you boss (and you fall in love in the process).
August: You're forced to share the last cabin at the resort you've both been snowed in at (and you fall in love in the process).
September: You need their help to give your ailing parent one last Christmas to remember (and you fall in love in the process).
October: You pretend to be their fiance for their family's big holiday party (and fall in love in the process).
November: You oppose them in court over the schedule tear-down of your beloved family business (and fall in love in the process).
December: You work together to overturn the curse that's sent your small town back in time to the 1800s (and fall in love in the process).
Happy holidays!