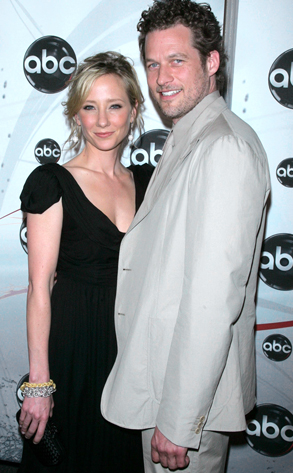 Jim Spellman/Getty Images
Anne Heche may not have Men in Trees but she has babies coming out of the woodwork.
The 39-year-old actress, fresh from a rather nasty custody battle, is expecting her first child with boyfriend James Tupper, 43, according to Heche's rep, who tells E! News the couple "are thrilled."
Each was still married when they met in 2006 on the Vancouver set of ABC's Men in Trees, which lasted two seasons. They debuted as a couple shortly after Heche filed for divorce from her hubby of more than five years, Coley Laffoon, in February 2007.
Before finally settling their differences in June, the estranged exes traded barbs galore as they fought over custody of their now 6-year-old son, Homer, with Laffoon objecting to the boy spending too much time in Vancouver with mom and her new beau.
When asked last year whether she was open to having more children, Heche told Extra, "Gotta leave it open, ya know what I'm saying?"