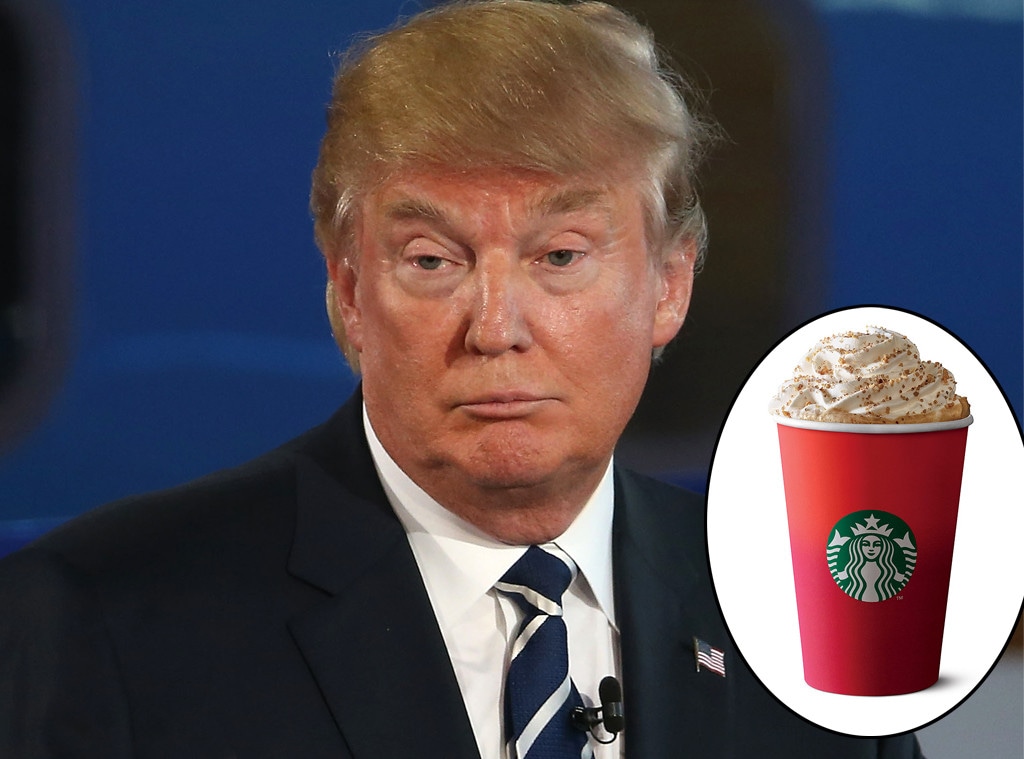 Starbucks; Justin Sullivan/Getty Images
If Donald Trump is elected president, he's added another important task to his agenda: boycotting Starbucks and spreading Christmas cheer.
Yes, during a campaign in Springfield, Ill., on Monday evening, the presidential hopeful addressed the controversial decision for the coffee chain to leave Christmas off their holiday cups this year.
"I have one of the most successful Starbucks in Trump Tower," he told the crowd. "Maybe we should boycott Starbucks? I don't know. Seriously, I don't care. By the way, that's the end of that lease but who cares."
After roars of cheers from the crowd settled down, he continued, "If I become president, we're all going to be saying Merry Christmas again, that I can tell you. That I can tell you. Unbelievable."
He's definitely not alone in his anger toward the Seattle-based brewing company.  Former Arizona pastor Joshua Feuerstein decided to start a movement asking consumers to state their name as "Merry Christmas" so that the red cups still carry the Christmas spirit.
"So guess what Starbucks, I tricked you into putting Merry Christmas on your cup," he wrote in a Facebook video that has been viewed close to 11 million times. "I'm challenging all great Americans and Christians across this great nation…to start a movement."
Meanwhile, Trump's Starbucks speech comes on the heels of his wildly popular appearance on Saturday Night Live!—despite the protests ahead of time at 30 Rockefeller Center—over the weekend.
During the show, not only did he parody Drake's music video for "Hotline Bling," but he also participated in two pretty hilarious sketches about his scathing Twitter feed as well as a vision of what the White House would look like in 2018 with Trump as president.
The show was received by fairly high ratings, which he was the first to reveal on his Twitter…of course!