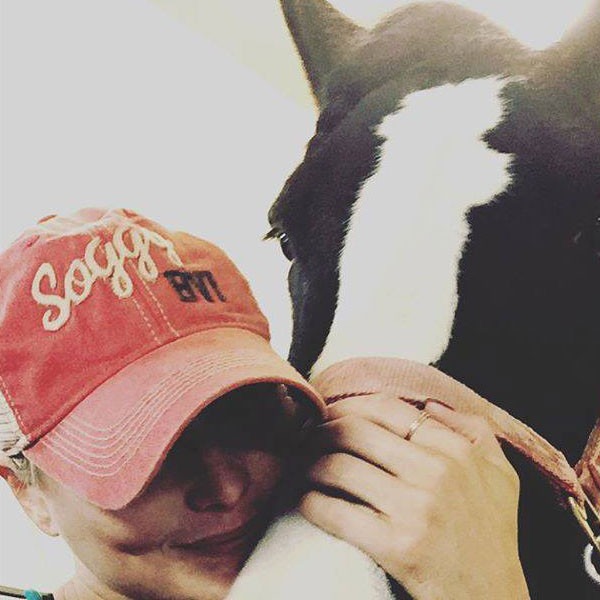 Facebook
Oh, Blake Shelton and Gwen Stefani are dating? That's cool.
Shelton's ex-wife Miranda Lambert doesn't seem to be focusing any energy on the latest news in Hollywood pairings, and instead is focusing on the many blessings that she has in her life. Following CMA Awards win last night, the country singer took to Facebook tonight to share a photo with her horse alongside a sweet message.
"'Horse Power'..... I'm still floating around on a cloud from last night. Thank you so much @cma for celebrating country music in a big way and for letting me be part of it. Today was a day spent reflecting on this amazing life that Nashville and country music fans have given me. And my friends. I'm so grateful #inspired #gypsyvanner #nomakeuptillnextweek #musicismedicine #chrisstapleton #unicorn #ponyportrait"
She followed with song lyrics from Lake Street Dive, "'I could spend ages reading the news/ I could spend days, singing the blues/ But I turn up the tv light/ Give up without a fight/ Better than pretending to know what's wrong and what's right' This song. This band. These lyrics. @lakestreetdive thanks @ape_lewis for turning me on to this."
Frederick Breedon/FilmMagic
Lambert took home the award for Female Vocalist of the Year at the 2015 CMA Awards yesterday in Nashville after bringing the crowd to their feet with a powerful performance of her latest hit single, "Bathroom Sink."
While on the stage accepting her award, Miranda gave a short but emotional acceptance speech. "Hi guys, thank you so much," the 31-year-old said as the room cheered her on after her big win.
"Man, I really appreciate it. I needed a bright spot this year, so thank you. I love country music fans, and I'm just gonna keep it short, but Justin Timberlake and Chris Stapleton, thank you very much. I'm gonna go home and practice. Thank y'all very much, I love y'all."
The event must have been at least slightly awkward for the newly single star, who not only had to share a room with her ex-husband, but hear about his new relationship and see photos of the couple stepping out together today. However, a source previously told E! News that Lambert's not surprised something sparked between Blake and Gwen.
"She was not surprised to hear of the romance between Blake and Gwen. They were always pretty flirty. Miranda and Blake were on the rocks on and off and knew that this could always be a possibility." 
But, the insider also added that the "Little Red Wagon" singer is taking the time since her split from the country crooner to focus on herself and her career.
"Miranda is at a point in her life where she is really focusing on herself and her music. This is a new chapter for her to create new relationships and really move on," the source said. "Miranda has been going through many personal changes over the past few months, but it's all for the better."