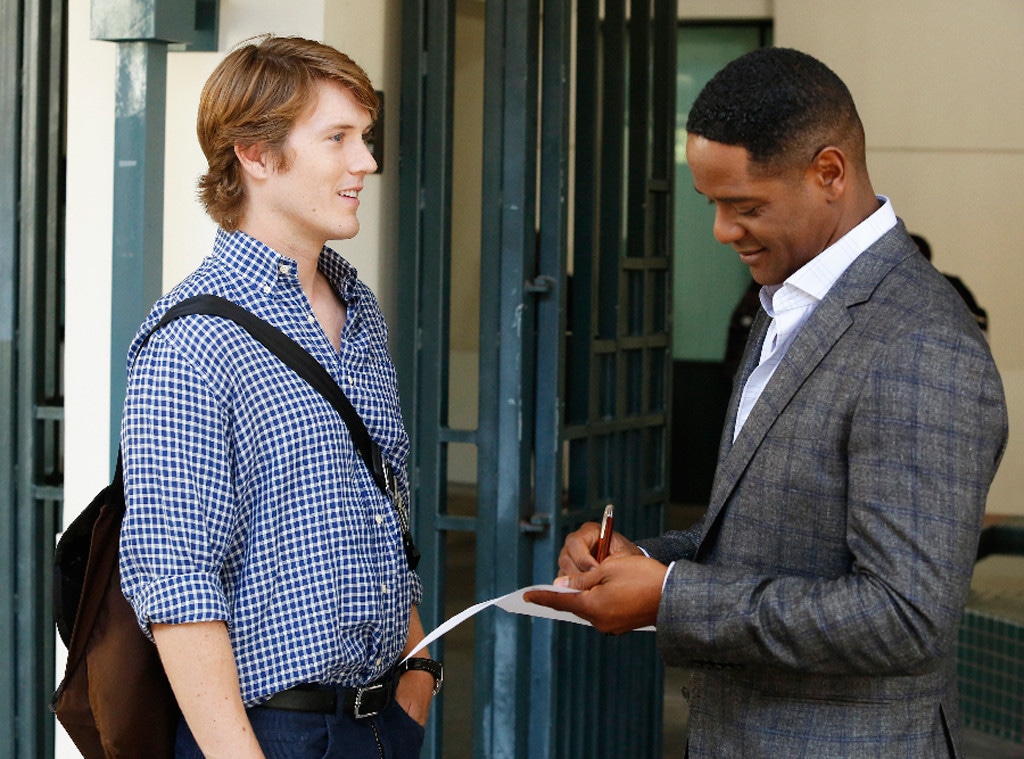 ABC
We should've expected something was up when Andrew somehow survived that convenience store explosion relatively unscathed at the start of tonight's episode, Agents of S.H.I.E.L.D. fans. His explanation was a little too, well, convenient.
And that's because—SPOILER ALERT: Look away now if you haven't watched tonight's episode yet—Dr. Andrew Garner (Blair Underwood) is the man who's been morphin' in to Lash while we weren't looking. Ever since the Inhuman who's hunting Inhumans was introduced in the season premiere, Daisy (Chloe Bennet), Coulson (Clark Gregg) and the team have been on trying to determine just who this killing machine is. And while the mystery will live on a bit longer for most of them, May (Ming-Na Wen) and the audience were finally let in on the secret. Well, those who the audience who hadn't already pieced it together, that is.
"I have to say, I am shocked that after that last episode aired two weeks [ago], all my friends started sending me all this "#AndrewIsLash" and all the theories of why Andrew could be Lash and how spot-on some of them were," Underwood tells E! News exclusively. "But, if you look at his work as a psychologist…in S.H.I.E.L.D., he determines [who] is worthy and is not worthy to be part of the Secret Warriors team that he's to create with Coulson. So, it makes sense that it's kind of that same kind of rationale, but on steroids: Who's worthy and who's not? And what are they worthy of? Are they worthy of life? Are they worthy of death? Are they worthy of the team? Or are they not worthy of anything?"
Underwood says he's grateful the day of the big reveal is finally here because he's been keeping it under wraps for quite some time. "I am very much relieved...I feel like I've been holding this secret for a month, two months now," he admits. "You know what, it's two months because I found out on my birthday, August 25, at the table read. I remember it because, when we read the script where it looked like I'm dead, episode four, the producers said, 'Well, let's take a minute and come back in the office. We'll tell you what's happening with the character.' That's when they told me that Andy is Lash and I said, 'You know what? That is, like, the best birthday gift I could've gotten.'"